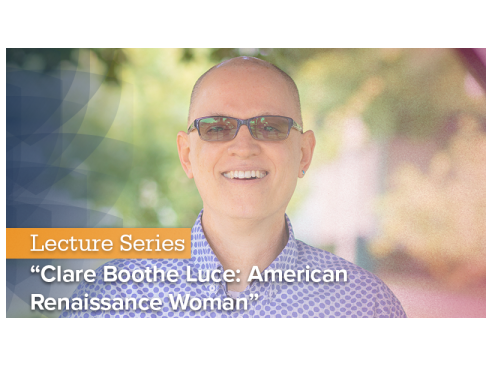 SHARON, Pa. — Penn State Shenango begins its 2022-23 Lecture Series with a presentation and book signing by Philip Nash, associate professor of history, at 5:30 p.m. on Thursday, Sept. 22. Nash recently published a book titled "Clare Boothe Luce: American Renaissance Woman" which looks at the life on the 20th century author, playwright, congresswoman and ambassador. 
Nash's discussion will focus on Luce in a series of shifting historical contexts offering the audience an insight into political, cultural, gender and foreign-relations history during the mid-20th century. Copies of "Clare Boothe Luce: American Renaissance Woman" will be on sale at the lecture, and Nash will be available for a book signing. 
Admission to the 2022-23 Lecture Series is free and open to the public, however, registration is required. Visitors can register at shenango.psu.edu/lectureseries. Location information will be provided upon registration. Questions about the Lecture Series can be directed to Tasha Lambert at 724-983-2825.  
Penn State reserves the right to alter or cancel any portion of this event at any time and for any reason, including but not limited to shifts in the status of the pandemic or relevant and applicable guidance, or individual participants violating University policy. 
2022-23 Lecture Series 
"Clare Boothe Luce: American Renaissance Woman" with Philip Nash on Sept. 22, at 5:30 p.m. 
Philip Nash will present and discuss his new book "Clare Boothe Luce: American Renaissance Woman." The talk will center on Luce's life and accomplishments. The book will be on sale at the event and Nash will be available to sign copies. 
"Come learn how you can study abroad in London!" with Carol Cowan-Crawford, date TBD 
Carol Cowan-Crawford presents the newly developed study abroad program London, United Kingdom: Adulthood and Families. Students will learn about how they can immerse themselves in the culture, and what academic experiences they can expect. 
"Effective Malware Detection and Classification Methods" with Dima Rabadi on Nov. 1, at 5:30 p.m. 
Dima Rabadi brings her malware and web security expertise to Penn State Shenango. Join us as she presents on ways internet users can remain safe while online. 
"Contemporary taxation policies in the corporate settings — Cryptocurrency-Tax-implications" with Sabrin Stewart on Feb. 1, 2023, at 12:15 p.m. 
There are still a lot of unknowns about cryptocurrency. Sabrin Stewart breaks down the complexities of the tax implications of crypto, as well as other corporate tax policies. 
"Global Connectedness in the Classroom" with Tammy Divens, Maureen Dunn, Kathy Shaffer on March 23, 2023, at 12:15 p.m. 
We live and work in a hyper-connected world. Professors Divens, Dunn, and Shaffer share the work they do in their respective classrooms to connect Penn State students with global discussions about their topics.