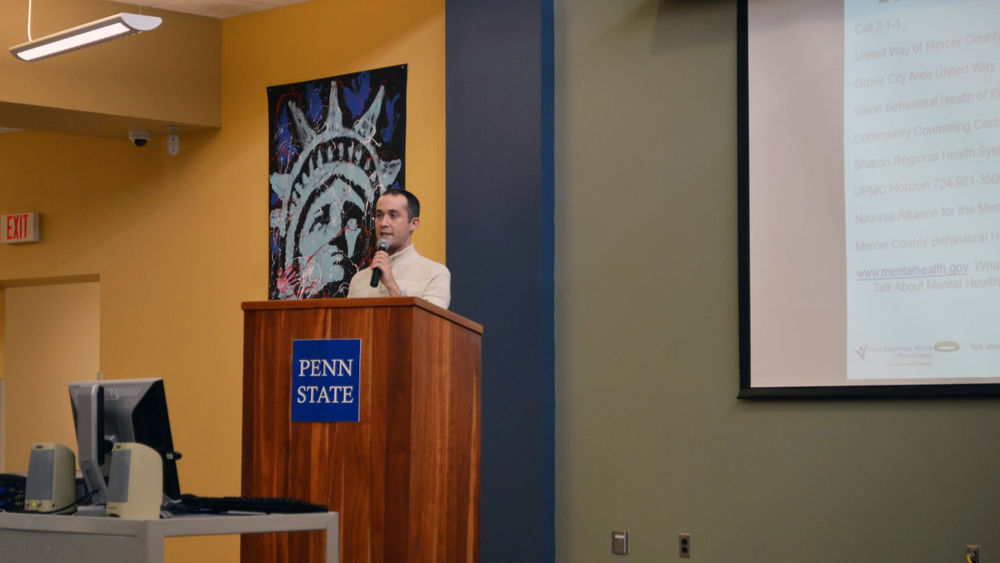 According to the National Institute of Mental Health, approximately 15 percent of women who have recently given birth suffer from postpartum depression. This year's Stamp Out Stigma (SOS) at Penn State Shenango will feature a presentation on the subject at its fourth annual SOS event to be held from 12:15 to 1:15 p.m. on Wednesday, Oct. 18, in the Great Hall of Sharon Hall located on Vine Avenue in downtown Sharon, Pennsylvania. The event is free and open to the public.
The hour-long program will also include a discussion on why health and fitness are vital to a person's mental well-being led by Penn State Shenango Counselor Tony Paglia, as well as a special message on love and unity in the face of the horrible tragedies that have recently occurred in our country by Jack Luchette, a Penn State alumnus and the lead organizer of the annual event.
"At Penn State Shenango, we approach student health from a holistic perspective, and we seek to serve students with programming and resources that will promote their health in the areas of mind, body and spirit," said Penn State Shenango Counselor Tony Paglia. "This semester, we are excited to offer our students on-campus yoga classes with instructor Debbie Harrington. We believe that by reducing stigma and encouraging our students to take better care of their physical and mental health, they will be more successful in meeting their academic and personal goals."
The presenters at this year's SOS event, in addition to Paglia and Luchette, include Community Counseling Center of Mercer County Community Outreach and Development Director Fern Torok, and special guest Penn State Shenango Human Development and Family Studies Lecturer and Licensed Clinical Social Worker Kara Mild, who will be speaking about postpartum depression and the stigma associated with the mood disorder.
"The Community Counseling Center has conducted 97 district Stamp Out Stigma presentations with over 117,000 people during the past several years," said Torok. "We are excited to be part of the Shenango campus' event again this year."
For more information about this and other wellness events at Penn State Shenango, call Tony Paglia at 724-983-2841.