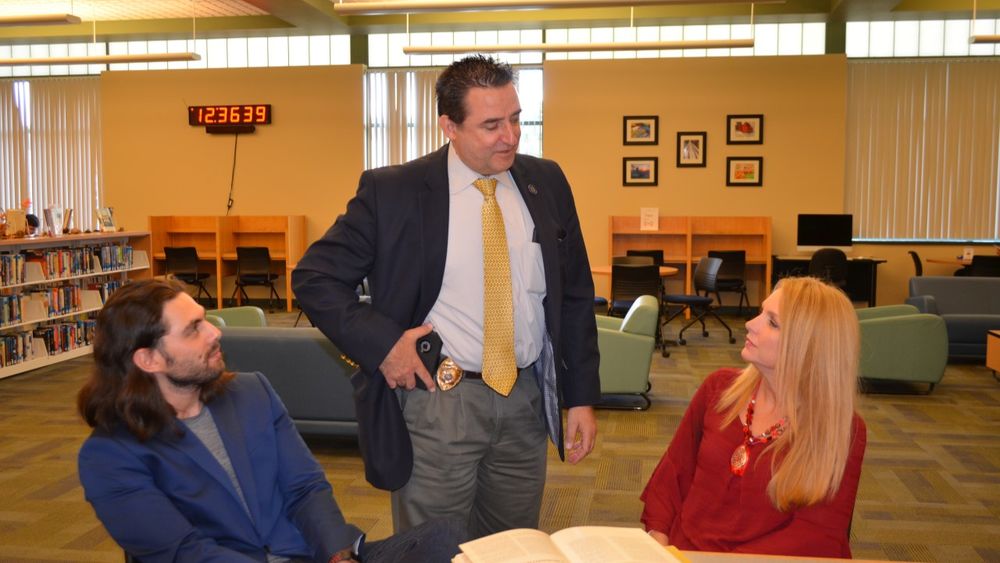 SHARON, Pa. — Penn State Shenango recently hosted 15 law enforcement officers from area police departments, the Mercer County Jail and the Pennsylvania Board of Probation Parole at the downtown Sharon campus for a week-long Crisis Intervention Team (CIT) Training workshop made possible through a $57,000 grant from the Pennsylvania Commission on Crime and Delinquency (PCCD). A sub-grant of $41,106 will help facilitate a further collaboration with Penn State Shenango faculty to assess the county's criminal justice and related behavioral health needs.
The workshop was one of three components of a grant proposal submitted last year by the Criminal Justice Advisory Board (CJAB) of the county's Juvenile Probations Office. This past spring, the CJAB received notification that they had been awarded $57,000 from the PCCD, and implementation of their strategic plan began.
The second component of the plan involves hiring a CJAB coordinator, while the third element includes the collaboration with Penn State Shenango faculty members Steven Brewer, assistant professor of administration of justice, and Roxanne Atterholt, instructor in human development and family studies, to provide the collection and analysis of data of the Mercer County criminal justice system.
Through CJAB's grant, Penn State Shenango was the recipient of the sub-grant from PCCD to complete their role in collecting and analyzing the necessary data that will provide a comprehensive report on Mercer County's needs, as well as drive the development of evidence-based prevention and intervention initiatives.
"The Mercer County Criminal Justice Advisory Board appreciates the opportunity to collaborate with Penn State Shenango on this important initiative that will culminate in the development of our Criminal Justice Advisory Board Strategic Plan," said Mark Benedetto, chair of the Mercer County CJAB and Chief Juvenile Probation Officer.
Over the last few months, Brewer and Atterholt have been working with Behavioral Health Commission, Mercer County 911, the Mercer County Jail, and the Board of Probation and Parole, to collect the necessary data which they will analyze and include in a report to the PCCD.
"Working in partnership with the CJAB and PCCD to collect and examine crime data sounded extremely interesting to both Roxanne and me," said Brewer. "We look forward to being able to provide the necessary information to help them continue to develop their strategic plan. We hope this project will ultimately enhance local law enforcement and its ability to respond to situations involving individuals who may suffer from a mental illness."