The Nittany Nook grab-and-go food pantry established on campus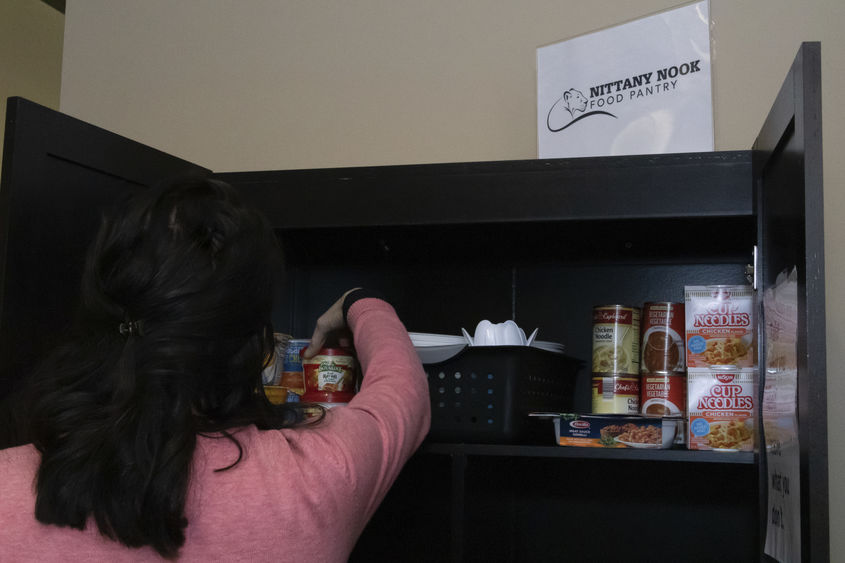 SHARON, Pa. — The Penn State Shenango Staff Advisory Committee (SAC) has once again come up with a strategy to help students in need.
This spring, SAC's Student Focus Subcommittee established "The Nittany Nook," a grab-and-go type food pantry located in two areas on campus: Sharon Hall room 207 and the Lartz Memorial Library. The Nook provides students with instant meals and snacks while they are on campus. In addition to addressing students' hunger needs, the subcommittee is also providing information on community resources.
SAC introduced the idea to Campus Director Jo Anne Carrick this past fall after its Student Focus Subcommittee obtained information from a survey on food insecurity that was completed by students, faculty, and staff. The results of the survey confirmed what the subcommittee was concerned about — more than 25 percent of students attending the Shenango campus some days go hungry while on campus due to lack of financial resources.
Start-up money for the Nook was provided by the campus, while additional donations have been collected by staff, faculty, the Shenango Alumni Society, and community members.
"We want our students to be successful, and that can be difficult when they're hungry," said Brooke Doerfler, admissions counselor and member of the Student Focus Subcommittee. "Some of our students are faced with the ultimatum of filling up their gas tank to get to class or having a meal. In the short amount of time the Nook has been open, we have already seen a number of students utilizing it!"
The Nook officially opened for students on Monday, Feb. 4. The Sharon Hall location is open weekdays from 7:45 a.m. until 9 p.m., and the Lartz Library location is open during normal business hours, which are 8 a.m. to 6 p.m., Mondays through Thursdays, and 8 a.m. to 4 p.m. on Fridays.
In addition to the Nook, Shenango's SAC is also responsible for the campus' "Fuel for the Future" initiative which raises funds to help students with the cost of their gas while they are completing their college internships. Since spring 2017, the committee has provided more than $1,600 in funds to ten students.
For more information on The Nittany Nook or to make a donation, contact Stacy Gongloff in the Student Affairs office at 724-983-2836.