Faculty, students and staff share progress and future sustainability goals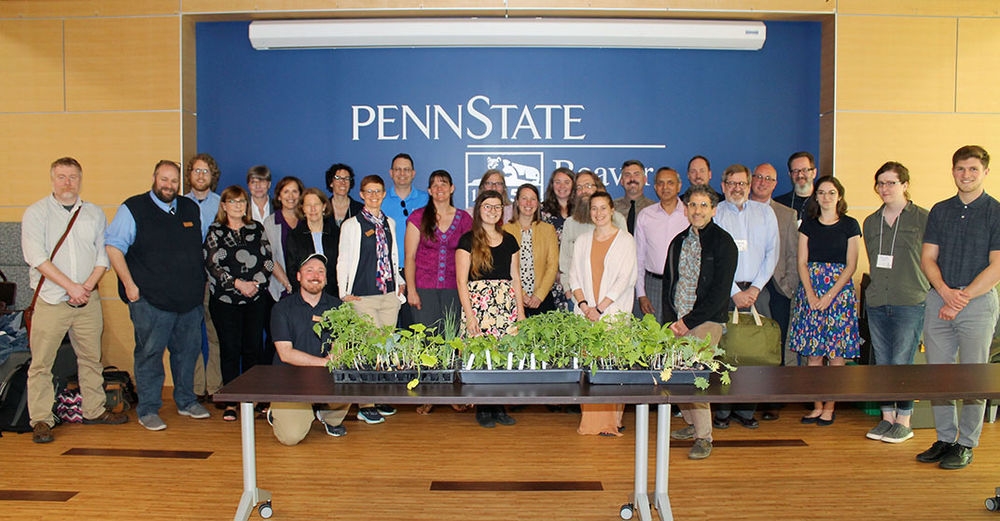 UNIVERSITY PARK, Pa. — Faculty, staff and chancellors from eight Penn State Commonwealth Campuses attended the Western Region Sustainability Forum on May 7 at Penn State Beaver, hosted by the Sustainability Institute. The forum began with opening remarks by Paul Shrivastava, Penn State's chief sustainability officer and director of the Sustainability Institute, who discussed the importance and urgency of advancing the United Nations' 17 Sustainable Development Goals across Penn State and the commonwealth.
The forum provided an opportunity for campuses to highlight sustainability-related projects such as food pantries, campus gardens, research projects, landscape efforts, and facility upgrades that are making a positive impact on students' lives, local communities, and the environment.
Speakers from each campus expanded on variety of unique projects, including:
— Students at Penn State Beaver are working to transform Beaver into a fair-trade campus and sustainability-related modules are incorporated into math-modules for lower-level classes.
— A full-time counselor who hosts a series for mind, body and spirit wellness has been hired at Penn State DuBois.
— A popular project at Greater Allegheny, Goats at Greater Allegheny, (GAGA) is returning this year to help clear two wooded areas on campus.
— At Penn State Altoona, the Green to Go program, which provides reuseable takeout containers to students, has been especially useful to students who live off campus but still have a meal plan.
— Students and community partners at Penn State Behrend are working together to fully utilize their campus garden and recently received a $5,000 grant for their food pantry.
— Earthfest events have proven popular at Penn State Shenango.
— Lighting upgrades and utility vehicle replacements were two of several projects lowering costs and environmental impacts at Penn State Fayette.
— At Penn State New Kensington, an LED lighting project made a dream come true for student Mackinly "Mack" Adams. Adams was diagnosed with a condition that causes severe reactions to sunlight and UV rays. He hadn't been able to attend school in a conventional setting since fourth grade and dreamed of having a "real college experience." New Kensington was already working to convert to LED lighting at the time and was able to work with vendors to convert as many areas as possible so that Mack could access light-safe pathways and attend regular classes.
In the afternoon, the Sustainability Institute partnered with CUSP-Pittsburgh (Climate and Urban Systems Partnership) to bring hands-on activities related to solutions and adaptations for climate change to attendees. The forum wrapped up with breakout sessions led by Sustainability Institute staff on topics that included Earth Day 2020 and Campus and Community Food Systems.
Two more forums are scheduled for May 14 and 15 at Penn State York and Penn State Scranton, respectively. Registration is free, and the forums are open to student, faculty and staff of nearby Commonwealth Campuses. For more information and to register, email the Penn State Sustainability Institute at [email protected].