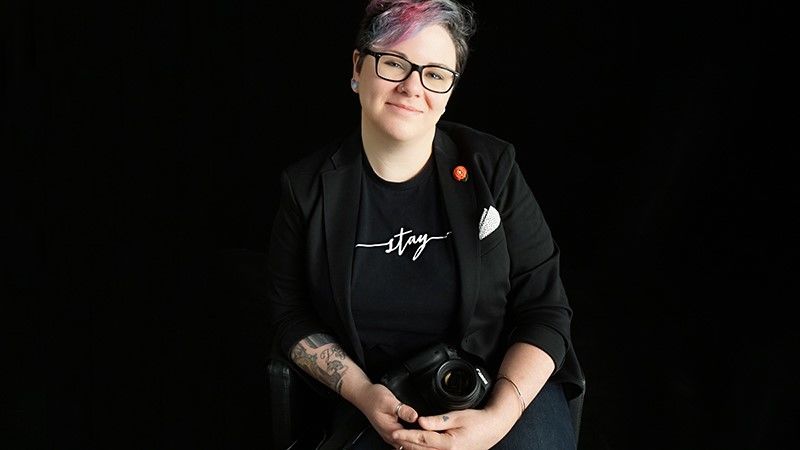 SHARON, Pa. — According to the Centers for Disease Control and Prevention, more than 47,000 Americans died by suicide in 2017, and an estimated 1.4 million Americans attempted suicide, rates that have risen by 30% since the year 2000.
Because of these soaring numbers, and in recognition of September being National Suicide Prevention Awareness Month, Penn State Shenango will address suicide prevention and awareness at its sixth annual Stamp Out Stigma event on Wednesday, Sept. 18. The event, co-sponsored by the Buhl Regional Health Foundation, is designed to bring important information and awareness, as well as personal stories about the stigma associated with mental health and the possibility of recovery, to the forefront of the community.
This year's Stamp Out Stigma keynote speaker is Dese'Rae Stage, founder of the suicide prevention website LiveThroughThis.org. Stage will speak at the Shenango campus during two programs.
In the first program, she will discuss the impact that the Live Through This website has had in preventing suicide and reducing stigma at an afternoon Stamp Out Stigma program that will begin at 12:15 p.m. in the campus' Great Hall, located in Sharon Hall on Penn Avenue. During the evening program, at 7 p.m. in the auditorium, Stage will share her personal story as a survivor of a suicide attempt and how that experience has led to her work as an activist in suicide prevention. Both events are free and open to the public. No registration is required.
Stage is a Philadelphia-based artist and writer who established LiveThroughThis.org in 2010 as a collection of photographic portraits and true stories of suicide attempt survivors across the United States. As stated on the website, the goal of Live Through This is to "change public attitudes about suicide by elevating and amplifying survivors' voices."
Through sharing raw, honest stories of survival paired with portraits that put faces and names to the statistics, Stage aims to "reduce prejudice and discrimination against attempt survivors, to provide comfort to those experiencing suicidality by letting them know that they're not alone and tomorrow is possible, to give insight for those who have trouble understanding suicidality, and to provide catharsis to those who have lost a loved one."
"Suicide does not discriminate but transcends categorization such as age, race, faith, socio-economic status, sexual orientation, gender identity or profession. It affects us all."

— Dese'Rae Stage, founder of the suicide prevention website LiveThroughThis.org
"Media coverage and public attention typically focus on people who died from suicide," said Stage, "rather than those who lived to tell the tale. This forfeits an important opportunity to truly understand the complicated issue of suicide from a first-person perspective and build narratives of hope based on true-to-life experiences.
"Historically, attempt survivors have been reduced to statistics, which strips them of their humanity and contributes to the pervasive 'not in my backyard' mentality about who is susceptible to suicide. This is incredibly dangerous in a time when suicide rates are increasing in the United States. Suicide does not discriminate but transcends categorization such as age, race, faith, socio-economic status, sexual orientation, gender identity or profession. It affects us all. Just take a look at the portraits."
Stage has received numerous awards for her work, including the SAMHSA Voice Award, the SXSW Community Service Award, Investigation Discovery's Inspire a Difference Everyday Hero Award, and the American Association of Suicidology's inaugural Transforming Lived Experience Award. Live Through This has received media coverage from The New York Times, The Associated Press, NPR, CBS Evening News, and more. Stage also was featured in the 2017 documentary "The S Word," which highlighted the work of suicide prevention advocates.
In addition, throughout the week of Sept. 16, an exhibition of Stage's photographic portraits of survivors of suicide, as seen on LiveThroughThis.org, will take place in the campus' gallery, Lecture Hall 222, as an extension of the Stamp Out Stigma event. The community is invited to view this exhibit, where photos may be taken down from the gallery walls and turned over to reveal excerpts of Stage's interviews with these individuals, who speak of their experiences of stigma, recovery and hope.
Representatives from the Mercer County Suicide Prevention Network will be present during both Stamp Out Stigma presentations with fact sheets and handouts on local crisis resources. Also, Stephanie Catalino, a Penn State Shenango student currently working with the eCenter @ LindenPointe, also will have information on Finding Inner Normalcy, a nonprofit organization devoted to destigmatizing mental health by creating an online community where individuals with mental health struggles can showcase their art and other multimedia creations.
For more information about this and other wellness events at Penn State Shenango, contact Tony Paglia at 724-983-2841.
Anyone in need of help for themselves or someone they know can reach the National Suicide Prevention Lifeline by calling 1-800-273-TALK (8255) or the Crisis Text Line by texting HOME to 741-741.