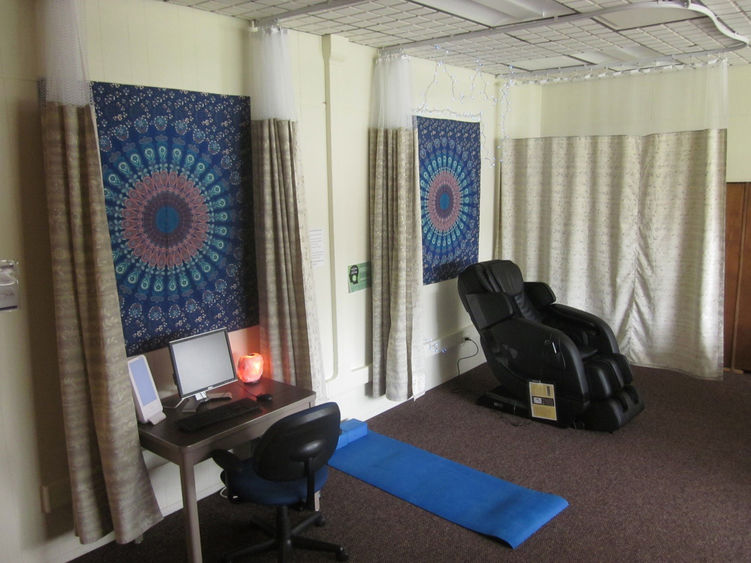 College students and faculty and staff alike face many new challenges that can be stressful. Addressing stress in a healthy way and having the right resources to help individuals cope with stress is essential to a person's well-being and academic success.
Fortunately, through participation in the Penn State LionPulse initiative, an outreach effort of Penn State PRO Wellness, Penn State Shenango now offers a stress-free zone — a walk-in space where students, faculty and staff can take time for self-care and reduce stress through mind-body relaxation. Campus health champion Tony Paglia is leading this initiative in collaboration with the Shenango wellness committee.
Paglia works as a campus counselor and understands the need for mental and physical relaxation. Students echoed Paglia's thoughts about the necessity for a mental health initiative, with 66% of respondents in a recent survey expressing an interest in stress management. Additionally, students shared that a busy schedule impacts their mental health, and survey results ranked this factor as one of students' highest barriers to success.
As a result, Paglia and the Shenango wellness committee have focused their efforts on aiding the campus community's mental well-being, and the new walk-in space, located in 208 Sharon Hall, now allows students and employees the opportunity to engage in self-care throughout a busy day.
The stress-free zone helps individuals release stress and gain a renewed sense of energy and clarity. To help increase relaxation and rejuvenation, the room features a massage chair, which is well-liked among both students and employees. Additional activity stations line the perimeter of the room, including:
A yoga mat complete with yoga instructions.
A computer station with a natural daylight lamp to improve mood, energy and concentration.
A white noise machine, a mood lamp and a fountain to help create a calming ambiance.
Free hot herbal tea.
The relaxation room has accommodated 90 students, faculty and staff since opening in the spring of 2019. To increase both awareness and usage of the room, the stress-free zone is now included in student orientation tours.
The new space has received positive feedback, with one individual saying that "it provides temporary stress relief; is comfortable and private." Others have stated that they feel the experience helps guide them through the busy school day. "It helps reduce a lot of stress from school and soreness from workouts. [The room] provides me with a short period during my time on campus to relax and unwind and mentally prepare myself for the rest of the day," another user shared.
Based on follow-up feedback, 92% of individuals report that they feel less stressed after spending time in the stress-free room.
Aside from the stress-free zone, Paglia also offers students and employees monthly meditation groups, yoga classes and therapy dog programs. Other upcoming events include Dia De Los Muertos, a grief and loss program, as well as walking challenges.
Interested in future LionPulse events on your campus? To stay on the pulse with wellness events and resources, visit sites.psu.edu/lionpulse. LionPulse is a Penn State PRO Wellness initiative to enhance wellness within the Penn State community, funded through a seed grant to support the "Enhancing Health" priority in the University's strategic plan. Since fall 2018, LionPulse has worked with a network of health champions and wellness committees across 11 Penn State campuses.