The master of science in nursing degree is delivered to Shenango campus by Penn State College of Nursing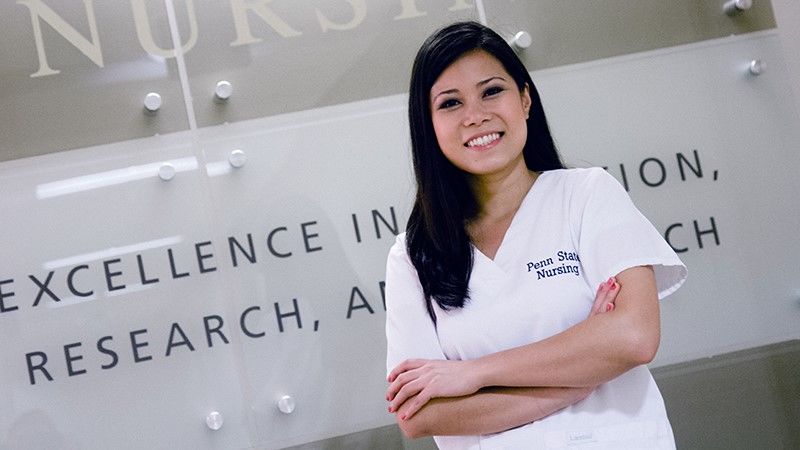 SHARON, Pa. — Penn State Shenango will hold a Nurse Practitioner (NP) Open House from 6 to 8 p.m. on Thursday, Dec. 5, in the Lecture Hall Gallery, located on Shenango Avenue in Sharon, Pennsylvania.
Nurses who have their bachelor of science in nursing (B.S.N.) degree may earn their master of science (M.S.N.) degree to become a NP right at the Shenango campus. The Penn State College of Nursing M.S.N. degree program has been available at the Shenango campus since fall 2018.
During the Open House, prospective students will have the opportunity to meet with the program adviser to learn about admission requirements and program details.
"The general public places a lot of trust in nurses," said Dr. Kerry Risco, Penn State Shenango assistant teaching professor of nursing, and a family nurse practitioner. "Nurse Practitioners (NPs) are registered nurses with advanced graduate level training. They provide a wide range of services. We are very pleased to bring this education to our area. Currently there are more than 270,000 NPs licensed in the United States and the demand for these highly skilled providers continues to grow."
The College of Nursing's Nurse Practitioner program offers a total of three degree options, two of which are delivered at the Shenango campus, including the Family/Individual Across the Lifespan Nurse Practitioner (FNP) and the Adult Gerontology Primary Care Nurse Practitioner (AGPCNP). The M.S.N. Nurse Practitioner options enable baccalaureate-prepared nurses to acquire knowledge and clinical practice skills in direct care of individuals, families, and aggregate populations. The Shenango campus is one of six campuses to offer the NP degree options, other locations include University Park, Fayette, Hershey, Scranton and Schuylkill.
Students may become NPs in as little as four semesters with full-time study; however, the program is also available for those students who want to attend part-time. The curriculum is delivered at the Shenango campus using videoconferencing technology and some online courses, with clinical experiences at Primary Health Network (PHN) and other healthcare facilities in the local area. Upon graduation, alumni will be eligible for national certification and state licensure in their specialty areas.
Penn State Shenango currently offers the registered nurse (RN) to B.S.N. degree. The campus also partners with the Sharon Regional Health System School of Nursing to offer area residents the unique opportunity to earn a diploma in nursing RN from Sharon Regional and complete the RN to B.S.N. at Penn State Shenango in a seamless and timely manner.
For more information on becoming a NP with a Penn State M.S.N. degree, contact Marsha Freije, academic adviser, College of Nursing graduate programs, at 814-867-5026; or visit https://www.nursing.psu.edu/nurse-practitioner-program/. To speak to a Penn State Shenango representative, contact Joan Humphrey, coordinator of the Penn State Shenango Nursing program, at 724-983-2963 or [email protected].