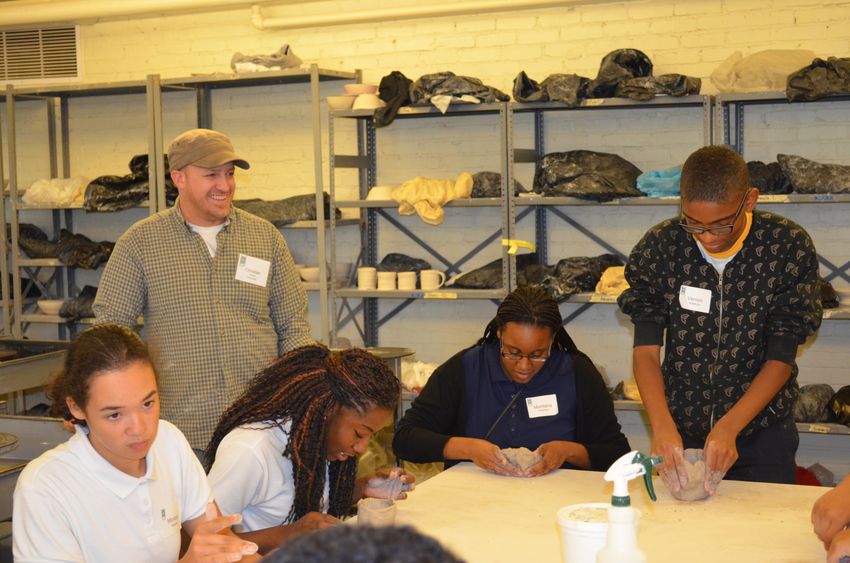 Penn State Shenango and The Hope Center for Arts and Technology (HopeCAT) are collaborating on a new venture this fall to begin an after-school pilot program with Farrell High School students. Focusing on ceramic art, the program is being taught by world-class ceramist and arts educator Christian Kuharik.

"Penn State Shenango is pleased to be teaming up with HopeCAT and its Executive Director Tom Roberts," said Jo Anne Carrick, campus director and chief academic officer Penn State Shenango. "It gives us great pleasure to know that the use of our state-of-the-art ceramic lab will provide these students with a warm and embracing environment which will enable them to produce something wonderful with their own hands."

This initial pilot program is an extension of the Manchester Bidwell Education Model, which includes visual arts after-school programming for youth and demand-driven career training for adults. The model promotes on-time graduation for high school students and effectively transitions individuals from unemployment and underemployment to entry level careers.

"We're thrilled to work with Penn State bringing a world-class, proven education model to the region in 2015 starting with Farrell High School," said Tom Roberts, executive director of The Hope Center. "Our pilot concepts started with the question, 'What assets do we have here in the area we can leverage to positively impact our community?', and Dr. Carrick and the Penn State team have been wonderful offering to extend the use of the campus for our program."

The first cohort in the program will include 14 Farrell High School students in grades nine through 12. The program began Oct. 20 and will run up to six weeks. A goal of the program is to provide students with skills that they can directly transfer into their education to promote academic achievement.

"The Farrell Area School District is excited about our collaboration with Penn State Shenango and the Hope Center," said Farrell Superintendent Lora Adams-King. "Moreover, we are especially excited about the ways in which our students will benefit from this experience. I've been to the Manchester Bidwell Center in Pittsburgh, met with Bill Strickland several times, and seen firsthand the impact of this program model. While this entire region will ultimately benefit from the Hope Center, Farrell is honored to have our students pilot the program here."

HopeCAT is based on Manchester Bidwell President Bill Strickland's belief that environment shapes behavior and that "all human lives are valuable." Strickland's life was changed when he was inspired and mentored by his high school ceramic art teacher, Frank Ross, in Manchester, an inner-city Pittsburgh neighborhood.

"I'm proud to see the efforts of the Sharon community come together in the new Hope Center for Arts & Technology," said Bill Strickland, president of Manchester Bidwell. "HopeCAT's collaboration with Penn State University and Farrell School District exemplifies the Manchester Bidwell Education Model's core value of cooperative community efforts. When school districts, higher education, and community organizations like HopeCAT work together, real change becomes possible."

Once funding is in place and building begins, the Hope Center will be located on the West Hill in Sharon, Pa., in the former Sacred Heart Elementary School. The facility will feature a world-class environment displaying professional art and providing Shenango Valley youth and adults access to industry-standard resources.

"Combining HopeCAT's proven educational model, with Penn State's world-class facilities and personnel will allow us to deliver a life-changing experience to several Farrell High School students," said Michael Walton, board chair, Hope Center for Arts and Technology. "The Penn State/HopeCAT collaboration is an example of what we can accomplish when pairing local, talented people with our community's resources."

For more information about The Hope Center for Arts and Technology, visit HopeCAT.org.