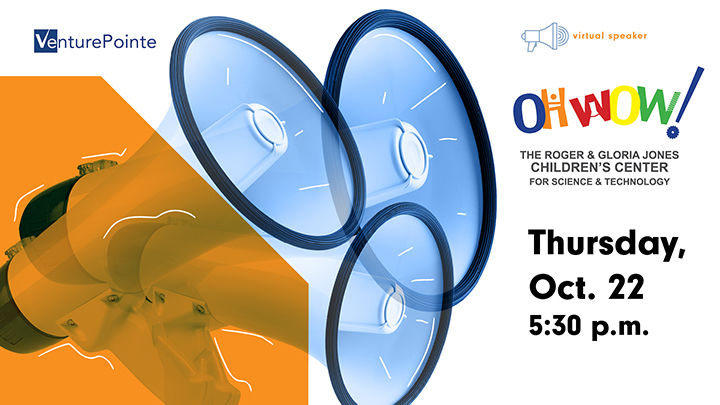 SHARON, Pa. — Penn State Shenango's VenturePointe Innovation Hub is collaborating with OH WOW! The Roger & Gloria Jones Children's Center for Science & Technology and the eCenter@LindenPointe to feature a conversation with Executive Director Suzanne Barbati about how the hands-on STEM museum has adapted since the pandemic, and what is in store for the future. 
Located in Youngstown, Ohio, OH WOW! is known for exciting visitors with interactive exhibits that blend learning with fun.
The earliest days of the pandemic were used as a driving force for OH WOW! management to face their new reality. Barbati said, "We asked, 'How do we transform ourselves to stay connected to our members, visitors and community during this unexpected pandemic?' We aimed our focus on what could be done."
Adapting their business model to meet this extreme change allowed OH WOW! to become a museum without walls, featuring new creative product offerings that keep the Science Center connected to learners of all ages. 
During the virtual event, Barbati will show viewers special exhibits, share photos and stories and discuss re-opening plans for spring 2021.
"There can often be more than one right answer and more than one perspective to a problem," said Georgia Macris, assistant teaching professor and VenturePointe coordinator. "Viewers will learn the importance of expanding creative thinking in order to solve problems differently — and often resulting in better outcomes."
Adapting to the changes of the pandemic is only half the battle. Barbati will discuss how the center plans to emerge as a stronger business by providing unique educational and entertaining services, allowing OH WOW! to continue being "the happiest place in Youngstown."
This VenturePointe Innovation Hub virtual event is open to the public. OH WOW!'s Oct. 22 presentation will take place at 5:30 p.m. and can be connected to via Zoom. Registration is required through the webinar registration form. 
Penn State encourages persons with disabilities to participate in its programs and activities. If you anticipate needing any type of accommodation or have questions about the physical access provided, please contact Jammie Clark at [email protected] or call 724-983-2838 at least 2 weeks prior to the start of the program to allow sufficient time to effectively meet your access needs.