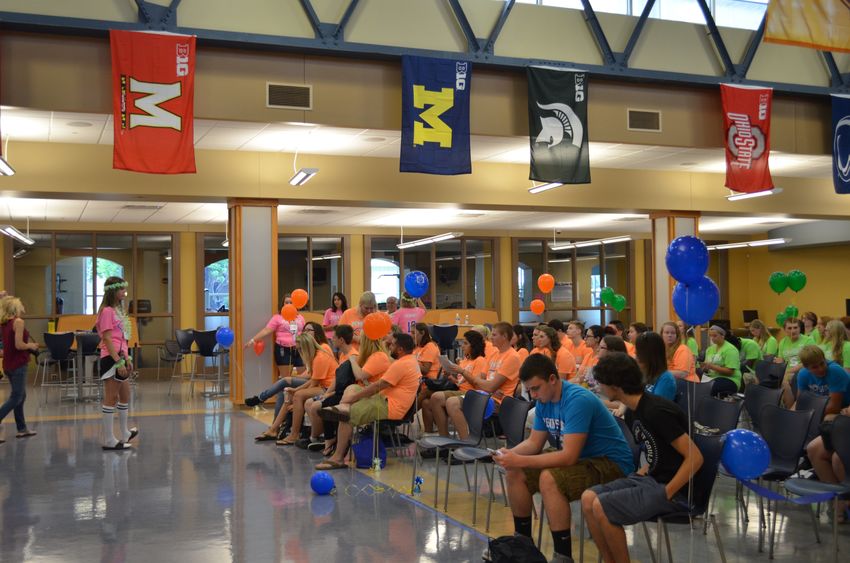 SHARON, Pa. — Each summer, the staff, faculty and maintenance team at Penn State Shenango are busy preparing for the arrival of new and returning students for the fall semester. The hallways are quieter and the parking lots are barer. It all becomes relevant, however, when the doors open in August and the students return to begin a new year.
Prior to the start of classes, which began on Aug. 22, the campus' Great Hall was a sea of blue, orange and green, as the campus held its annual New Student Orientation, where incoming students were paired into groups and assigned a Student Lion Leader to serve as their guide. Following registration and a welcome, the students attended informational sessions and presentations, including "Never Fear Being Different." They also took pictures in front of the Nittany Lion Shrine and enjoyed a picnic lunch and scavenger hunt in the afternoon.
"I was honored to be a Student Lion Leader this summer," said Kate Erdesky, a sophomore occupational therapy assistant student. "The other Lion Leaders and I have been working all summer to get ready for NSO. It's been a lot of fun working with the Shenango staff, as well as the new students."
To welcome all students, and to celebrate the start of a new academic year, a Back to School Bash was held Aug. 24 on the Science Building lawn, where free T-shirts, music, food and entertainment were provided by the campus' Student Affairs office.
"Back to School Bash is one of the few events we hold that everyone on campus attends, so it's great to see everybody together in one place," said Assistant Director of Student Affairs Jammie Clark. "We have a lot of new freshmen this year, and with our returning students, I'm looking forward to getting them involved in the trips and activities that our office has planned for the upcoming year."
For more information on Penn State Shenango, visit shenango.psu.edu.