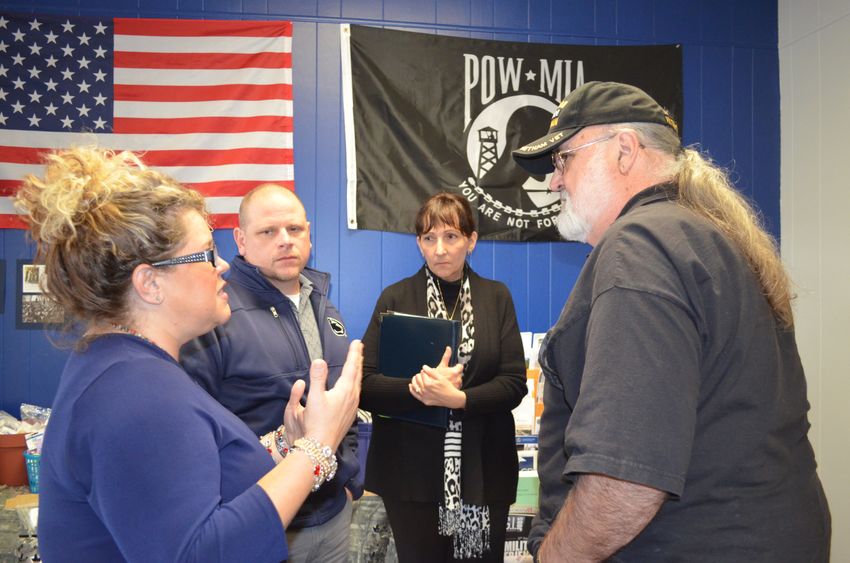 "I feel like I'm going to my Prom," said Wendy Caszatt, human development and family studies (HDFS) major, referring to the Grand Opening celebration of the Penn State Shenango Veterans Center on Oct. 25.
Approximately 40 guests attended the event which began in the Great Hall and moved to the Veterans Center, located in Sharon Hall room 308. Caszatt, who is completing her HDFS internship for the Veterans Center, spoke to those in attendance about how the center was established and what it means for the students at Penn State Shenango.
She also addressed her experience and evolving career goals as a student at Shenango. "For years, while I was working in the medical field, I knew I wanted to focus on helping veterans," she said, "so I decided to return to school. At first, I started taking courses to pursue a degree in nursing; however, I quickly realized that the campus' Human Development and Family Studies program was a better fit for what I wanted to do with my life. It was one of the best decisions I've ever made. "
In her third semester at the Shenango campus, Caszatt was required to complete a 30-hour practicum for an HDFS course and chose to research the needs of campus veterans. She met with people at the Mercer County Court House, who suggested establishing a Veterans Closet at the campus—a place where veterans could go and receive clothing, hygiene products and small household items.
Caszatt took this information back to the campus, where she engaged veterans Mandy Eagler, a business student (now alumna) and National Guard member, and Brian Flick, an HDFS student (now alumnus) and U.S. Navy veteran, to discuss ways they could create a Veterans Center and re-establish the Veterans Club on campus.
"After many meetings and discussions, Mandy, Brian, and myself decided that there was definitely a need for a Veterans Center," said Caszatt. "As president of the Student Government Association, Mandy was able to present the idea to the faculty, staff and leadership of the campus. Soon after, a Veterans Task Force was established from members of the campus community."
In 2015, the campus designated Sharon Hall room 308 as the location for the new center, and an open house was held for local veterans' organizations, clubs, and community members in order to raise awareness for the proposed center, as well as to raise funding to complete renovation of the new space.
During this past summer, thanks to the support of local veterans' organizations, alumni and friends, the Veterans Center renovation was completed, and students began utilizing the space at the beginning of the fall semester. In addition to completion of the center, an official club, the Student Veterans of America (SVA), was re-established on campus with Larry Lintz serving as president, Ron Cadman as vice-president, and Jess Guzzy as treasurer.
"We are very pleased to see our Veterans Center come to fruition," said Jo Anne Carrick, campus director. "I am so proud of Wendy, Mandy and Brian, who played a significant role in establishing this center, as well as the members of our Veterans Task Force, who helped see this project through. With the formation of the SVA Club, I feel very confident that our veterans will be well served, and they will be a positive addition to our campus internally and in our community."
The original goals of the center, according to Caszatt, were to have a space where veterans could come and build peer relationships, study, and receive veterans' information and resources. Since the center has been up and running, many student veterans, as well as other students, have utilized the new facility. But the goal for these students isn't to receive, but rather to give back, reach out, and help others in the community.
"We have 25 members signed up for the SVA Club," said Caszatt. "I think that's the most members of any club on campus. At the beginning of the semester, I self-identified military to get them involved in the club and the center. Then word of mouth took over, vet telling vet. When the students walk into the new center, they feel at home. But what's more fantastic, they want to get involved in the community to help those who are less fortunate. They are an amazing group of people."
The SVA has already participated in the Pittsburgh Stand Down for Veterans in September and has several other events planned, including helping in the community on Veterans Day, supporting the campus' THON drive, representing the branches of the service during the Hermitage Light Up Parade, and planning a Cookies with Santa raffle.
Caszatt said she will be happy to pass the reins on to her club members when she graduates in December.
"I couldn't be happier seeing how all of this has turned out, especially the center," said Caszatt. "I know when I leave, it will be in good hands. Although I will be graduating at the end of this semester, no matter what job I take, I will always want to stay connected with these people."