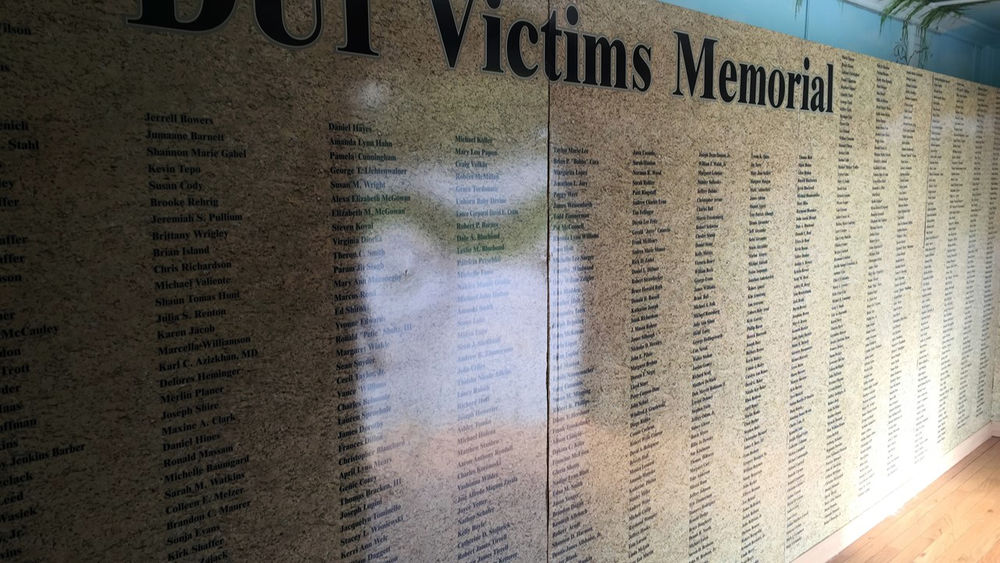 SHARON, Pa. — Penn State Shenango will host the Pennsylvania DUI Moving Memorial from 10 a.m. to 2 p.m. on Wednesday, Dec. 7, in the south wing of Parking Lot A located on Penn Avenue in downtown Sharon. The traveling memorial is being brought to the campus by the Pennsylvania Department of Transportation (PennDOT) in conjunction with the Pennsylvania DUI Association, Northwest Highway Safety Network, Pennsylvania State Police, and the Mercer County Sheriff's Office.
The traveling memorial pays homage to the victims of DUI crashes in Pennsylvania. It provides a serene setting for the family and friends who cannot travel to the DUI Victims' Memorial Park in Harrisburg to honor their loved ones. Along with the list of thousands of DUI crash victims, the moving memorial also features a park bench and garden-like paintings.
Last spring, Penn State Shenango Instructor in Nursing Maureen Dunn teamed up with Jill Harry from PennDOT and Cathy Tress from Pennsylvania DUI Association to present a program on drunk driving at the Community Library of the Shenango Valley. Dunn gave a lecture titled "Buzzed or Drunk? Are you too impaired to drive?"
"I was thrilled when Jill (Harry) asked if Penn State Shenango could host the DUI Moving Memorial," said Dunn. "Last year's collaboration with her and Cathy from the Pennsylvania DUI went very well, and the program brought a lot of public awareness. We need to continue to make motorists aware of the consequences of drinking and driving."
According to PennDOT data, 345 people died as a result of alcohol-related crashes in Pennsylvania last year. The memorial also acts as a reminder that there are consequences when a motorist drives impaired, and the overall goal is to encourage drivers to make safe choices while behind the wheel.
For more information on impaired driving, visit www.penndot.gov/safety.
For more information on the DUI memorial's visit, contact the Penn State Shenango Student Affairs office at 724-983-2836.