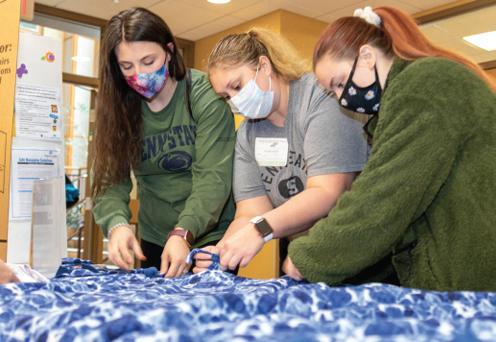 SHARON, Pa. — For many college nursing students, the grieving process is somewhat of an unknown. They have yet to experience it personally.
But as future nurses of the world, they can count on confronting death and dying. That's why Penn State Shenango nursing professor Amy Nagy has begun incorporating a local nonprofit — Love, Vincent — into her classroom to help students better understand and cope with the grieving process.
Love, Vincent is a nonprofit that supplies care packages for dogs and cats who have been diagnosed with a terminal illness to provide support and comfort to these animals and their families. Established to honor the life of the founder's dog, Vincent, the organization spreads joy and love to the communities it reaches.
Many Shenango Valley veterinary hospitals partner with and refer patients to Love, Vincent when they get an animal that's diagnosed with a terminal illness. The organization then assembles and sends a care package tailored to each animal.
Incorporating Love, Vincent and its philosophy into the classroom comes at a much needed time, Nagy explained, as the COVID-19 pandemic has pushed many of the nation's early-career nurses who are unaccustomed to the death and dying process to their limits. Nagy's Death and Dying class teaches students of all majors about attitudes towards death, pathology, funerals and estate planning, ethical issues, historical and cultural perspectives on death, and much more.
Bringing together these course objectives, students can opt to participate in the Love, Vincent project in a very practical way. Students are provided materials to make blankets for the furry patients.
"I wanted to give the students a project that would connect the course to a real-world situation and show how the grieving process is different for everybody. While the project focuses on animals, as an animal lover, you understand that they're like family and still find that grief connection," Nagy said. 
And some students are newer nurses, so it's a great way for them to navigate these feelings of grief and loss when treating patients in a less threatening environment.

—Amy Nagy , Assistant Teaching Professor
Nagy and her students routinely come together on campus to tie the blankets and talk about course topics that have been covered throughout the semester. She then collects and delivers the blankets to Love, Vincent's founder, Rachel, who has appreciated the students' help and love for the project. Nagy expressed that her students even go above and beyond with the project, tying extra blankets on their own time, as well as buying bags, toys and treats.
"One of the things that I was really terrified of as a new nurse was experiencing someone die; what does it look like, what does it smell like, what's it feel like, what do I say, what do I do," Nagy recalled. "So, my goal with the Death and Dying class is to try and get them more comfortable with how they feel and how they react to the death and dying process, and how they respond to the patient and family. The Love, Vincent project is great because it allows the younger nurses, who haven't had a lot of personal experience with death, to start talking about grief and loss."