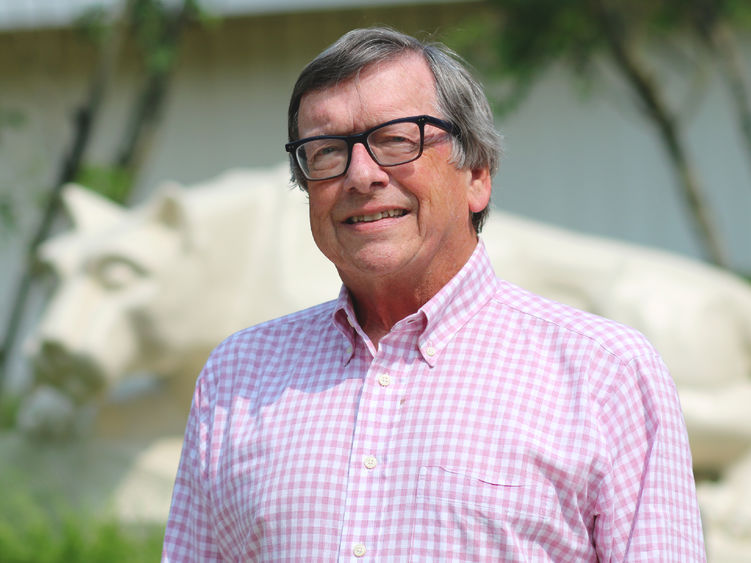 SHARON, Pa. — "I helped install these lockers during my winter break from University Park back in 1968," Thomas Dolan reminisced while taking a tour of Sharon Hall on the Penn State Shenango campus. "And I managed the basketball team when this room was the junior and senior high gym."
The locker installation and gymnasium memories brought back other reminders of Dolan's time as a student in the 1960s when the Sharon City School District occupied what is now Sharon Hall and Lecture Hall on Shenango's campus. 
Dolan went on to earn a degree in business accounting from University Park in 1971 and began working at a firm in Cleveland before moving across the country to California. Living and working far from home, Dolan never lost his connection to the Shenango Valley and continued to visit with family members and friends who stayed in the area. Now he is easing the way for other Shenango students to pursue Penn State degrees by working with the west coast-based development director to establish the Dolan Family Scholarship. The fund will direct support to first-generation college students and other students with financial need who are seeking enrollment at Dolan's hometown campus. 
He was always proud of his Sharon roots, said Dolan. When his former junior and senior high school buildings were purchased by Penn State and became the Shenango Valley Campus in 1965, it became the best of both worlds and sparked his blue-and-white pride as well. 
"When I attended Penn State between 1967 and 1971, tuition was quite inexpensive, and my parents were able to pay virtually all of my expenses," said Dolan. "I came up with the idea of helping deserving students get the great education which I did so many years ago." 
The Dolan Family Scholarship will ultimately be endowed with a percentage of Dolan's estate, estimated at approximately $300,000. However, Dolan has agreed to early-activation of the scholarship, promising annual funding of $2,500 for five years to be directed to students in need right away. 
"First-generation students make up a significant portion of Shenango's student population. Those individuals often require additional assistance to help navigate the college process, and the need for financial support is not always considered," said Campus Director Jo Anne Carrick. "Tom's love of Penn State and his hometown of Sharon, paired with his genuine desire to help others, are the driving forces behind this generous gift and will benefit Shenango students for years to come." 
Supporting students with the resources necessary to complete their Penn State degree is a primary goal of the Dolan Family Scholarship, said Dolan.
"I am very interested in helping students attending the Shenango campus move on to University Park or any other of the many Penn State campuses as they work for a bachelor's degree," Dolan said. "So, it makes sense to create a scholarship fund which will find deserving students and help them in that fashion." 
Gifts like the Dolan Family Scholarship advance the University's historic land-grant mission to serve and lead. Through philanthropy, alumni and friends are helping students to join the Penn State family and prepare for lifelong success; driving research, outreach and economic development that grow our shared strength and readiness for the future; and increasing the University's impact for families, patients, and communities across the commonwealth and around the world. Learn more by visiting raise.psu.edu.