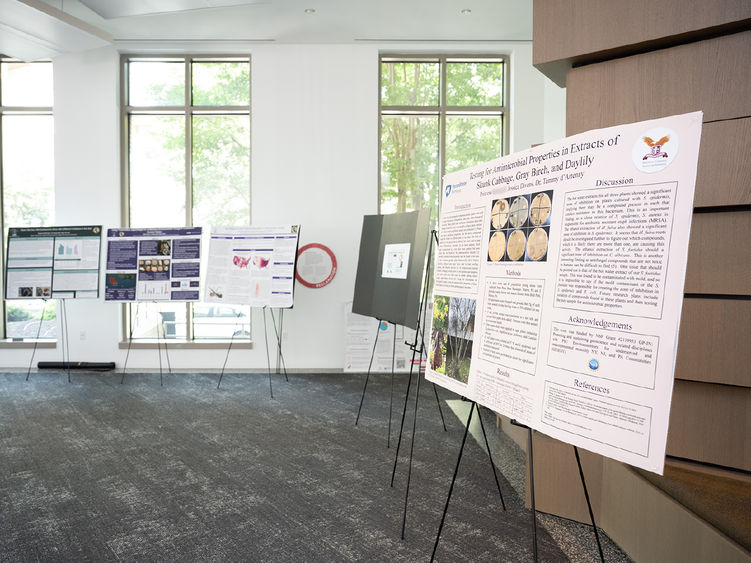 UNIVERSITY PARK, Pa. — The Penn State chapter of the EnvironMentors had a successful showing at the 2023 EnvironMentors National Science Fair and Awards Ceremony in Washington, D.C. Five high school students received awards, including the first-place prize, third-place prize, the Environmental Justice Award and the Public Health Award. 
EnvironMentors is a national program created by the Global Council for Science and the Environment. It connects underrepresented high school students with undergraduate students and faculty at local universities to create mentorships and expose the high school students to careers in science, technology, engineering and math (STEM) through environmental research.  
Tammy d'Artenay is an associate teaching professor of biology at Penn State Shenango. She and her high school student, Princess, placed first in the competition.  
"I got involved with EnvironMentors through Kathy Shaffer, the coordinator of the program at our campus," d'Artenay said. "She thought I would enjoy working with students on research, which I did. I had a wonderful time working with Princess. She was so excited when she learned we were going to do a lab-based project." 
D'Artenay said Princess, who won first place for her project titled "Testing for Antimicrobial Properties in Extracts of Skunk Cabbage, Gray Birch, and Daylily," became interested in learning lab techniques, and her experience will help her continue into research at the university level. 
"The EnvironMentors program is very important, not only for the high school students, but also for the undergraduates and faculty who work with them," said d'Artenay. "It gave me a chance to do research, which I have not been able to do for years. It also gave experience to my undergraduate student who now wants to continue the project we worked on into next school year. This program was very enriching to our campus." 
Mitch Spear is a laboratory manager at Penn State Harrisburg and part of the EnvironMentors leadership team. He said the program saw a participation increase after the pandemic, which is not common. 
"Many recent studies and reports are showing the negative impacts affecting STEM pathways post-pandemic," he said. "This includes the loss of equivalent to one year of math skills as well as a disproportionate decrease in marginalized communities pursuing STEM degrees. Despite these and many additional post pandemic challenges, this year's Penn State chapter of EnvironMentors saw a record number of student applications and participation." 
Spear said that this fact alone is a terrific barometer of measuring this year's success.  
"Additionally, we witnessed expansion in the number of school districts we served and expanded our geographic reach to include students from Medgar Evers College in the City University of New York system," he said. "This speaks volumes about the successes of EnvironMentors."  
Spear added that the program opens the door strengthening college applications and finding future scholarships and other research programs.  
"This type of impact lasts a lifetime and continues indefinitely and thus cannot be fully measured by this year's successes alone," he said. "It is imperative we increase diversity within STEM pathways and confer degrees to meet the demands of employers and stakeholders. Programs like EnvironMentors are key to diversifying a future workforce that will be better equipped in finding solutions to many of the current challenges, including climate change, environmental degradation, sustainable energy and food security." 
Natasha Miles is an associate research professor in the Department of Meteorology and Atmospheric Science and an EnvironMentors faculty mentor. Her high school student, Amy, won the Public Health Award for her project titled "Investigating particulate matter air pollution in an oil and natural gas region in New Mexico and Texas." 
"This year I mentored two groups of students, one group working on comparing the performance of two instruments measuring methane concentrations, and one group investigating particulate matter concentrations in the Permian oil and natural gas extraction region," Miles said. "The students learned about the scientific process, our specific research areas, coding and the presentation of results. The best is when students are excited to get a code working and see the results." 
Miles said EnvironMentors provides the opportunity for students to be a part of a research team that gives them a chance to explore career options.  
"Research shows that hands-on experience in science is an effective tool for retention in STEM," she said. "The EnvironMentors program complements classwork and allows for interaction with scientists." 
Jeremy Gernand, an associate professor in the John and Willie Leone Family Department of Energy and Mineral Engineering and an EnvironMentors faculty mentor, said the program is more than about learning. His student, David, won third place for his project titled "Correlation Between Congested Traffic and Particulate Matter Concentration." 
"A significant change is the increase in students' confidence," Gernand said. "When we started, the students wanted me to tell them what to do. I told them that I wanted them to come up with an idea, but they were hesitant. By the end, they were adapting to the conditions that they had. That change — going from just wanting somebody to tell them what to do, to being able to come up with ideas and understanding what can be done — was some of the biggest growth I saw." 
The Environmental Justice Award went to two high school students, Sarah and Ariam, who were mentored by Greg Jenkins and Rukayya Ibrahim at Penn State Harrisburg.
The Penn State chapter of EnvironMentors was started in 2018 under the Institutes of Energy and the Environment. In 2023, the EnvironMentors will transition to the Sustainability Institute.