Research Match and Community Event is the first of its kind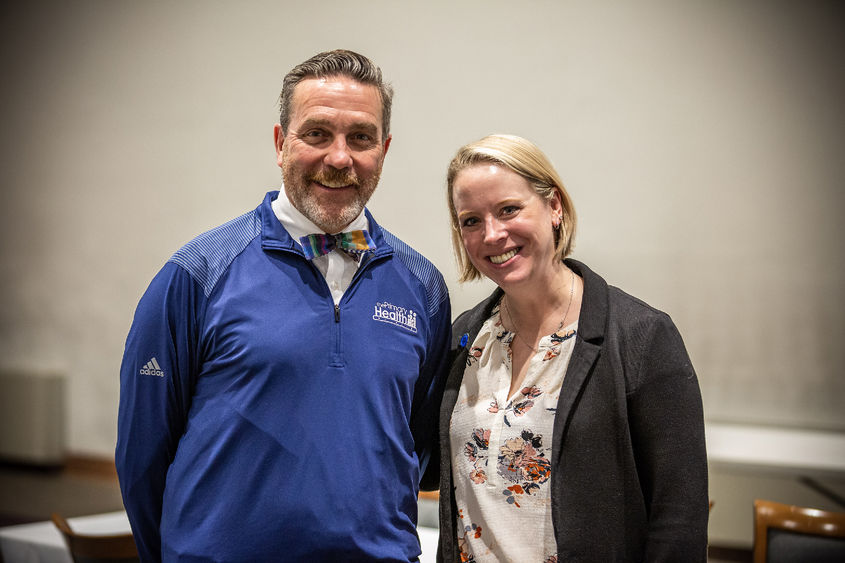 SHARON, Pa. — When it comes to innovation in health care, the saying "if you want to go far, go together" couldn't be more apt. And Penn State Clinical and Translational Science Institute (CTSI) is working to connect people and institutions to cultivate community research collaborations that improve population health and rural health equity.
Nicole Tarr, director of collaborative partnerships and research development for the CTSI, is busy leading efforts to make connections among researchers, local institutions and the community. Tarr led the planning and coordination of the most recent Research Match and Community event in Sharon, Pennsylvania, held this spring in collaboration with the CTSI administration, the Primary Health Network (PHN) and Penn State Shenango.
I'm in the right place. I'm right where I needed to be — in a place where other people are passionate about rural health. I have begun to build relationships here, and there is significant potential to launch my program of research in my new role at Penn State.

—participant in the Research Match and Community event
Cultivating partnerships and making connections
The two-day research match and community event took place April 13-14 and served to cultivate partnerships among community partners, Penn State and CTSI researchers and faculty, and PHN, including administrators and providers. These collaborations are focused on advancing clinical and translational research and rural health initiatives. This event served as a chance to collaborate and identify a research agenda for the partnerships moving forward.
Community partners offered an overview of their organizations, including what they do in the community and potential ways CTSI and PHN can partner with them.
Community partners that attended included the Buhl Regional Health Foundation, an organization committed to improving the health and well-being of western Pennsylvania communities through education, grants, scholarships, and partnerships with local organizations; the Community Food Warehouse, a non-profit organization and a partner food bank of Feeding America in Mercer County; Hope CAT [Center for Arts and Technology], a non-profit organization that provides free after school youth arts programs and adult training programs; the Buhl Club, a wellness center that provides recreational, social, fitness and education programs in Sharon; and the PHN Charitable Foundation, which supports the Primary Health Network's mission by raising funds to build and sustain healthcare programs and improve the health and quality of life of the community.
The first of its kind
Locally, this event was the first of its kind. In December 2021, a similar event was held but was virtual. That initial meeting included CTSI and Penn State faculty as well as PHN providers, staff, and administration. The purpose of the virtual meeting was to begin conversations, with a focus on PHN to guide them in seeing the major challenges in the community and the most pressing issues involved in patient care. Discussions centered around how these issues were being currently addressed, and where Penn State researchers might help to connect needs with outcomes.
The most recent in-person event, held at Penn State Shenango, reflected on the discussions of the virtual meeting and further considered issues of improving and promoting health literacy, ways to improve and treat mental health, and other social determinants of health (such as economics and demographics). In addition, some specific collaborations between PHN and CTSI were put in motion.
'I'm in the right place…'
Participants found the day inspiring and productive. One researcher stated, "I'm in the right place. I'm right where I needed to be — in a place where other people are passionate about rural health and I have begun to build relationships and there is significant potential to launch my program of research and new role with Penn State."
Research Match Day showed researchers and community members the extent to which collaboration and shared goals is possible. One participant remarked, "There is a whole team of people at the University who are as passionate about our communities as we are. [I'm] very excited about future collaborations."
Participants said they left with new insight that would help them understand the gaps in community health as well as what was currently successful. "[I] learned about the community and their needs but also what is going well," said a participant. Attendees said they also enjoyed the format of the event, specifically the free time allotted for organic conversation and networking, and the large group question and answer/discussion session. Participants reported finding it refreshing to hear directly from community leaders, and that the "passionate speeches made by community partners and their commitments towards improving lives of other people" were invigorating and inspiring.
Looking ahead
Tarr reported that future events will include a wider range of community voices. In addition, they plan to include local economic development organizations who can address infrastructure issues and provide additional insight into the social and economic challenges and opportunities that collaborations can either address or take advantage of.
Participants from this Research Match Day reported they were easily able to identify potential future collaborators. Providers, administrators and researchers all expressed the desire to continue engaging with one another as equal partners in improving community health.