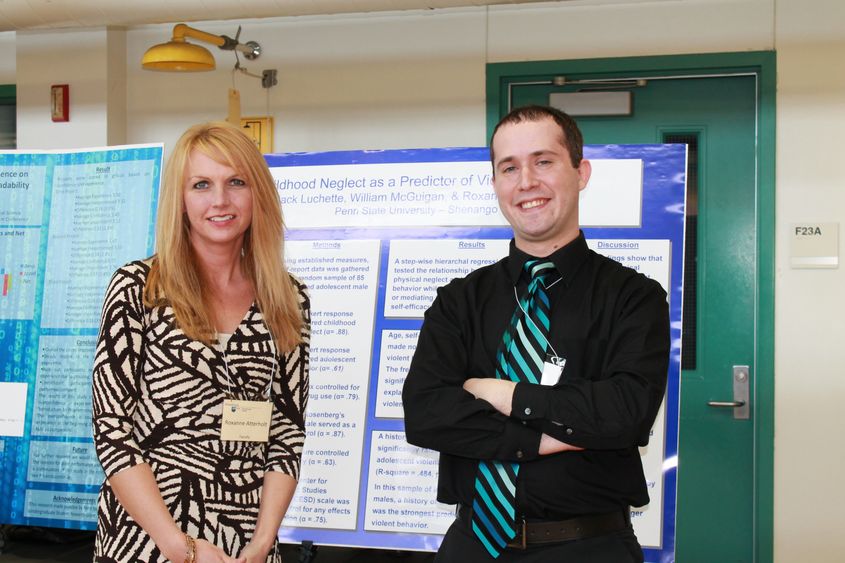 SHARON, Pa. -- Penn State Shenango Human Development and Family Studies (HDFS) senior Jack Luchette took first place at Penn State Erie, The Behrend College – Sigma XI 23rd annual Undergraduate Student Research and Creative Accomplishment Conference on Saturday, April 12. His poster abstract was titled "Childhood Neglect as a Predictor of Violent Behavior."
The annual meeting provided students an opportunity to present their research findings and creative work in a public setting while providing the audience an opportunity to see how involvement in research activities can make a difference in students' undergraduate experience. The conference included 91 posters and 24 oral presentations. Students participated from Allegheny College, Edinboro University, Penn State Altoona, Penn State DuBois, Penn State Shenango, Penn State York, Slippery Rock University, the University of Pittsburgh at Bradford, Westminster College, and Penn State Behrend.
Luchette was awarded first place in the research fair's poster presentation Psychology II category during the Luncheon Ceremony. His research mentors and collaborators are William McGuigan, associate professor of HDFS, and Roxanne Atterholt, instructor in HDFS.
"I consider the award this project received to be a victory for all of Penn State Shenango," said Luchette. "I am fortunate to have been given the compelling data used in this study by Dr. McGuigan. My mentors were instrumental in completing this project. I also utilized resources available at Penn State Shenango's library and learning center. I am excited about the future of this project and look forward to presenting it on a considerably larger stage this summer."
Luchette's research has established that childhood maltreatment experiences are associated with negative behavioral outcomes, and that neglect is the most prevalent form of childhood maltreatment, the consequences of which require further investigation. The study explored whether childhood physical neglect increased the likelihood of violent behavior in a sample of delinquent males between the ages of 12-19 at a long-term detention facility in Northwestern Pennsylvania. An anonymous survey was used to gather background information and data regarding childhood maltreatment experiences, drug use, and delinquent behavior. A step-wise hierarchal regression model tested for a significant relationship between childhood neglect and adolescent violent behavior while controlling for the effects of age, self-esteem, personal competency, depression and chemical drug use.
The findings of this study show that childhood physical neglect effects violent behavior in adolescent males even after controlling for other factors that are known to influence adolescent violence.
Luchette, along with McGuigan and Atterholt, will present this study at The American Sociological Association annual meeting in San Francisco in August.
After receiving his associate degree in letters, arts, and sciences in 2007, Luchette lived and worked in Pittsburgh for several years. Upon his return to the area, he enrolled in Penn State Shenango to complete his bachelor's degree in HDFS. Luchette will graduate fall 2014, at which time he plans to pursue a master's degree in social work.