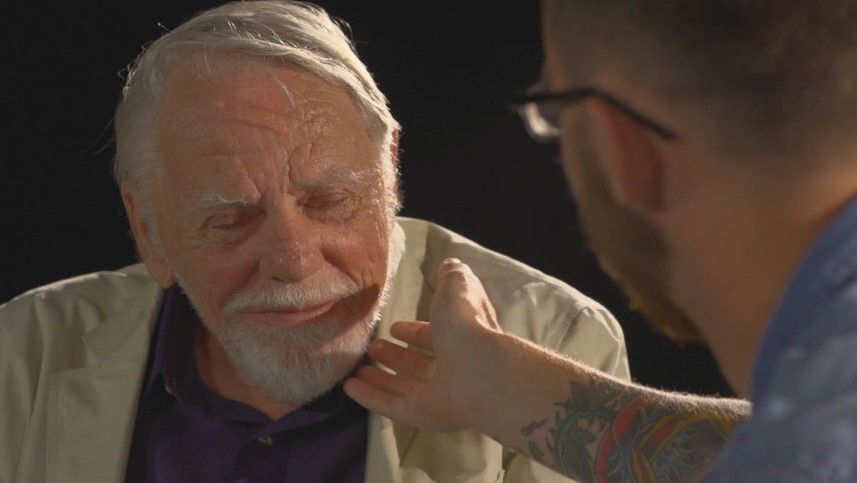 Penn State Laureate Andrew Belser will be providing tours of his innovative and award-winning multimedia exhibition, "FaceAge," from 10 a.m. to 4 p.m., as well as will be speaking about his display, from noon to 1 p.m., on Tuesday, April 17 in the Penn State Shenango Lartz Memorial Library. The event is free and open to the public.
"FaceAge" is a multimedia installation created from guided cross-generational encounters documented through digital recordings. According to Belser, the installation places audiences within a synchronized, three-screen surround where younger (18-22) and older (70+) participants can be seen studying, describing, and touching one another's faces. A 45-minute loop of moving and still imagery forms a fluid space in which time can slow, permitting a close study of faces rarely afforded in social settings.
"FaceAge" is a remarkably human space in which participants explore issues of identity, gender, sexuality, and ethnicity through the lens of aging. The exhibition challenges age-related stereotypes and triggers self-reflection around deeply personal perceptions.
Belser is director of the University's Arts and Design Research Incubator and a professor of moving voice and acting in Penn State's School of Theatre. Throughout the 2017-18 academic year, Belser has taken his presentation to Penn State campuses across the commonwealth.
The Penn State Laureate is a full-time University faculty member in the humanities or fine arts who is assigned for one academic year to bring an enhanced level of social, cultural, artistic and human perspective and awareness to a broad array of audiences. Since its establishment in 2008, the Penn State Laureate Program has successfully involved the campuses in activities aimed at students, alumni and local communities across Pennsylvania.
For more information on "FaceAge," visit www.faceage.org/home or contact Erin Burns, reference and instruction librarian, or Kevin Peretic, library intern, at 724-983-2876.