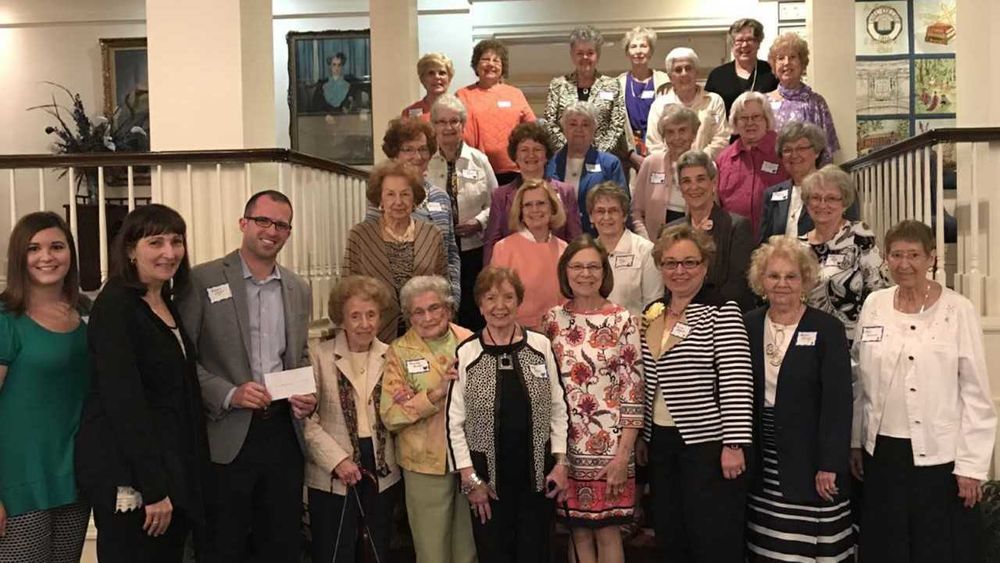 SHARON, Pa. — The College Club of Sharon and the Penn State Shenango Alumni Society have announced the creation of a $47,000 Open Doors Scholarship at Penn State Shenango, which offered a 2:1 match on endowment principal from the University. The scholarship is part of the University's Pathway to Success Summer Start (PaSSS) program to help students overcome the obstacles that can hinder their path to graduation. With the 2:1 match, the $47,000 combined gift turns into a $141,000 endowment. 
Open Doors scholarships benefit students enrolled at the Shenango campus who are participating in PaSSS.
"The summer PaSSS program at Penn State Shenango is really important because it provides tools and resources to first-year students to increase their likelihood of graduating on time, which could save thousands of dollars in tuition and fees that would accrue from an additional semester or year," said Allison Engstrom, director of Development and Alumni Relations. "In addition to completing their coursework, students in the PaSSS program are paired with mentors, and the program helps acclimate students to balancing coursework and their life outside of college."
The College Club of Sharon, comprised of college-educated women, was established nearly 100 years ago. Its purpose was to foster education for women and to encourage them to go to college and pursue their degrees. After nearly a century of support, the organization made the bittersweet decision to dissolve the group in May 2018; however, the club wanted to continue to make an impact on their community through supporting higher education. Therefore, several members of the College Club reached out to Engstrom to inquire how they could establish an endowment to benefit local students. 
About the same time, the Shenango Alumni Society was discussing how they could raise enough funds to establish their own endowment. On average, the Shenango Alumni Society raises approximately $15,000 annually, through their annual golf outing and Penn State football ticket raffle, as well as other fundraisers. With the exciting Open Doors Scholarship opportunity available, Engstrom explained to both groups that a minimum of $30,000 was needed, which at the time, seemed out of reach for both organizations. 
After several meetings, the College Club and the Shenango Alumni Society decided to combine their funds and establish a joint Open Doors Scholarship, which they named the College Club of Sharon and Penn State Shenango Alumni Society Open Doors Scholarship at Penn State Shenango. After a year of planning and fundraising, the combined amount of funds raised was $47,000 — substantially more than the initial goal of $30,000.
"This is a historic moment for the Shenango Alumni Society," said Carl Aaron Sizer, 2011 alumnus and president of the Penn State Shenango Alumni Society. "To be able to collaborate with such an impressive group of women makes this moment even more special. We could not be more proud to partner with the College Club of Sharon, whose mission is similar to ours — a passion for increasing funding to higher education."
Ruthanne Beighley remembers the months leading up to the difficult decision to dissolve the College Club of Sharon and is happy to know that every year local college students will still benefit from the generosity of the former club.
"When the College Club of Sharon realized that it was no longer viable, we searched for an opportunity to leverage our funds and provide for continuing education for all people in the Shenango Valley," said Beighley. "This partnership surpassed our expectations. That is a good thing!" 
Both organizations are very proud of their joint efforts and hope their partnership will help other local organizations think about ways to collaborate for the good of the community. 
This gift will advance "A Greater Penn State for 21st Century Excellence," a focused campaign that seeks to elevate Penn State's position as a leading public university in a world defined by rapid change and global connections. With the support of alumni and friends, "A Greater Penn State" seeks to fulfill the three key imperatives of a 21st-century public university: keeping the doors to higher education open to hardworking students regardless of financial well-being; creating transformative experiences that go beyond the classroom; and impacting the world by fueling discovery, innovation and entrepreneurship. To learn more about "A Greater Penn State for 21st Century Excellence," visit greaterpennstate.psu.edu.
About the Penn State Shenango Alumni Society
The Penn State Shenango Alumni Society is an affiliate group of the Penn State Alumni Association. It includes members from western Pennsylvania and eastern Ohio and aims to connect individuals who have a shared passion, pride and loyalty for Penn State. The group focuses on interacting with alumni and current students through events, fundraising and networking activities, as well as increasing its scholarship endowments.