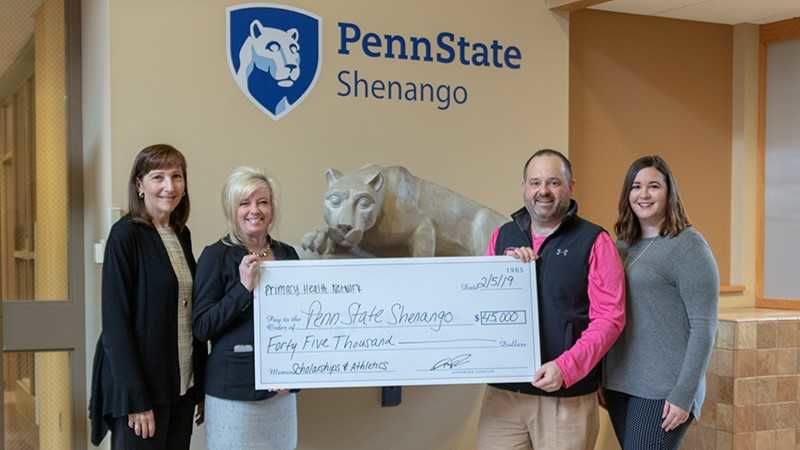 SHARON, Pa. — Primary Health Network Charitable Foundation recently made two substantial contributions to Penn State Shenango — one, a $30,000 gift to establish an Open Doors Scholarship at the Shenango campus, and the second, a $15,000 donation in support the campus' athletics program. A 2:1 University match will increase the $30,000 donation to a $90,000 scholarship endowment for the local campus.
"We know that this scholarship will have a direct impact on local students," said Drew Pierce, chief executive officer at Primary Health Network. "We're delighted to support Penn State Shenango and are happy to continue our partnership with the campus."
Open Doors Scholarships support students in the Open Doors programs, which the University created to help students overcome the obstacles to earning a Penn State degree. For example, the Complete Penn State program supports students who experience unexpected financial hardships. When situations arise such as a family illness, undergraduates may have to leave the University before they can complete their degrees. Complete Penn State provides assistance to students in such circumstances and helps them stay on track toward graduation.
The effect of Open Doors Scholarships will help numerous students, many who are first-generation, as they progress through their college career at the Shenango campus.
"Primary Health Network has a truly special connection to Penn State Shenango and the local community," said Campus Director Jo Anne Carrick. "This Open Doors Scholarship from the Primary Health Network Charitable Foundation means a great deal to our entire campus community. It will provide opportunities for our students that will truly transform their lives, and we are very grateful for their generosity and commitment to our campus."
"Since 2005, Primary Health Network Charitable Foundation has awarded over $230,000 to students pursuing a career in the health care industry. We are pleased to be expanding our program to fit the needs of those students at Penn State Shenango," said Cheryl Goldstone, director of programs at Primary Health Network Charitable Foundation. "We hope this scholarship program will enhance the lives of many Penn State Shenango students for years to come."
In addition to the Open Doors Scholarship, Primary Health Network generously committed to providing funds to support the newly established Men's Basketball Program at Penn State Shenango. Their gift of $15,000 supports transportation costs that the men's basketball team incurs when traveling to away games and tournaments.
These gifts will advance "A Greater Penn State for 21st Century Excellence," a focused campaign that seeks to elevate Penn State's position as a leading public university in a world defined by rapid change and global connections. With the support of alumni and friends, "A Greater Penn State" seeks to fulfill the three key imperatives of a 21st-century public university: keeping the doors to higher education open to hard-working students regardless of financial well-being; creating transformative experiences that go beyond the classroom; and impacting the world by fueling discovery, innovation and entrepreneurship. To learn more about "A Greater Penn State for 21st Century Excellence," visit greaterpennstate.psu.edu.