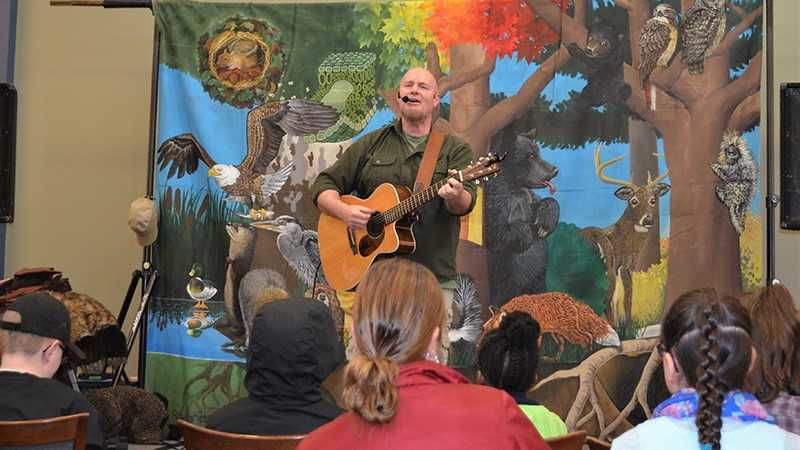 SHARON, Pa. — The Penn State Shenango Earth Fest, which has become a popular annual event in the Shenango Valley for adults and children of all ages, will take place from 11 a.m. to 4 p.m. on Saturday, April 6, at the campus' Great Hall and Atrium in downtown Sharon.
The festival, which is free and open to the community, will include live music and entertainment, an educational presentation on sustainability by author/journalist Seamus McGraw, children's activities, a local artists' market, Penn State Berkey Creamery ice cream, and information from sustainability-minded local organizations and businesses. Food and coffee from Haitian Sensation, The Bluegrass Kitchen, and Metz Culinary will be available to purchase.
There will be entertainment throughout the day beginning at 11 a.m. in the Great Hall with a community drum circle. All are welcome, and drums will be provided, or participants can bring their own. At noon and 3 p.m., songwriter/ puppeteer Christopher Rowlands will perform, blending music, dance and comedy to teach children about animals and their habitats.
At 1:15 p.m. in the Great Hall, author/journalist Seamus McGraw will give a presentation on the complex relationship between natural resources, communities and history, and how this leads to cultural conflicts over what to do about climate science. McGraw is the author of "Betting the Farm on a Drought: Stories From the Front Lines of Climate Change," "The End of Country: Dispatches From the Frack Zone," and most recently "A Thirsty Land: The Making of an American Water Crisis." A native of northeastern Pennsylvania, he has been a regular contributor to numerous publications, including The New York Times, Popular Mechanics, Readers Digest, Spin and Radar.
A variety of activities for children and family members of all ages include energy activities from the Oh Wow! children's science center; a "Habitat Room" with crafts and educational activities focusing on coral reefs, courtesy of the Hermitage Schools Green Team, the Shenango River Watchers, Buhl Park, and the Penn State Shenango Science Department; and a take-home seed-planting activity with the Penn State Shenango Gardening Club.
Other activities available throughout the day include an eco-friendly local artist's market and information tables from environmentally conscious local businesses and organizations. Penn State Shenango's Student Veterans Club will host a flag drive, and community members are encouraged to bring their worn and tattered American flags to the event for proper disposal. There also will be an exhibition of upcycled artwork created by local elementary students, with an award ceremony taking place at 2:30 p.m.
Earth Fest 2019 is co-sponsored by WKBN and Fox Television. For a complete schedule of events or for more information, contact Tony Paglia at 724-983-2841 or visit www.facebook.com/PennStateShenangoEarthFest.