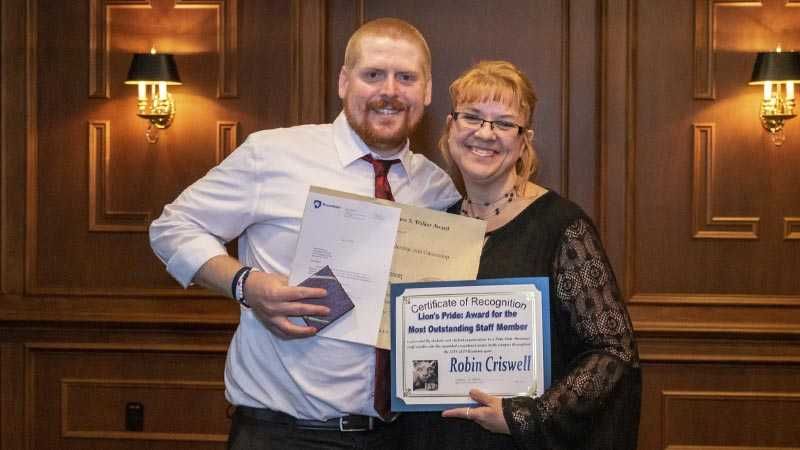 Students of Penn State Shenango were honored at the campus' 2019 Honors Convocation and Recognition Banquet for their outstanding academic and student leadership achievements and services. The recipients of this year's Eric and Josephine Walker Award, Dennis W. Bartholomew Outstanding Adult Student Award, the Ann Wansack Award, as well as the Campus Director's Teaching Excellence Award and the Margaret Cunningham Foley Memorial Teaching Award, were also part of the program.
Presenters at the recognition dinner, which was held at the Avalon Country Club at Buhl Park, were Campus Director Jo Anne Carrick, Assistant Director of Academic Affairs Elaine Andrews, Director of Student Affairs Jammie Clark, Assistant Director of Student Affairs Andrew Puleo, and Director of Enrollment Management Chuck Greggs, as well as several faculty and staff who serve as club advisers.
The first award presented was the President's Freshman Award, which is given to full-time undergraduate students who have earned a 4.0 grade-point average in the first semester of their freshman year. The recipients of this award were Kathleen Golis of Hermitage, and Devin Mitchell, Allison Ridenour, and Ian Titus, all of Sharpsville.
The Robert Weber Mathematics Award honors the late Robert Weber who taught mathematics at the Shenango campus. The award, presented annually to the most promising Shenango campus mathematics student, was given to Sloan Selden of Grove City.
The Academic Achievement Awards, which are given to students in each college or degree program who have achieved the best cumulative grade-point average during the academic year, were the next to be announced. Priority is given to students who have been in their major for three semesters.
The recipients included, beginning with baccalaureate-seeking students, Mikayla Cutshaw of Sharon, administration of justice; Keturah Gaines of Farrell, business; Leon Nichols of Sharon, health and human development; Terry Shirley of Sharpsville, health and human development; Kristen Mendenhall of New Brighton, nursing; Lisa McLean of Beaver Falls, nursing; Cristal Bollinger of West Middlesex, project and supply chain management.
Those students seeking associate degrees who were chosen for this year's Academic Achievement Awards included Emily Davis of Hermitage, occupational therapy assistant and Brittany Zambrini of Hubbard, Ohio, physical therapist assistant.
The following students were recognized for their high academic achievement with cumulative grade-point averages of 3.5 and above. They included Emmanuel Asare of Aliquippa, Olivia Beveridge of West Middlesex, Becky Blaze of Hermitage, Tyler Buxton of Greenville, John Dorus of Sharon, Joshua Douglas of Greenville, Sydeny Flynn of Clark, Jenna Gardill of Greenville, Daelyn Gilson of Mercer, Hope Grinnell of Sharon, Alijah Hasan Douglas of Farrell, Miranda Hayes of Greenville, Cody Hill of Darlington, Theresa Igersheim of Greenville, Catherine Laughlin of New Castle, Orisha Mickel of Warren, OH, Tory Nocera of Sharon, Laura Ostrowski of New Castle, Stephanie Roth of Greenville, Kaley Scott of Pulaski, Veronica Shaffer of New Castle, Mackenzie Stainbrook of Sharpsville, Kelly Swaoger of Aliquippa, Roberta Vantassel of Greenville, Catherine Yeager of Mercer, and Myranda Zaboroski of Sharon.
The Bernard Osher Foundation, headquartered in San Francisco, was founded in 1977 by Bernard Osher, a respected businessman and community leader. The foundation seeks to improve quality of life through support for higher education and the arts. Scholarships are awarded to students pursuing their first bachelor's degree, are between the age of 25 and 50 years, and have completed at least 12 credits in a degree-seeking program. They must also have a cumulative gap in their education of at least five years, demonstrate financial need, and show academic promise and commitment to obtaining a bachelor's degree. The Osher Foundation Re-entry Scholarships were awarded to Miranda Hayes of Niles, Ohio, and Veronica Shaffer of New Castle.
The 2018-19 Honors Program certificates were presented by Kevin McDade. These certificates were given to those students who have fulfilled the Honor's Program requirements and have maintained an excellent grade-point average. They are Alijah Hasan Douglas of Farrell and Kimberly Reiter of Transfer. Both students received College Honors.
This year's Eric and Josephine Walker Award was presented to Jamie Anderson of Hermitage. This award recognizes students from the University campuses whose outstanding qualities of character, scholarship, leadership and citizenship have been directed into programs and services that have positively influenced fellow students and have contributed to the prestige and well-being of their campus.
Anderson is a fifth semester business student with a focus in marketing and management. His nominator had this to say about him: "Jaime is a staple in the Student Affairs office on a daily basis. He always greets students and staff with a smile and his crazy sarcasm. His involvement with SGA as club treasurer and the Veterans Club have been plentiful. Jaime was also present at many of the Penn State Shenango Men's Basketball games. After the home games, he always assisted with tear-down even though it was never asked of him. He goes out of his way to assist when needed; [he] has been a pleasure to work with."
This year's recipient of the Dennis W. Bartholomew Outstanding Adult Student Award was Morgan Force of Greenville. The Outstanding Adult Student Award recognizes a student over the age of 21 who has completed at least 36 credits and who is distinguished by scholarship, service and success in coping with numerous roles and overcoming difficult circumstances in the pursuit of education. The award is funded by the widow of a former Shenango student, Dennis W. Bartholomew, who attended the campus from 1970-1972 and graduated from the University Park campus in 1974 with a bachelor of science degree in engineering.
Force is a human development and family studies major and just completed her sixth semester of classes at the Shenango campus. Her nominators had these things to say about her: "I've had Morgan in three of my classes and watched as she fought to continue with her education through personal struggles, pregnancy and being a new mom, and finally settling into a new marriage and family situation. She has consistently demonstrated advanced comprehension of the course material in my classes, and even when she has had to miss class due to outside obligations and personal challenges, she has stuck with the work and turned in insightful, critical essays and assignments. She asked for help when she needed it and, as a result, was able to show that despite everything she was dealing with, she was learning and progressing. In the end, she found more stable ground that has allowed her to focus on and prioritize her education and become one of the best students in my class."
Another nominator wrote, "Morgan consistently participates in class discussion and frequently brings her experience as a mother into course discussions when relevant. Morgan has also encouraged others to participate, which is a rare quality in a student. She frequently asks questions seeking to further understand material from the class, but beyond that, Morgan has taken it upon herself to make connections with course material to her own life experiences. This is a skill that is highly valued in the HDFS discipline and will serve Morgan well as she proceeds in her professional career in the coming years."
This year's Ann Wansack Award was presented to Nikayla Hamilton of Hubbard, Ohio. The Wansack Award was established in the memory of Ann "Mom" Wansack who was an employee at Penn State Shenango and a devoted friend to the students of the Shenango campus. The purpose of this award is to honor and recognize full-time students enrolled at Penn State Shenango who are actively involved, through leadership or participation, in the betterment of the campus.
Hamilton is a second-year occupational therapy assistant student who has been actively involved in the OT Club and served as a Lion Leader last summer. Her nominator had this to say about her: "She engages in class and approaches her personal and academic life with integrity. She is a role model for other students by handling stressful circumstances with poise. As other students are demonstrating stress responses to the demands of academics and life, Nikayla demonstrates self-control and good stress management. Her leadership skills have grown and flourished in the four semesters she has been at Penn State Shenango. She is an excellent representative for Penn State Shenango and will be an amazing occupational therapy assistant as she reaches her future goals."
The Most Outstanding Club Advisor award is given to a faculty or staff member who has made an exceptional contribution to the campus community through advisement of a club or organization. The 2018-19 Outstanding Club Advisor award was presented to Occupational Therapy Assistant Instructor Geralyn Wallace of Hermitage.
The Most Outstanding Staff Member award is given to a Penn State Shenango staff member who has gone above and beyond the call of duty for a student club or organization at the Shenango campus. The 2018-19 Outstanding Staff Member award was presented to Administrative Support Assistant Robin Criswell of New Castle.
The following four awards are new to the Shenango campus this year:
The Programming Excellence Award recognizes innovative and outstanding achievement in the planning and presentation of a program by a student organization, group/class project, committee, or an individual. The inaugural award was presented to those students and staff who were instrumental in putting together the "Shenango versus Cancer Basketball Fundraiser."
The Unsung Hero Award recognizes a student who works behind-the-scenes of a successful recognized student organization, athletic team, group/class project, or committee. This award is given to a student who consistently gives their all, going above and beyond the call of duty on a regular basis without expectation of recognition. The award goes to Anthony Costa of Niles, Ohio, who completed his first year in the campus' Physical Therapist Assistant (PTA) Program.
The Emerging Leader of the Year is presented to a student with less than 45 credits who has contributed significantly to the Penn State Shenango community through their involvement in a campus organization, athletic team, or a community service program. The nominee must also show significant potential for continued leadership and civic engagement. The award was presented to Jake Rickert of Greenville, who also completed his first year in Shenango's PTA program.
The Student Leader of the Year award, which recognizes a student who has demonstrated excellence in academic growth and achievement, excellence in campus and community engagement, and a contribution to the Penn State Shenango community through their leadership and participation in campus programs, organizations, and activities was presented to Ron Cadman of Greenville.
Also recognized at this year's banquet was Assisting Teaching Professor of Psychology Joneen Schuster, who was named the recipient of the 2019 Campus Director's Teaching Excellence Award, and Lecturer in Administration of Justice Kelly Melvin-Campbell, who was named the recipient of the 2019 Margaret Cunningham Foley Memorial Part-time Teaching Award. The two faculty members will be presented plaques and awards at the campus' annual Penn State Shenango Advisory Board's fall recognition meeting in October.
For more information on these and other Penn State Shenango awards, contact the Student Affairs Office at 724-983-2836.