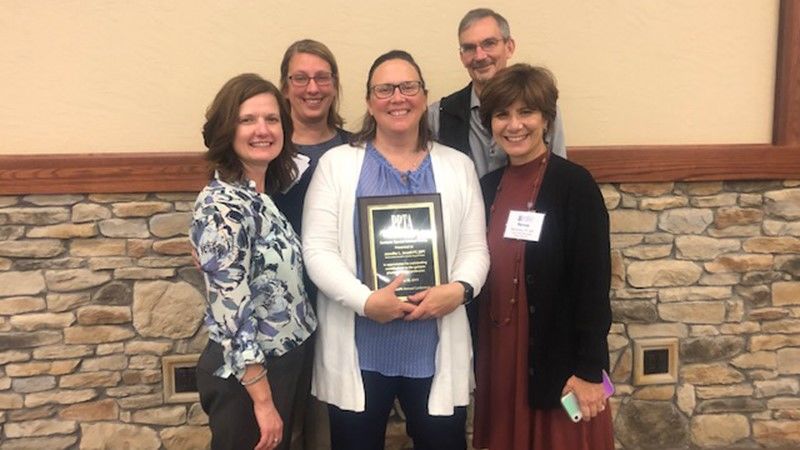 Jennifer Jewell, board certified specialist in geriatric physical therapy, was awarded the 2019 Pennsylvania Physical Therapy Association's (PPTA) Geriatric Special Interest Group Award of Excellence. She received the award in October at the PPTA conference at Seven Springs Mountain Resort in Champion, Pennsylvania. Jewell is an associate teaching professor at Penn State Shenango and maintains her clinical practice in geriatric physical therapy at Quality Life Services-Mercer.
Chair of the PPTA Geriatric Special Interest Group, Mary Ann Wharton, presented the award citing Jewell's longstanding commitment to geriatric physical therapy practice.
Wharton emphasized Jewell's organization of numerous geriatric experiential learning experiences for her students to increase student awareness of ageism while providing student opportunity for interaction with the geriatric population. Jewell also organizes local continuing education opportunities offered at Penn State Shenango for practicing clinicians that relate to various geriatric related topics.
Jewell graduated in 1997 from Arcadia University (formerly Beaver College) in Glenside, Pennsylvania, with a master's degree in physical therapy. She continued her education at Chatham University graduating in 2004 with her doctorate in physical therapy. She was awarded the professional designation of board-certified clinical specialist in geriatric physical therapy by the American Board of Physical Therapy Specialties of the American Physical Therapy Association in July 2018.