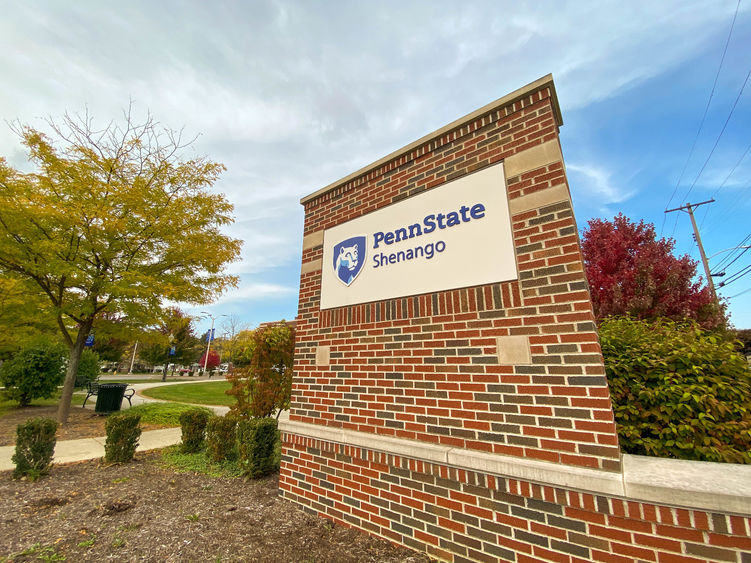 SHARON, Pa. — Penn State Shenango students and employees were honored at the annual 2021 Awards Ceremony and Honors Convocation to celebrate their outstanding academic and student life achievements.
Academic recognition
The President's Freshman Award
The President's Freshman Award is presented annually to those full-time, undergraduate students who have earned a 4.0 grade-point average for the first semester of their first year of study.
Brooke Brown, Niles, Ohio
William Divens, Sharpsville
Julianna Herriott, Sharpsville
Trent Morris, Hermitage
Karsyn Rupert, West Middlesex
Polina Soldatova, Sandy Lake
The Evan Pugh Scholar Award
The Evan Pugh Scholar Award began in 1933 and was given to the top five persons in both the junior and senior classes. The award is named for Evan Pugh, Penn State's first president (1859-1864). Today, the Evan Pugh scholars are those juniors and seniors who are in the upper 0.5 percent of their respective classes and have completed at least 48 graded Penn State credits at the end of the fall semester of the academic year in which the award is given.
Devin Mitchell, Sharpsville
The Robert Weber Mathematics Award
The Robert Weber Mathematics Award is presented annually to the most promising Shenango math student and honors the late Robert Weber who taught math at the Shenango campus.
William Divens
Katherine Kinney, Clarks Mills
Teaching Excellence Award
The Margaret Cunningham Foley Memorial Teaching Award
Academic Achievement Awards
The Shenango campus High Academic Achievement Awards are presented to those students in each college or degree program who have achieved the best cumulative grade-point average during the academic year.
Baccalaureate Programs
Administration of Justice: Michael Jacob, Stoneboro
Criminal Justice: Dien Tran, Hermitage
Business: Devin Mitchell
Corporate Communication: Jacob Rickert, Greenville
Division of Undergraduate Studies: Olivia Vogel, Brookfield, Ohio
Human Development and Family Studies: Nastasja Faison, Youngstown, Ohio; and Dakota Wildauer, New Wilmington
Letters, Arts, and Sciences: Chelsea Blakely, Sharpsville; and Savannah Gill, New Castle
Nursing: Annalise Bassetti, Hubbard, Ohio
Project and Supply Chain Management: Kathleen Golis, Erie
Associate Programs
Occupational Therapy Assistant: JoLena Stull, Hermitage; Nicole Kowalski, Youngstown, Ohio
Physical Therapist Assistant: Kaleigh Miller, Brookfield, Ohio
Outstanding academic performance
Outstanding academic performance recognized students with cumulative grade-point averages of 3.5 and above.
Matthew Entwistle, Hermitage
McKenna Eversole, Fredonia
Shalea Fish, New Castle
Ashawa Gibbs, Youngstown, Ohio
Sha'Vonne Goosby, New Brighton
Magdalena Hochstetler, Sharon
Michael Horstman, Greenville
Logan Hurley, Mercer
Heather Ischo, Hermitage
Dylan Karnes, West Middlesex
Kelly Knicely, New Castle
Brittany Layman, Sharpsville
Chelsea Litman, Fort Worth, Texas
Leigha McCoy, Mercer
Rachel McMillin, New Castle
Lyndsey Mellon, Jackson Center
Jenna Michaels, Monaca
Olivia Mitcheltree, West Middlesex
Derek Moore, Mercer
Tashja Pisano, Youngstown, Ohio
Emily Reda, Mercer
Cheyenne Richards, Greenville
Alicia Shevitz, New Castle
Ryan Thiel, Sharon
Ian Titus, Sharpsville
Patricia Wilson, Mercer
Honors Program
The Honors Certificate is awarded to several of the students in the Honors Program who have fulfilled the program requirements and have maintained an excellent grade-point average.
Michael Horstman
Marissa Minehart, Greenville
Leadership Awards
Student Leadership Recognition
International Cultures Club
The purpose of the International Cultures Club is to provide an opportunity for students to learn and enjoy, as well as be aware of and promote, cultures around the world. This club promotes the utmost respect of different cultures and its importance among the campus and local community.
President Gianna Gargano, Hermitage
Vice President Savannah Gill
Treasurer James Roe, Cortland, Ohio
Secretary Polina Soldatova
Occupational Therapy Assistants' Club
The purpose of the Occupational Therapy Club is to educate the populace as to the benefits and realities the OT profession has to offer; to provide access for information to prospective students; to provide a forum for students, faculty, parents, and professionals for discussing the problems and concerns of everyday college life; and to promote academics and moral standards of those students in the OT Assistant Program.
President Ashawa Gibbs
Vice President Alaura Hanssen, New Wilmington
Treasurer Dana Thomas, Niles, Ohio
Secretary Sophia Stewart, Meadville
Physical Therapy Assistants' Club
The goals of the Physical Therapy Assistants' Club are to promote a greater understanding of this profession, provide community service and education, and to perform philanthropic activities throughout the community.
President Brooke Dawson, Farmdale, Ohio
Vice President Laynie Kratko, Sharpsville
Treasurer Stephen Zeh, Wampum
Secretary McKenzie Miles, Warren, Ohio
STEM Club
The STEM Club's mission is to expand students' knowledge and involvement of scientific findings on our campus and to provide the opportunity to explore the world from a scientific perspective and perform various experiments and activities.
President Halaina Bowers, Hermitage
Vice President Chelsea Spatara, Sharon
Student Government Association
Student Government Association is responsible for initiating all legislation concerning the welfare of the student body, supporting the functions and activities of the student body, vesting authority to student organizations, investigating any appeal made to it by any student concerning problems of general student welfare or well-being, assuming financial responsibility for SGA funds, and reviewing the financial records of all registered student organizations. SGA strives to create, maintain, and regulate beneficial customs and traditions at the Shenango campus.
President Halaina Bowers
Vice President Polina Soldatova
Treasurer Ligaya Kurelko, Hermitage
Secretary John Brown, New Castle
Senator-at-Large Michael Horstman
Senator-at-Large Abby Kwiatkowski, Sharpsville
Senator-at-Large Grace Shafer, Hermitage
Orientation Leaders
Student Orientation Leaders are students who have been recognized by faculty and/or staff for their leadership abilities and, thus, recommended for these important leadership roles on campus. These students help assist our new students through the orientation process.
Halaina Bowers
Matthew Entwistle
Dariann Erdmann, West Middlesex
McKenna Eversole
Laynie Kratko
Kaleigh Miller
Karsyn Rupert
Jaslyn Williams, Brookfield, Ohio
The Dennis W. Bartholomew Outstanding Adult Student Award
The Outstanding Adult Student Award of the Shenango campus recognizes a student over the age of 21 who has completed at least 36 credits and who is distinguished by scholarship, service and success in coping with numerous roles and overcoming difficult circumstances in the pursuit of education. This award is funded by the widow of a former Shenango student, Dennis W. Bartholomew, who attended the campus from 1970-1972 and graduated from UP in 1974 with a bachelor's in engineering.
The Ann Wansack Award
This award was made in memory of Penn State Shenango employee, Ann "Mom" Wansack, and her devotion to the students of Shenango campus. The purpose of this award shall be to honor and recognize full-time students enrolled at Penn State Shenango who are actively involved, through leadership or participation, in the betterment of Penn State Shenango.
Club Advisor of the Year
Staff Member of the Year
Programming Excellence Award
The Diversity, Equity and Inclusion Committee
Unsung Hero Award
Emerging Leader of the Year
Student Leader of the Year