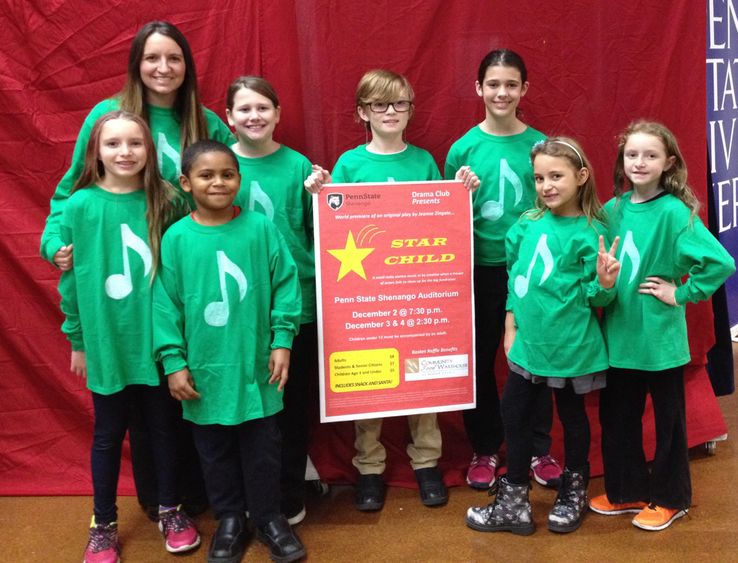 SHARON, Pa. — The Penn State Shenango Drama Club will present an original comedy, "Star Child," this weekend, Dec. 2-4, continuing its tradition of offering the community a holiday play designed to appeal to children of all ages.
The show is set in a radio station that is about to do a special radio play as a fundraiser for the local community food warehouse, but the actors don't show up. The station staff and a local children's choir do their best to save the day using the troupe's scripts and creating all the manual sound effects themselves.
Leading the choir is Paula Miles, who plays Miss Prism. She has the pleasure of being able to direct three of her own children, plus four additional talented area youngsters, as they sing, chirp like birds, break celery to simulate breaking sticks, and make numerous other audio and visual contributions to the show. The children include Madeline Jewell (who plays the Star Child), Julia Miles, Natalie Miles, Tyler Miles, Maryn Pernesky, Ozzie Shaffer, and Emmett Walzer.
"Star Child" is the creation of Penn State Shenango's Jeanne Zingale, who teaches theater and communications. Dean Baker, who plays the disk jockey Spinner, co-wrote the rap that ends the show.
Other cast members include Corinn Stonebraker as Julia, the marketing manager at WSPA-ZM, whose slogan is "we take radio to a whole other dimension." Katherine Shacklock plays Brenda, the station's secretary/bookkeeper, and Leon Nichols plays Techie, the person who works the dials to make sure that the patter and occasional raps by Spinner go out over the air.
Playing the Scrooge-like station manager, Evan Neezer, is Michael J. Hill, and Joyce Howard plays Ernestine Bunbury, the manager of the London Players, whose encounter with Atomic Wings prevents their appearance for the fundraiser.
"Star Child" will launch with an evening performance at 7:30 p.m. on Friday, Dec. 2, in the Penn State Shenango Auditorium, located at 147 Shenango Ave. in Sharon (across from the Sharon post office). There will also be two matinees — at 2:30 p.m. on Dec. 3 and 4. Admission is $8 for adults, $7 for students and seniors, and $5 for children under age 4. Admission also includes a snack at intermission and an opportunity to visit with Santa after the show.
A basket raffle with more than 40 prizes will also be conducted, with all proceeds going directly to the Community Food Warehouse of Mercer County.
For more information, contact the Office of Student Affairs at 724-983-2836.