During her listening tour, President-elect Bendapudi met with students, employees, campus community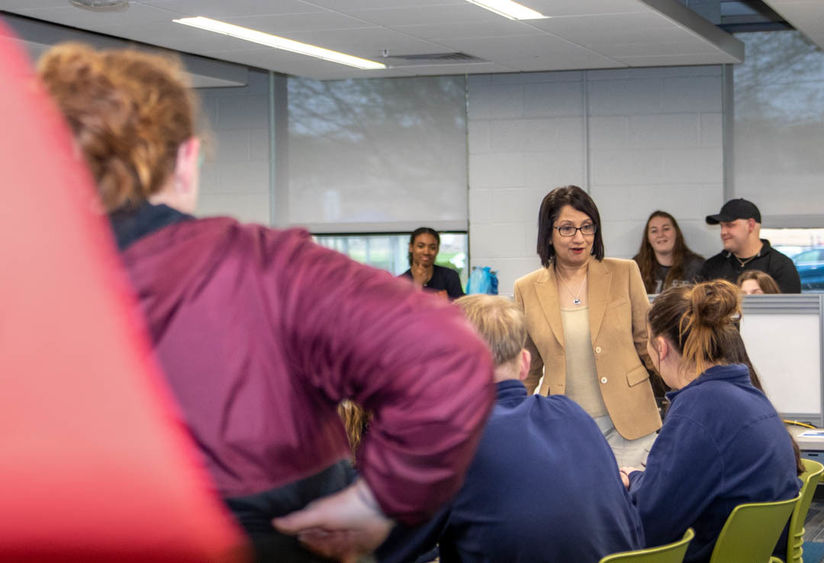 Editor's Note: This spring, Penn State President-elect Neeli Bendapudi is traveling the commonwealth as part of a listening and learning tour to meet and engage in conversation with students, faculty, staff and community members at each Penn State campus.
SHARON, Pa. — Penn State President-elect Neeli Bendapudi visited Penn State Shenango on April 27 as part of her listening tour to meet with students, faculty and staff across Penn State's campuses.
During her tour stop, Bendapudi hosted sessions campus employees, students and community stakeholders at meet and greets. A breadth of topics were discussed including her focus on student success and career preparedness, excitement for community collaborations and the goal to manage the cost of attending Penn State.
Referring to Penn State's Commonwealth Campus system, Bendapudi said, "There isn't another university like this in the country. I want each Commonwealth Campus to be helping their community – right here."
President-elect Bendapudi will begin her tenure as Penn State's 19th president on May 9. With a nearly 30-year career in academia, Bendapudi previously served as president of the University of Louisville.
In addition to consulting for some of the world's largest companies and organizations, she was the executive vice president and chief customer officer for Huntington National Bank.
Bendapudi earned her bachelor's degree in English and master of business administration degree from Andhra University in India and her doctorate in marketing from the University of Kansas.