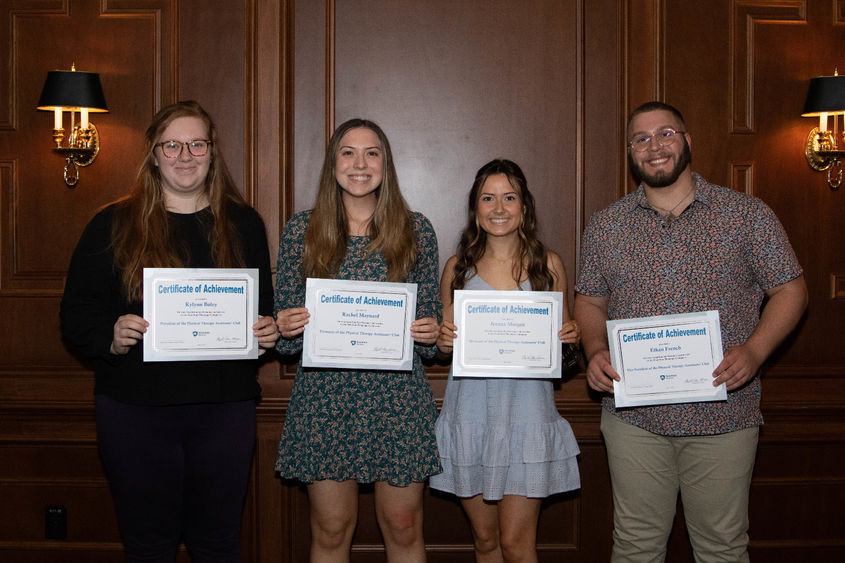 SHARON, Pa. — Penn State Shenango students and employees were honored at the 2022 Awards Ceremony and Honors Convocation to celebrate their outstanding academic and student life achievements.
Photos from the evening can be downloaded from Penn State Shenango's Flickr.
Academic recognition
The President Walker Award
The President Walker Freshman Award is presented annually to undergraduate candidates who have earned a 4.0 cumulative grade-point average (GPA) based on at least 12 graded Penn State credits completed during their first semester of admission.
Kylea Breitenstein, New Castle
Abigail Hodge, Brookfield, Ohio
Adam Kawecki, New Middletown, Ohio
Kaleb Kowacich, Sharpsville
Mackenzie Lambert, Jamestown
Jenna Piccirilli, Transfer
Tara Zolnai, Jamestown
The President Sparks Award
The President Sparks Award is presented annually to undergraduate students who have earned a 4.0 cumulative GPA based on at least 36 graded Penn State credits completed by the end of the fall semester of the academic year in which the award is given.
William Divens III, Sharpsville
Shelby Glover, Conneaut Lake
The Evan Pugh Scholar Award
The Evan Pugh Scholar Award began in 1933 and is given to juniors and seniors who are in the upper 0.5% of their respective classes and have completed at least 48 graded Penn State credits at the end of the fall semester of the academic year in which the award is given. 
Devin Mitchell, Sharpsville
Karsyn Rupert, West Middlesex
The Robert Weber Mathematics Award
The Robert Weber Mathematics Award is presented annually to the most promising Shenango math student and honors the late Robert Weber who taught math at the Shenango campus.
The Osher Reentry Scholarship Award
This foundation offers scholarship support for students who have experienced a cumulative gap in their education of five or more years, are at the undergraduate level and pursuing their first baccalaureate degree, anticipate workforce participation for a significant period after graduation, demonstrate financial need and show academic promise and a commitment to obtaining their degree.
Maura Hedegore, Grove City
Charles Robinson, Linesville
The Margaret Cunningham Foley Memorial Teaching Award
Teaching Excellence Award
High Academic Achievement Awards
The Shenango campus High Academic Achievement Awards are presented to those students in each college or degree program who have achieved the best cumulative GPA during the academic year.
Accounting: William Divens III
Administration of Justice: Michael Jacob, Jackson Center
Biology: Chelsea Spatara, Sharon                              
Business: Devin Mitchell
Corporate Communication: Gianna Effinite, West Middlesex
Criminal Justice: Dien Tran, Hermitage
Film Production: James Timko, Grove City
Health and Human Development: Karsyn Rupert, and Marsha Fields, Farrell
Health Policy and Administration: Kaitlyn Roseski, Mercer
Letters, Arts and Sciences: Savannah Gill, New Castle
Nursing: Ivy Blanchard, Jamestown, and Charles Robinson
Occupational Therapy Assistant: Lauren Elser, Kinsman, Ohio, and Shelby Glover
Physical Therapist Assistant: Brooke Brown, Niles, Ohio, and Leah O'Kresik, Hermitage
Academic Achievement Awards
Recognized for outstanding academic achievement, this award is presented to students with cumulative GPAs of 3.5 and above.
Selina Beach, West Middlesex
Alex Davis, Hermitage
Jasmine Day, Sharpsville
Alura Dillon, Hermitage
Matthew Entwistle, Hermitage
McKenna Eversole, Fredonia 
Magdalena Hochstetler, Sharon
Michael Horstman, Greenville
Logan Hurley, Mercer
Nicole Kowalski, Youngstown, Ohio
Jenny Lam, Hermitage
Brooke Lees, Jamestown
Bailey Lopuchovsky, Hubbard, Ohio
ShaVonne Mcardle, New Brighton
Olivia Mitcheltree, West Middlesex
Alissa Owen, Jamestown
Virginia Reagle, Greenville
Jacob Rickert, Greenville
James Roe, Warren, Ohio
Morgan Saxion, Greenville                
Ryan Thiel, Sharon
Ian Titus, Sharpsville
Ryan Veinotte, New Castle
Patricia Wilson, Mercer
Honors Program
The honors certificate is awarded to several of the students in the Honors Program who have fulfilled the program requirements and have maintained an excellent GPA.
Michael Horstman
Mackenzie Lambert
Lambda Pi Eta
Lambda Pi Eta (LPH) is the National Communication Association's official honor society at four-year colleges and universities. Honors cords for graduation are awarded to graduating seniors in LPH that have upheld the academic goals of the chapter and shown outstanding dedication to the group.
Student Leadership Recognition
Occupational Therapy Assistants' Club
President Ethan Eucker, Cortland, Ohio
President McKenna Eversole
Vice President McKenna Eversole
Vice President Lauren Elser
Treasurer Matthew Entwistle
Secretary Marissa Nichter, Butler
POTA Representative Lauren Elser
POTA Representative Claudia White, Chagrin Falls, Ohio
History Club
President Savannah Gill
Vice President James Roe
Treasurer Jack Pringle, West Middlesex
Secretary Michelle Ohl, Hermitage
Secretary Tyler Roth, Wexford
Physical Therapy Assistants' Club
President Kylynn Boley, Franklin
Vice President Ethan French, Bessemer
Treasurer Rachel Maynard, Youngstown, Ohio
Secretary Jeanna Morgan, Youngstown, Ohio
STEM Club
President Halaina Bowers, Hermitage
Vice President Chelsea Spatara
Treasurer John Benjamin, Sharpsville
Treasurer John Jakob Raskob, Sandy Lake
Secretary August Mendoza, Fredonia
Student Veterans Association Club
President James Roe
President Ashley Showalter, Sharpsville
Vice President John Benjamin
Vice President and Treasurer Chelsea Spatara
Treasurer Catherine Howard, Wheatland
Secretary Abby Kwiatkowski, Sharpsville
Secretary Gianna Effinite
Student Government Association
President and Vice President Halaina Bowers
President and Vice President Rebekah Leise, Transfer
Treasurer Catherine Howard
Secretary Gianna Effinite
Senator-at-Large Michael Horstman
Senator-at-Large Shae Kanan, Sharon
Senator-at-Large John Jakob Raskob
Senator-at-Large Karsyn Rupert
Leadership Awards
Orientation Leaders
Selina Beach
John Benjamin
Kylynn Boley
Halaina Bowers
Brooke Brown, Niles, Ohio
Gianna Effinite
Matthew Entwistle
McKenna Eversole
Jade Janacone, Youngstown, Ohio
Katherine Kinney, Clarks Mills
Abby Kwiatkowski
Rebekah Leise
James Roe
Karsyn Rupert
Chelsea Spatara
Anthony Stasko, West Middlesex
Dien Tran
The Ann Wansack Award
This award was made in memory of Penn State Shenango employee, Ann "Mom" Wansack, and her devotion to the students of the Shenango campus. The purpose of this award shall be to honor and recognize full-time students enrolled at Penn State Shenango who are actively involved, through leadership or participation, in the betterment of Penn State Shenango.
The Eric and Josephine Walker Award
The Eric and Josephine Walker Award recognizes Commonwealth Campus students whose outstanding qualities of character, scholarship, leadership and citizenship have been directed into programs and services that have positively influenced fellow students and have contributed to the prestige and well-being of their campus and, hence, to the reputation of the University as a whole.
Club Advisor of the Year
Tammy d'Artenay
Gizelle Dean
Chuck Greggs
Phil Nash
Jason Reinhart
Kathy Shaffer
Geralyn Wallace
Spirit of Shenango Award
This award is given to an individual that genuinely cares about other students, faculty, staff and the surrounding community of Penn State Shenango. This person embodies the motto, "small campus with a big heart."
Staff Member of the Year
This award recognizes Penn State Shenango staff members who demonstrate outstanding service to the University, our students and the broader community.
Programming Excellence Award
This award recognizes innovative and outstanding achievement in the planning and presentation of a program by a student organization, group/class project, committee or an individual.
Anti-bacterial Effects of Cordyceps Research Project by Chelsea Spatara and John Benjamin
Unsung Hero Award
The Unsung Hero Award recognizes a student who works behind- the-scenes of a successful recognized student organization, athletic team, group/class project or committee. This award is given to a student who consistently gives their all, going above and beyond the call of duty on a regular basis without expectation of recognition.
Emerging Leader of the Year
This award is presented to a student with less than 45 credits who has contributed significantly to the Penn State Shenango community through their involvement in a campus organization, athletic team or a community service program. They must also show significant potential for continued leadership and civic engagement.
Student Leader of the Year
The Student Leader of the Year award recognizes a student who has demonstrated excellence in academic growth and achievement, as well as excellence in campus and community engagement and has made a contribution to the Penn State Shenango community through their leadership and participation in campus programs, organizations and activities.