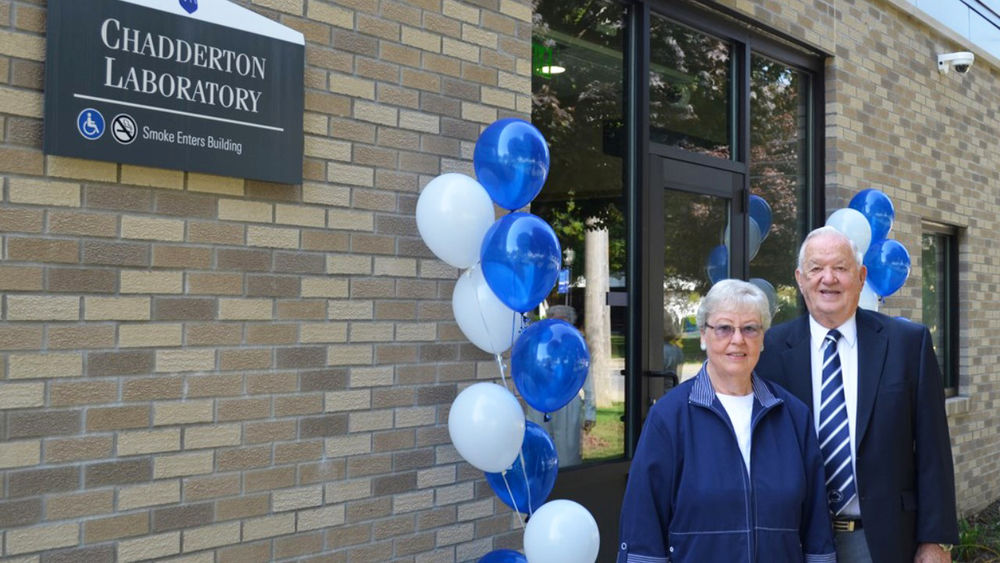 SHARON, Pa. — Paul Chadderton, retired owner and CEO of Chadderton Trucking Inc. and emeritus member of the Penn State Shenango Advisory Board, has committed to give $100,000 to Penn State Shenango to create the Paul and Eleanor Chadderton Trustee Scholarship. Eleanor Chadderton, who was also an avid donor to Penn State with her husband Paul, died on Oct. 16, 2016. Students with financial need who attend Penn State Shenango will be given first preference to receive the scholarship.
"As a father of two Penn State graduates, grandfather to current a Penn State Schreyer's honor student, and an active member of the community, I have seen firsthand the important role the University plays in our area," Chadderton said. "Today kids need more education than when I was young, and it's only getting harder for them to find the money to afford it. I'm just trying to do whatever I can to help."
Paul and Eleanor Chadderton have been longtime supporters of Penn State Shenango and their community. Paul Chadderton's affiliation with Penn State Shenango began when he, his wife Eleanor, and Mrs. Ed Chadderton donated the former Cable Television Company building, now the Chadderton Laboratory, to the Shenango campus. Additional gifts to the campus from the couple include funds to help renovate Sharon Hall, Lecture Hall and the auditorium; funds that enabled students to attend an interdisciplinary spring break trip to Peru; and funds to establish scholarships. In their many years of loyal support, the Chadderton's have donated nearly $1 million to Penn State Shenango. As a testament to Paul's generosity, he received the Penn State Honorary Alumni Award in 2008.
"We are so thankful for this generous gift to establish the Paul and Eleanor Chadderton Trustee Scholarship," Allison Engstrom, Director of Development and Alumni Relations, stated. "Paul Chadderton truly cares about this community, and he has a commitment to Penn State Shenango and its students which is unrivaled at the campus."
The Trustee Matching Scholarship Program maximizes the impact of private giving while directing funds to students as quickly as possible, meeting the urgent need for scholarship support. Penn State provides an annual 5 percent match of the total gift. The University match continues in perpetuity, multiplying the support available for students with financial need.
The Paul and Eleanor Chadderton Trustee Scholarship will help Penn State Shenango reach its goals in the Penn State campaign that launched on July 1, 2016, "A Greater Penn State for 21st Century Excellence." One of the campaign's top priorities is keeping a Penn State degree affordable for students and families.
"Nearly 40 percent of Penn State Shenango students come from low-income families, and this scholarship will help to ensure many of these students will have access to a world-class Penn State education," said Jo Anne Carrick, Penn State Shenango campus director and chief academic officer. "On behalf of Penn State Shenango and the generations of students who will benefit, we are extremely grateful for this incredible philanthropy."
Penn State's alumni and friends are invaluable partners in fulfilling the University's land-grant mission of education, research and service. Private gifts from alumni and friends enrich the experiences of students both in and out of the classroom, expand the research and teaching capacity of our faculty, enhance the University's ability to recruit and retain top students and faculty, and help to ensure that students from every economic background have access to a Penn State education. The University's colleges and campuses are now enlisting the support of alumni and friends to advance a range of unit-specific initiatives.
For more information about how you can support Penn State Shenango, contact Allison Engstrom at 724-983-2907.