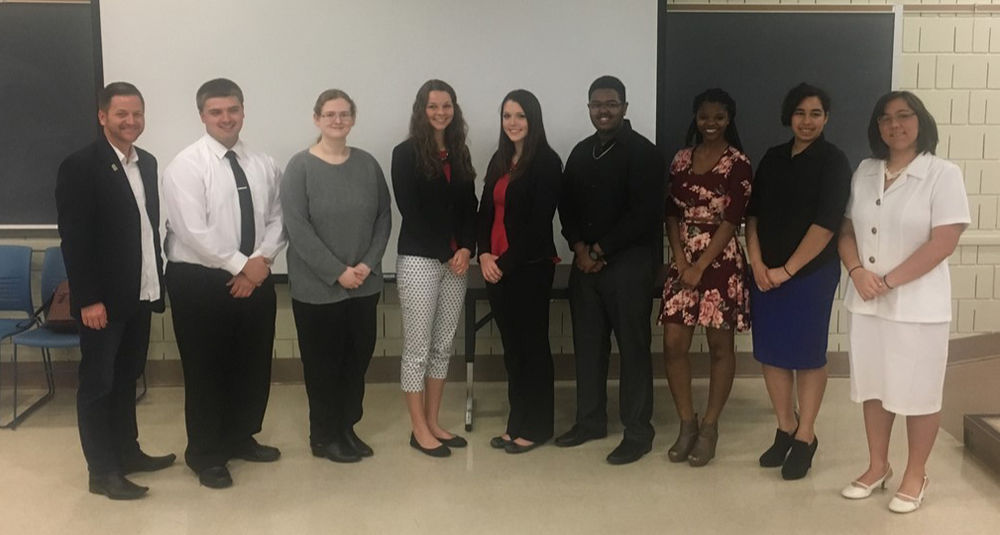 SHARON, Pa. — Penn State Shenango held its second annual Marketing Competition on April 1 at the campus. The event was held in collaboration with the Hope Center for Arts and Technology (HopeCAT). Local high school teams from the e-Academy at LindenPointe, Farrell and Lakeview participated to create and present the best integrated marketing plan to recruit high school students for HopeCAT's after-school Youth Arts training program as it expands throughout the region.
This year Farrell took first place, while Lakeview placed second, and the e-Academy at LindenPointe was close behind in third place. Before the winner was announced, Tom Roberts, executive director of HopeCAT, facilitated a discussion on the participants' viewpoints on what they liked about the other team's projects and what they may have done differently on their own strategies after seeing all the outstanding presentations. It was inspiring to see what the students had learned from their peers.
Prior to Saturday's competition, the students spent a day in February at the Shenango campus where they listened to Roberts speak about the Hope Center, received a hands-on presentation from current HopeCAT students from Farrell, and heard expert advice from Sherris Moreira, executive director, Shenango Valley Chamber of Commerce, and Georgia Macris, instructor in business, Penn State Shenango, on marketing and social media. Following the Saturday morning program, students and their teachers, along with Penn State Shenango staff, took a tour of HopeCAT's facility currently under construction and located on the West Hill in Sharon, Pennsylvania.
"Since we first began our collaboration with Penn State in 2015, we have been supporting each other's organizations on a number of projects," said Roberts. "So I was excited when Penn State Shenango asked to use HopeCAT as their focus for this year's marketing competition. Who better to get insight on how to market the arts to high school students, than the students that will benefit from our programming? Each of the schools gave outstanding presentations and had something unique in their plans that we will implement in future HopeCAT marketing and outreach at regional schools."
For more information on Penn State Shenango's Business program, contact the Admissions Office at 724-983-2803 or visit shenango.psu.edu. For information on HopeCAT, call Executive Director Tom Roberts at 724-308-5135 or visit www.hopecat.org.