Celebrating an assortment of traditional and contemporary stories and songs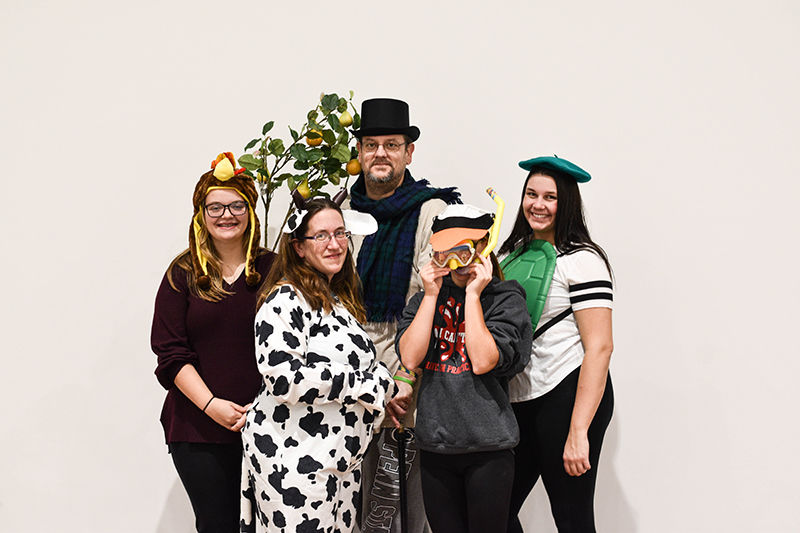 SHARON, Pa. —Whatever your Christmas traditions, they are most likely included in the Penn State Shenango Drama Club's production of "A Christmas Pudding," to be held Dec. 1-3 in the campus Auditorium.
A reading from the Gospel of Luke? Scrooge and Tiny Tim? Singing Christmas carols? A fruitcake recipe with a little too much alcohol? Virginia being told that "yes, there is a Santa Claus"? Yes, they are all there ... and much more. The local production even includes audience participation in creating the show's finale — a live version of the "Twelve Days of Christmas."
"A Christmas Pudding" was created, compiled and adapted by David Birney as a benefit for the homeless in his community. The event will include a raffle of over 40 baskets for the benefit of the Community Food Warehouse of Mercer County. Prize winners will be announced following the Sunday performance; you do not need to be present to win.
Christmas pudding, according to the director of the show, Jeanne Zingale, is a traditional British dessert associated with the holidays, somewhat like fruitcake in the U.S. Zingale is an assistant teaching professor in communications and theatre at Penn State Shenango.
"Christmas pudding," explained Zingale, "is a boiled pudding with lots of small pieces of dried fruits and spices. The title fits our "christmas pudding" production because it is made up of both traditional and contemporary short stories and poems, plus portions of longer stories … all related to Christmas. And when you add in the songs — everything from 'Here Comes Santa Claus' to 'Silent Night' — it is truly a celebration of the season."
Cast members include Penn State Shenango students and faculty, members of the community, and several students from area schools. Leah Benson, from Hickory High School in Hermitage, Pennsylvania, will be accompanying the cast on the piano.
There are three performances: 7:30 p.m. on Friday, Dec.1, and Saturday, Dec. 2, and 2:30 p.m. on Sunday, Dec. 3 (Sunday). Included in the merriment are complimentary refreshments at intermission and a chance to visit and snap a picture with Santa Claus, if you wish. Cost is $8 for adults, $7 for students and seniors, and $5 for children ages 4 and under. Tickets are sold at the door and are for general admission seating. Children under age 12 must be accompanied by an adult.
"A Christmas Pudding" is produced by special arrangement of Samuel French, Inc.
The Penn State Shenango Auditorium is located at 147 Shenango Avenue, Sharon, Pennsylvania. For more information or special arrangements for groups of 10 or more, contact the Office of Student Affairs, 724-983-2836.