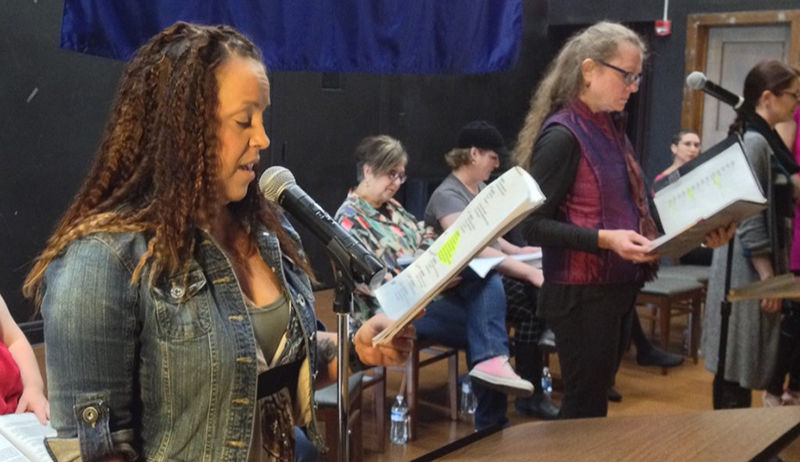 SHARON, Pa. — The Penn State Shenango Drama Club and its partner Lawrence Mercer ATHENA will present their production of Eve Ensler's award-winning play "The Vagina Monologues" at 7:30 p.m. on Feb. 17 and 18 in the Penn State Shenango Auditorium.
The local production is part of the V-Day global movement to end violence against women and girls, and AWARE of Mercer County is the beneficiary of the event. Tickets are $15 for adults and $10 for students. Men, as well as women, are invited to the events.
The play gives voice to the hundreds of women from all walks of life that Eve Ensler interviewed in trying to sample what it means to be a woman. Some of their stories are humorous, some bitter-sweet, and a few are heartbreaking. Together they affirm women and their experiences. Adult themes and language are used in the play.
Ensler provides a place for local stories to be told, and one cast member has shared an account of an encounter that profoundly changed her life. That monologue will be read by a different member of the cast.
"We speak for the women and girls we support in the community along with those whom V-Day supports around the globe," said Marci Radcliffe, co-organizer of the event and representative of the Lawrence Mercer ATHENA group. "We stand for gender and economic equity for all women."
V-Day is the catalyst that promotes creative events to increase awareness, raise money, and revitalize the spirit of existing anti-violence organizations worldwide. Each year, thousands of V-Day benefit events take place in the United States and around the world, educating millions of people about the reality of violence against women and girls.
The performers include Maria Ackley, Kim Akins, Brandi Baros, Sara Campbell, Tammy d'Artenay, Megan Donaldson, Missa Eaton, Sue Ann Herald, Dani Johnson, Marguerite Kautzman, Eva Wilson McCann, Sarah Puhala, Marci Radcliffe, Katherine Shacklock and Erin Stoops.
Directing the production is Jeanne W. Zingale, instructor of communication and theater at Penn State Shenango. Said Zingale, "Our production is being done in a readers' theater style, with the manuscripts in full view of the audience. In doing so, we are communicating that these are not our personal stories but the stories of women and girls who might be us. We are not 'acting' as such, but rather channeling the experiences of the women that Eve Ensler interviewed though our voices. And our cast is so much in touch with the emotional content of the stories that the voices sound real."
A basket raffle will be held to help defray the costs of the production. Ticket sales will go to AWARE of Mercer County.
Since its founding in 2001, the V-Day movement has raised over $100 million; crafted international educational, media and PSA campaigns; reopened shelters; and funded over 13,000 community-based anti-violence programs and safe houses in Democratic Republic of Congo, Haiti, Kenya and Iraq. V-Day has received numerous acknowledgements and awards and is one of the Top-Rated organizations on both Charity Navigator and Guidestar.
Tickets may be reserved by calling the Penn State Shenango Office of Student Affairs at 724-983-2836. Tickets will also be available at the door. Groups of 12 or more can receive a special rate of $12 per ticket if arrangements are made in advance. Contact Zingale at [email protected] for more information.