Proceeds from upcoming basketball game to go to the Mercer County Behavioral Health Commission, Inc.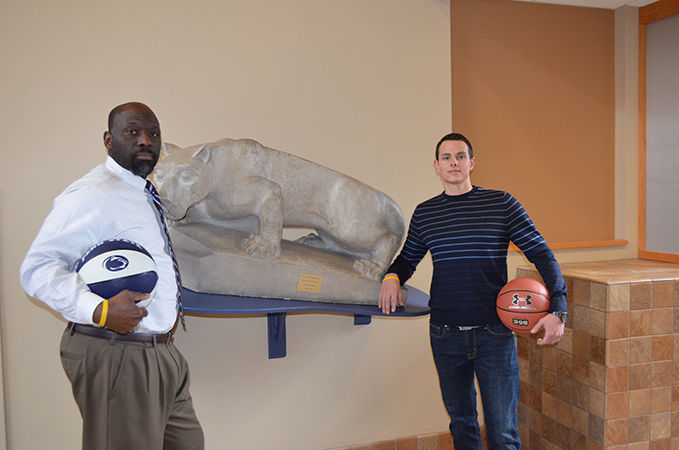 SHARON, Pa. — It's not March Madness but it will be a serious basketball clash when the Penn State Shenango faculty and staff take on the Shenango students in a rematch game Friday, March 23 at the Kennedy Catholic Eagles' gymnasium in Hermitage, Pennsylvania.
The two teams first met on the floor in early December after some friendly chatter about a basketball matchup between the faculty and staff versus the students. With the anticipation on the return of its Athletic Program this coming fall, 19 students and 15 faculty and staff quickly signed up for the game.
"I can't take any credit for it," said Student Services Associate Andrew Puleo. "The credit goes to two of our students, Haley Morris and Lukas Farrell, as well as everyone who helped to support the event. The two of them began talking about how much fun it would be to play against the faculty and staff and they wouldn't let up. It was exciting to see how passionate they were about it so we had to make it happen."
Although the game brought a lot of enjoyment for everyone involved, the premise of the event was to raise funds for the American Cancer Society, something Puleo is very passionate about.
"Haley and Lukas also came up with the idea of raising money for the fight against cancer," continued Puleo. "I, along with our new athletic director, Andre Smith, have been deeply affected by cancer, and these guys knew it. With everyone's help and support, we raised over $300, which considering how quickly this event came together, is pretty impressive."
Since the December game, Puleo has heard continuous requests from students about a rematch, and apparently, the faculty and staff are not afraid of some more friendly competition. The faculty and staff outscored the students 68–55.
"Well of course the students want a rematch," said Puleo musingly. "It was a close game. But mostly, they saw and heard how much fun it was; many of them who didn't play last game wanted a chance to participate. The faculty and staff also had a great time, and the spectators loved it! We had over 60 people cheering on both teams with zero publicity."
With the next rematch on March 23, the Shenango campus is pulling out all the stops to make the event entertaining for everyone. The Student Government Association (SGA) has also taken a much bigger role in organizing the event, which will consist of refreshments, including pizza, drinks, and popcorn from the famous Pittsburgh Popcorn Company; prizes and giveaways, including Penn State duffle bags, headbands, mini hoops, hats and gift cards; contests; and a 50/50 raffle.
"The faculty/staff versus students' game in December had a much better turnout and was more fun than I anticipated," said SGA Treasurer Cassandra McCowin. "It was great to interact with the faculty and staff in a fun environment and get to know people from the campus better. It made me want to have other events like this so that everyone can hang out more outside of the classroom setting."
Proceeds from the spring rematch will go to the Mercer County Behavioral Health Commission, Inc., which is a private, non-profit organization that assists people with drug and alcohol, mental health, and intellectual disability needs.
"Addiction is another serious cause that so many of us at the Shenango campus are passionate about, especially these last several years," said Puleo. "We want to do everything we can to help those that suffer from dependency. My goal is to help fund organizations which support the fight against cancer in the fall, and in the spring, support organizations which help those with addiction."
The tip-off for the March 23 rematch game at Kennedy Catholic High School will be at 5:45 p.m. Doors will open at 5:15 p.m. The event is free and open to the public, although donations will be accepted for the Mercer County Behavioral Health Commission, Inc. For more information, call Student Affairs Staff Assistant Stacy Gongloff at 724-983-2838, SGA Treasurer Cassandra McCowin at 724-983-2846, or Andy Puleo at 724-983-2828.