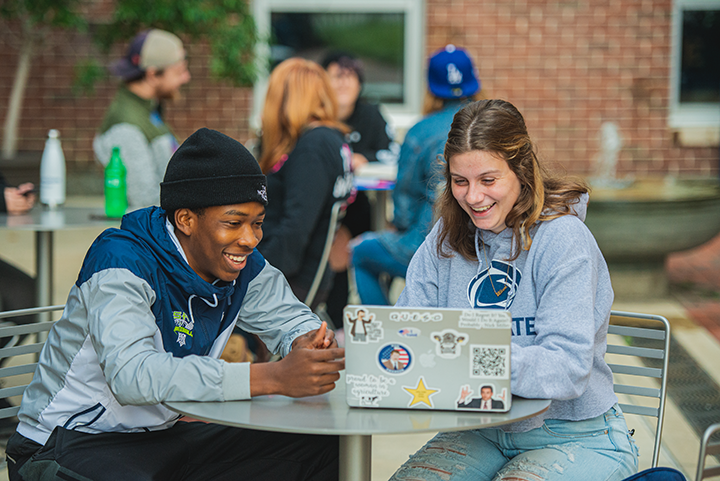 SHARON, Pa. — Launching new majors, building two new athletic programs and celebrating renovated facilities were foundational blocks that were put in place during 2021 that Penn State Shenango will build upon in 2022. 
"We're working hard to give students in the Shenango and Mahoning valleys incredible opportunities," said Campus Director Jo Anne Carrick. "There are dynamic majors that lead to in-demand jobs, stunning classrooms to learn in and new chances to be involved in extracurriculars. There's a buzz on campus we're excited to bring into the new year."
Admissions trends are increasing for STEM majors like engineering and information technology, and business-focused majors like the new corporate communications degree added in 2021. Penn State Shenango offers 17 undergraduate major options and access to more than 275 additional majors through Penn State's 2+2 plan.
"Students in our new majors have experienced a successful first semester and we've even seen a bump in the number of students who want to complete their degrees at Penn State's Behrend campus in Erie," said Carrick. "Our admissions team is hearing that students see the value of staying home for two years – or even completing all four – to earn a Penn State degree affordably."
As Shenango develops additional major pathways, the campus identified the need to simultaneously add student life offerings. After launching men's basketball and women's volleyball in 2018 and 2019 respectfully, women's basketball launched in fall 2021 and has experienced a successful first season.
In August 2021, the campus announced a coed golf team will be reinstated for the fall 2022 semester. The team's starting funds were raised during the Community Foundation of Western Pennsylvania and Eastern Ohio's "PA-OH Gives" campaign. Buhl Park Executive Director Tom Roskos has been hired as the team's coach for the inaugural season.
"Last year brought the campus so many new opportunities," said Carrick. "We're continuing to explore community partnerships to move the region forward in strategic ways. Education, careers and quality of life all play a role in a successful future."
Penn State Shenango has been serving the Shenango and Mahoning valleys since 1965 and has a team of approximately 150 employees who work to offer students a transformative educational experience.