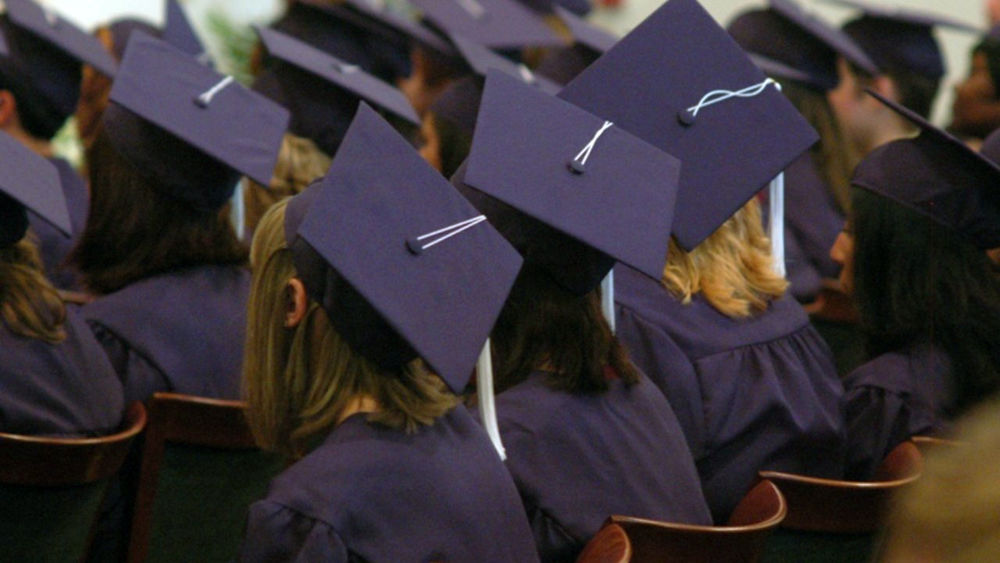 SHARON, Pa. — Penn State alumnus William E. Casey, owner of Warren Glass & Paint Co., Ltd., will be this year's Penn State Shenango commencement speaker. The campus will hold its 2018 spring graduation ceremony at 11:30 a.m. on Sat., May 5, in the Shenango campus auditorium with a reception immediately following. Jo Anne Carrick, campus director, will confer baccalaureate and associate degrees on the graduating students.
The ceremony will open with the academic processional played by pianist Janet Stahl, followed by the National Anthem sung by the Shenango Valley Chorale, under the direction of Stephen Barr. Philip Nash, associate professor of history and faculty marshal, will welcome graduates, family members, and guests to the 2018 commencement ceremony.
Casey graduated from Penn State with a bachelor of arts degree in social welfare. He attended the Shenango campus his first two years and, following graduation from the University Park campus, returned to Shenango where he completed post-graduate undergraduate courses in accounting. Casey continued his education in the early nineties, graduating from the Glass Management Institute, where he completed graduate level courses in finance, human resources, and marketing.
Before settling in a career in glass and paint, Casey worked briefly for Child Welfare in Mercer County and Sharon Metal Fence.
From 1974 to 1983, Casey was a minority owner of J & R Paint and Glass Company in Warren, Ohio. In 1983, he purchased Warren Glass & Paint, which has grown from 5 employees and approximately $300 thousand in sales annually, to 38 employees and over $8.1 million in sales in 2017.
Casey has been an active member of his community for years. He currently serves as treasurer of the Penn State Alumni Chapter of Greater Youngstown, treasurer of the YARS Base Community Counsel, executive board member of Trumbull 100, and on various industry boards as a member or trustee of funds. He previously served as president of the Liberty Baseball Association, treasurer of the Liberty Gridiron Association, chairman of the five-county Construction Advancement Program, president of the Builders Association of Eastern Ohio and Western Pennsylvania, and a member of the Penn State Shenango Advisory Board of Directors, where he currently enjoys emeritus status.
In 2017, Casey was awarded a "Community Star" for his work with the Adopt-A-Home program which he helped to create and provide the initial funding for in conjunction with the Trumbull Neighborhood Partnership. The program rehabilitates "Bubble Homes" in Warren, Ohio, saving them from demolition, while making them available to working-class families at a low cost.
This year's graduating student speaker is Cassandra McCowin, who will be graduating with a bachelor's degree in business, with a focus in marketing and management, as well as an international studies certificate. McCowin began her education at the University Park campus, but due to a change in major and personal reasons, she returned home to complete her baccalaureate degree at the Shenango campus.
During her time at the Shenango campus, McCowin has been an active member of the Student Government Association (SGA) — as a sophomore representative in 2015-16, and then was hired as the treasurer of SGA in 2016 — a position that she has held for the past two years and truly enjoys. She was also an officer of Student Making Lives Easier in 2015, treasurer of the Business Club in 2016-17, president of the international Cultures Club in 2017-18, and has been a Lion Leader for New Student Orientation (NSO), a peer tutor, and a library assistant. She currently is completing her internship in the Student Affairs Office where she helps plan events, coordinates contracts, and assists with campus activities, most recently, the Annual Student Recognition Banquet.
McCowin recently was hired by Pittsburgh Logistics Systems where she will begin her new position as a Sales Account Executive after graduation.
This year's commencement ceremony will conclude with the induction of the 2018 Penn State graduates into the Penn State Shenango Alumni Society by Society President Aaron Sizer.
For more information about this year's graduation ceremony, please contact the Registrar's Office at 724-983-2856.