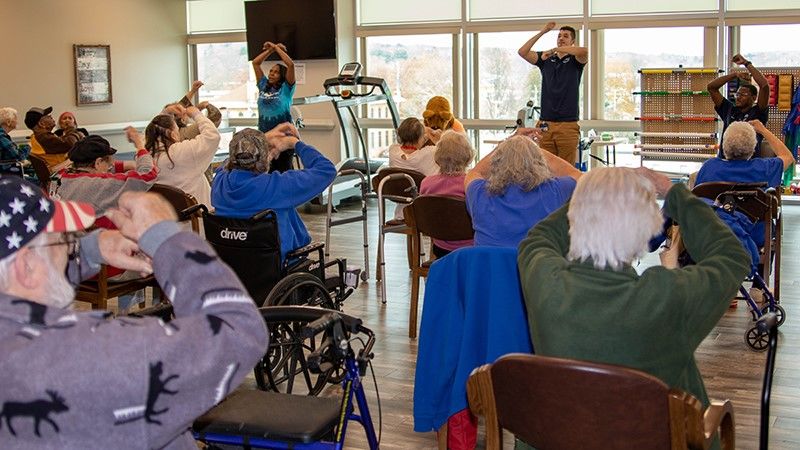 Helping seniors stay healthy in order to live full, productive lives is just one commonality between Penn State Shenango's Occupational Therapy Assistant (OTA) Program and LIFE (Living Independence For the Elderly)-Northwestern Pennsylvania (LIFE-NWPA).
This fall, LIFE-NWPA and the OTA faculty and students at the Shenango campus began collaborating on what has become a beneficial partnership for both entities. Once a week, the third semester OTA students walk two blocks to the Primary Health Network building in downtown Sharon to help LIFE-NWPA staff lead the participants, who are 55 and older, in a wellness exercise and educational program designed to increase strength, prevent or delay disease, and improve confidence and independence.
"Our participants love the energy that the students bring to our program," said LIFE-NWPA's Occupational Therapist Jon Pickens. "We actually have our highest participation rate when the Penn State Shenango OTA students are present."
In addition to leading and helping those in attendance, the students also provide the participants with an educational overview on health and wellness topics, such as fall prevention, safety in the home, and possible equipment needs.
"This was our first year to team up with LIFE-Northwestern Pennsylvania," said Penn State OTA Program Coordinator Tammy Divens. "It has been so successful that we have now built the fieldwork experience into our curriculum for next year. The partnership has provided our students with not only early hands-on experience but also the opportunity to apply classroom knowledge in a clinical setting in order to build their confidence."
Divens chose LIFE-NWPA to complete the OTA program's Level I Fieldwork Experience because of its unique preventative medical model. LIFE uses an all-inclusive approach to care with a goal to promote health and well-being to enhance the ability of older Pennsylvanians to live safely in their communities as long as possible. The LIFE-NWPA model of care is nationally known as the Program of All-Inclusive Care for the Elderly.
"This collaboration has enabled our students not only to engage with clients in a therapeutic manner, but it also has afforded them an opportunity to experience a quick glimpse of their future profession," said Divens. "The participants are equally enthusiastic. They benefit from the therapeutic relationship, which ideally brings them one step closer to living life to the fullest. And living live to its fullest is the occupational therapy practitioner's ultimate goal."
For more information about Penn State Shenango's OTA Program, call 724-983-2890 or visit shenango.psu.edu/academics/majors-shenango/occupational-therapy-assistant. Information on LIFE-NWPA may be found at www.lifenwpa.org or by calling 844-456-5433.