Entrepreneurs Ali Izzo and Holly Masters offer gift-box subscriptions to help families connect with loved ones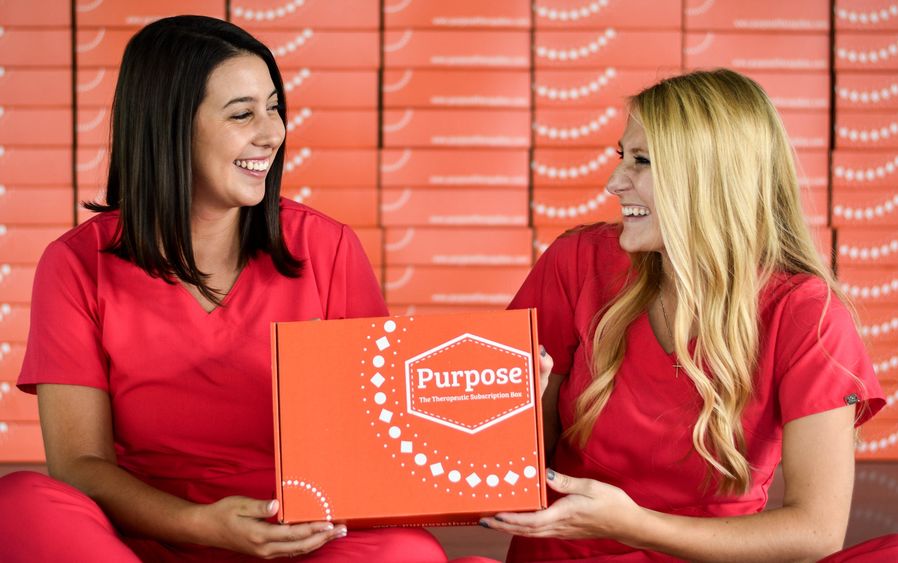 SHARON, Pa. — Anyone who has ever stepped into a nursing or assisted-living home has probably seen the loneliness on one or more of the faces of residents who live in these facilities. Recent Penn State Shenango occupational therapy assistant (OTA) alumnae Ali Izzo and Holly Masters saw the sadness firsthand while completing their OTA clinicals this past fall. Together, the two best friends asked one another, "How can we help these seniors feel more connected to their loved ones?" So they came up with "Purpose," The Therapeutic Subscription Box LLC.
Once approved by Penn State, the OTA alums moved their new startup business to the campus' VenturePointe incubator located at the eCenter@LindenPointe in Hermitage, Pennsylvania, where they are working with Penn State faculty, other entrepreneurs, and the staff at the eCenter to get their business ready for launch in August 2018.
"We thought of 'Purpose' last September (2017) while we were completing our clinical rotations for our OTA degrees," said Masters. "Ali and I both noticed the loneliness, sadness and, in some cases, the disconnect our patients had with their family; it truly breaks your heart. We came up with the idea of creating quarterly and special occasion gift boxes that family members, especially those who live out of town, could send to their parents and grandparents several times a year to keep connected."
Masters further explained, "'Purpose' will include three to five, full-sized, functional but unique items with quarterly themes, such as cognition, strengthening, personal care and fine motor, in addition to three photos, a personalized message, and the Purpose newsletter. Special occasion and holiday boxes will be available for Mother's Day, Father's Day, birthdays, Christmas and many other occasions."
Following graduation from the campus's OTA program, Masters and Izzo re-enrolled at Shenango where they are working toward obtaining their baccalaureate degrees in human development and family studies (HDFS). One of the courses required in the program is HDFS 455 – Development and Administration of Human Services Programs, during which students create a mock non-profit or business to fulfill a need in their local community. This afforded Masters and Izzo the opportunity to reach out to local nursing-home residents to pitch their class project and future business idea.
"The course gave us the opportunity to speak to residents and ask them questions, understand their needs and concerns, and find out what they would like to see in their special gift boxes," said Izzo.
While "Purpose" will be a for-profit business, the students worked with Claudia Brown, the Penn State HDFS faculty member who taught their non-profit course, to get started.
"When Holly and Ali approached me about the possibility of developing a for-profit in a non-profit development class, I agreed on the condition that they learn both, and they did," said Claudia Brown. "'Purpose' is the perfect marriage between the ideals espoused by social service and the economic realities addressed by business. Penn State Shenango Business Instructor Georgia Macris and I have equally enjoyed working with Holly and Ali on this inspired venture."
Izzo and Masters have received a great deal of support from Brain Flick and Jacob Linzenbold, who are both Penn State alumni and residents of VenturePointe; as well as Gray McKenzie, who started his own business, Guava Box, and is working at the eCenter. The Small Business Development Center and the Penn State Beehive are also a couple of the outside resources the women have reached out to. The pair continues to look for additional connections within the community, including other entrepreneurs, local vendors, and local nursing home and assisted living home facilities.
"We are so fortunate to share a suite with Jacob and Brian," said Izzo. "We are constantly asking them questions about how they developed their businesses, and they have been more than willing to share their insight and resources. Gray has his own successful business and has provided us with a lot of support."
The two entrepreneurs are currently putting a considerable amount of time into their new business venture while also working part-time since passing their National Board for Certification in Occupational Therapy this past fall. Masters is currently working for Blue Sky Therapy in Mercer County, and Izzo is working at Grove City Medical Center. Both are continuing to work toward obtaining their baccalaureate degrees in HDFS, planning to graduate in December 2018.
"Working with older adults is our passion, and it brought us to the realization that more needs to be done for our aging population," said Masters. "I am beyond grateful that my Penn State education can be used to enhance the lives of older adults in our community and across the United States. Ali and I are excited to see where this opportunity takes us!"
When asked about their short- and long-term goals, Izzo replied, "Our hope is that these boxes will reach as many older adults as possible throughout the United States, bring families closer together, and provide a gift that will improve everyday function and boost morale in our aging population. Our long-term goal is to partner with companies who design and produce products that promote independence and who share similar values as our company."
The female entrepreneurs, who will be shipping out their first round of quarterly boxes the beginning of August, are currently accepting orders. For more information, visit purposetherapybox.com or follow them on social media @purposetherapybox.
For information about Penn State Shenango's VenturePointe incubator, contact Gerogia Macris at [email protected] or visit the VenturePointe page.