Academic Advising staff establish Lunch & Learn program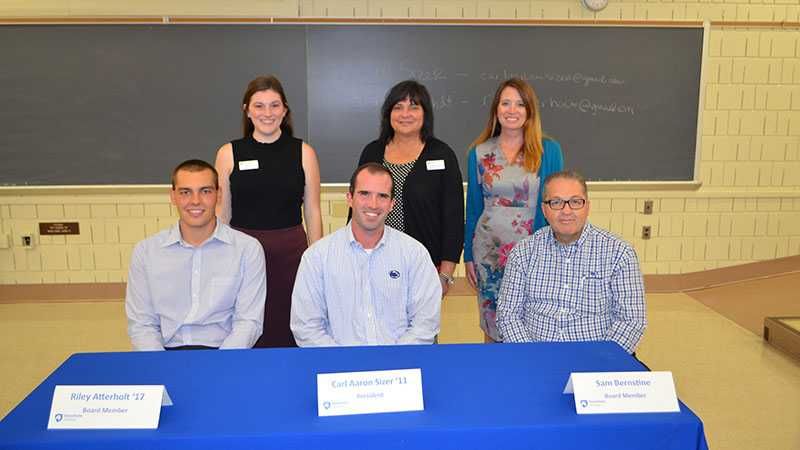 SHARON, Pa. — Thinking outside the box isn't just another cliché to the Penn State Shenango Advising Office staff. It's their normal, everyday way of doing business.
Meeting the needs of students at a commuter campus, who may have families, full-time jobs, military obligations, and varied life experience and responsibilities, oftentimes requires some nontraditional thinking.
"When most college students think about academic advising, they think about coming to us to get help with their scheduling needs," said Amy Petrucci-Effinite, academic advising manager. "And they would be 100 percent correct. But that's just one facet of our jobs."
The Shenango advising staff believe in getting to know their students in and outside their offices, and in order to accomplish that, Effinite and Advising Staff Assistant Taylor Cole implemented a new Lunch & Learn program this past year, which included several workshops and seminars for students and the campus community.
"In addition to advising, another core component of our office is to establish strong relationships with our students," continued Effinite. "By developing workshops which engage our students outside the classroom, we are able to learn more about their needs while providing helpful information and resources about our campus. It's also an important part to our retention process."
Cole, who was instrumental in getting the Lunch & Learn program off the ground, continued, "The goal of the Lunch & Learn series is to involve students in the campus by covering a variety of educational, interesting, and thought-provoking topics. While selecting the topics, I looked to collaborate with members of our campus community, including our alumni, to provide diverse programming to create an inclusive environment that allows for open and honest discussion."
Fall semester's Lunch & Learn programming included discussions with alumni and VenturePointe incubator faculty and entrepreneurs, as well as a session on the "Science of Happiness" by Joneen Schuster, assistant teaching professor of psychology. During the spring semester, topics encompassed presentations by Career Services on "How Gritty Are You?," Student Affairs on "Celebrating Culture," and by William "BJ" Rudge, adjunct professor of philosophy, on "Leaving a Lasting Legacy."
"It was great coming back to the Shenango campus and sharing my thoughts on how to thrive as a student and employee," said Riley Atterholt, Penn State Shenango alumnus and development director for JCL Development. "When you are a freshman, you don't always realize the importance of taking advantage of the 'extra' things that college has to offer. When I was at the Shenango campus, I took advantage of everything I could, and when I graduated, I had established a very strong network and felt well poised to start a career with lasting connections and a Penn State degree."
Plans for fall 2019 are well underway according to Cole.
"We've received a lot of positive feedback from those who attended this year's programs," said Cole. "There are some workshops that we'd like to see return and others that we'd like to introduce to our students. We want to provide them with good experiences which will help them to grow not just as students but also as good citizens."
For more information about Penn State Shenango's Lunch & Learn series, contact Taylor Cole at 724-983-2860.