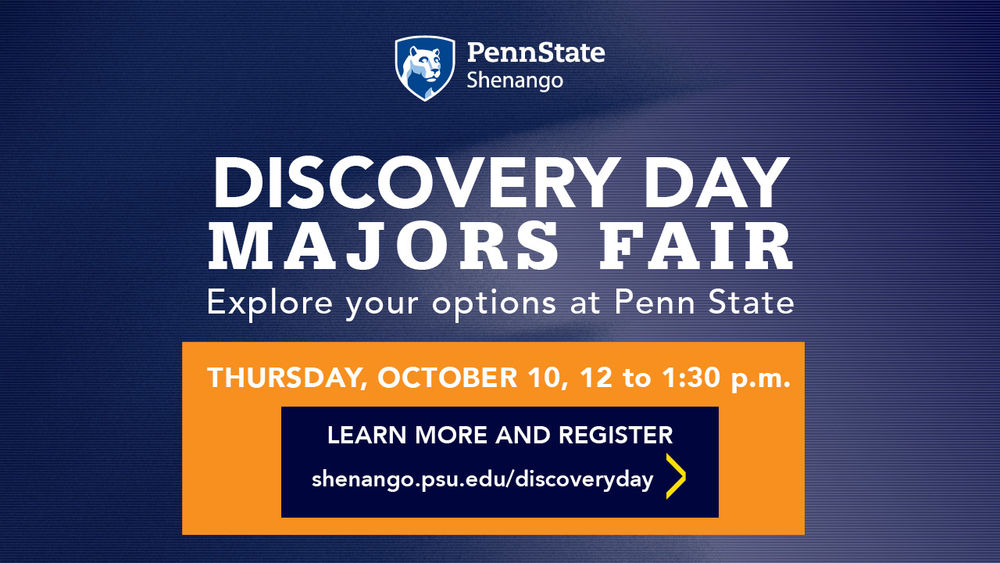 Not sure of what your plans are after high school? Want to learn more about the various majors available at your local Penn State campus and about its popular 2 + 2 programs, including the University's colleges of Agricultural Sciences and Engineering?
Penn State Shenango will host a Discover Day: A Majors Fair between noon and 1:30 p.m. on Thursday, Oct. 10, in the campus auditorium. The event is open to current Penn State students, area high school students, and college transfer students. High school and transfer students may register by going to shenango.psu.edu/discoveryday.
During the event, students will have an opportunity to speak to Penn State staff from admissions, career counseling, disability services and student affairs, the Lartz Memorial Library, and the campus' VenturePointe incubator. Students are encouraged to talk with these experts and pick up information about starting their upcoming college experience.
"We are proud of what the Shenango campus has to offer and are excited to host our first Discovery Day: A Majors Fair for the students in our community," said Taylor Cole, administrative support assistant for academic advising and career services. "Penn State Shenango is a great place for students to learn, grow, and become global and engaged citizens. We look forward to our faculty and staff talking with potential students and sharing the exciting opportunities available at our campus."
The Shenango campus offers six baccalaureate degrees, five associate degrees, and the first two years of more than 275 Penn State degrees. For more information about this and other events, contact the Shenango campus Academic and Career Planning Services Office at 724-983-2860.