Program was held in conjunction with the Greater Sharon Associates and its annual Spring Fling event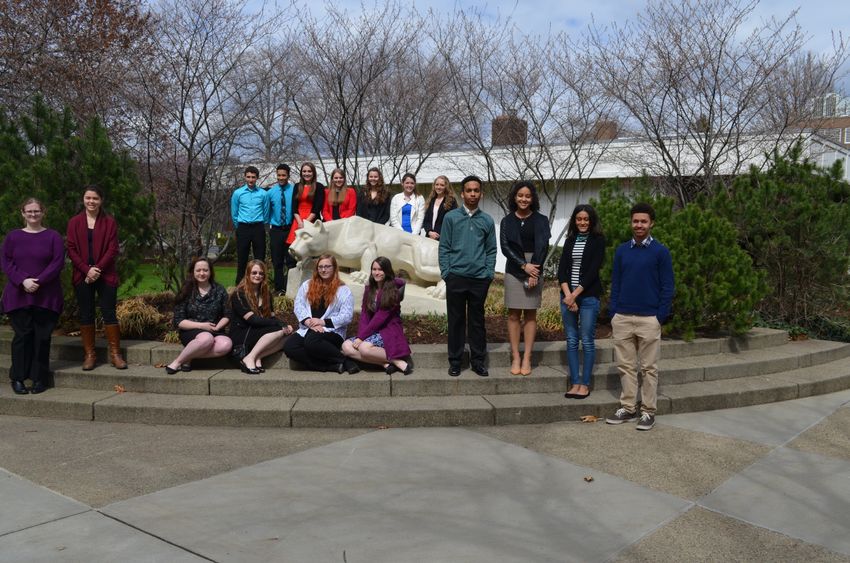 SHARON, Pa. — It was West Middlesex High School students who came out on top in Penn State Shenango's inaugural marketing competition on Saturday, April 2, held in the campus' auditorium. Lakeview High School was close behind in second place, and Hickory High School students took third. The event was held in conjunction with the Greater Sharon Associates (GSA) and its Downtown Sharon Spring Fling. High school teams of two to five students were required to create and present an integrated marketing plan for this year's Sharon Spring Fling. Students from Farrell High School and Mercer County Career Center also gave strong presentations.
"The judges were so impressed by each team's ingenuity and effort," said Laura Ackley, general manager of Donna's Diner, Buhl Mansion Guest House and director of marketing for Tara-A Country Inn. "We thought all of the students did an excellent job. The panel of judges had to grade not only on creativity, but feasibility, professionalism, and budget — an overall plan which could be implemented to promote downtown Sharon's Spring Fling event on May 7. It was very challenging to pick just one winner; each team had elements of their presentation that could be used. Kudos to the students and their advisers!"
The competition included three parts: a preliminary event held in February at the Shenango campus where students heard presentations on "Building an Integrated Marketing Plan" by Penn State Shenango Business Instructor Georgia Macris, and the Sharon Spring Fling event by Ackley; a meeting with GSA members at Visit Mercer County PA in March about the Downtown Sharon Spring Fling; and the actual competition held in April.
During the February event, students heard from several media account representatives, including Su Killar, iHeart Radio; Stefan Marcella, The Sharon Herald; Eric Doan, WFMJ; and Sara McCauley, Visit Mercer County PA/Social Sara. Each representative talked about his or her form of media, in addition to speaking about ways of getting free publicity and exposure.
The students had a total of six weeks to prepare their integrated marketing plan before they returned on April 2, where they presented in front of a panel of six judges, including Penn State Shenango business instructors Lisa Bertin, Macris and Michael Wachter; Penn State Shenango Coordinator for Community Relations and Communications Liz Izenas; Ackley; and Visit Mercer County PA Sales and Marketing Coordinator Carmen Aiello.
"We were so pleased to have five local schools participate in our inaugural marketing competition," said Chuck Greggs, associate director of admissions and emcee of the event. "We originally discussed crafting an event where the students could create a plan for a fictitious organization. However, after meeting with Laura Ackley, who is instrumental in organizing Sharon's Spring Fling each year, we came up with the idea to have the students put together an actual marketing plan for an actual event, and I think the outcome was great. We are looking forward to next year's event."