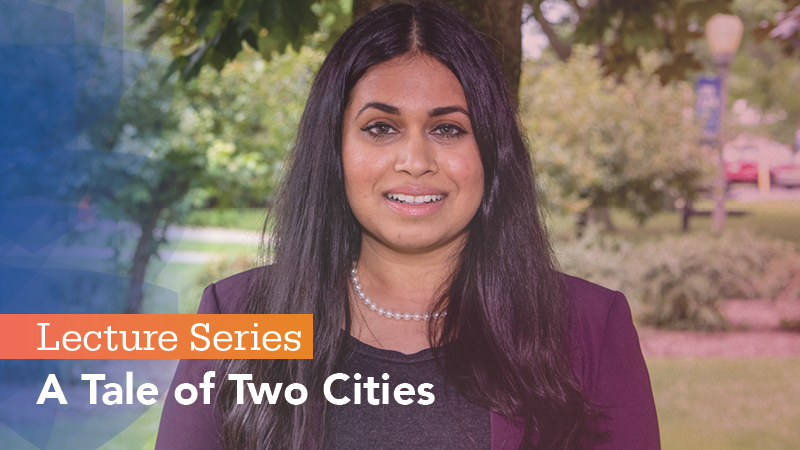 SHARON, Pa. — Penn State Shenango's second Lecture Series event will feature Iffath Syed, assistant professor of health policy and administration. Syed will present research in her lecture titled "A Tale of Two Cities: the impact of COVID-19 on vulnerable populations in Toronto, Canada and London, England" at 5:30 p.m. Thursday, Nov. 11. Shenango's Lecture Series is free and open to the public, but registration is required.
"In 2003, Canada was significantly impacted by the severe acute respiratory syndrome coronavirus outbreak known as SARS," said Syed. "Toronto was hit both economically and with tragic deaths of frontline health care workers."
Nearly two decades later, the world is experiencing the crippling effects of the COVID-19 pandemic. In this presentation, Syed will discuss her research exploring how pandemics affect vulnerable populations in the metropolitan cities of Toronto and England.
Registration is required for 2021-22 Lecture Series. Visitors can register at shenango.psu.edu/lectureseries. Location information will be provided upon registration. Questions about the Lecture Series can be directed to Melissa Fowler at 724-983-2825.
Penn State reserves the right to alter or cancel any portion of this event at any time and for any reason, including but not limited to shifts in the status of the pandemic or relevant and applicable guidance, or individual participants violating University policy. Visitors under age 18 are not permitted at this event.
Upcoming Lecture Series dates
"It Takes a Village: Why co-parenting matters for child development" with Lauren Altenburger at 5:30 p.m. on Feb. 2, 2022
The co-parenting relationship is often described as the way two adults work together in their roles as caregivers to raise a child. This talk will examine how researchers measure co-parenting relationship quality and its associations with both parenting quality and child outcomes. Additionally, implications for family-focused programs interested in embedding co-parenting education will be discussed.
"Friendship in the Digital Age: Togetherness in lonely times" with Tiffany Petricini at 5:30 p.m. on March 24, 2022
Petricini will be presenting research from her new book, "Friendship and Technology: A Philosophical Approach to Computer Mediated Communication." The talk will center on how technology both enhances and challenges our relationships, particularly after collectively navigating the COVID-19 pandemic.