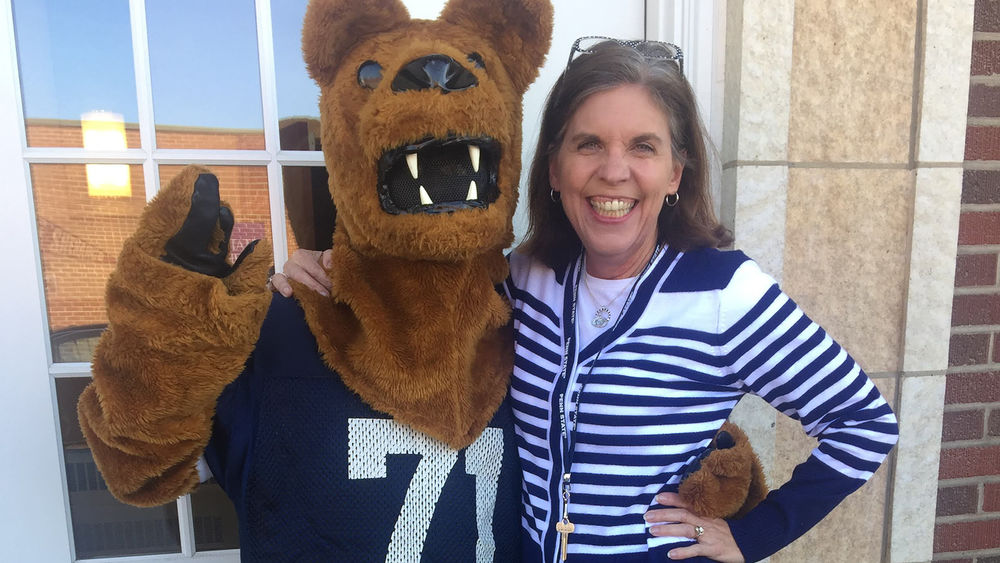 SHARON, Pa. — Penn State Shenango Assistant Teaching Professor Lisa Bertin has established the Complete Penn State Shenango Scholarship by making a $12,500 pledge to the campus. 
"I encountered so many students facing financial struggles in their final year," said Bertin. "I knew that is where I wanted to help these students finish their degrees, and so, the idea for the Complete Penn State Shenango scholarship was started."  
Consideration for the scholarship, which will be awarded annually over the next five years, will be given to part-, half- or full-time undergraduate students who are enrolled or plan to enroll as rising seniors at Penn State Shenango and have demonstrated financial need for funds to meet college expenses. 
Riley Atterholt, a 2017 business alum who worked closely with Bertin, noted the impact that Bertin has on the student experience.
"Lisa is always willing to go above and beyond to make sure students accomplish their goals, and this scholarship is an extension of that devotion," said Atterholt, who now works in marketing and sales at JCL Energy. "A student's senior year can be full of stressors. Easing the cost of tuition can let them focus on internships and classes."
"My road to academia was very unexpected," said Bertin. "Fifteen years into my career in the lumber industry, I decided I needed to make a career change, and based on my experience, information technology was at the top of my list. I visited the Shenango campus to inquire about the continuing education courses, which led to becoming an instructor in the campus's new IST program."
Bertin continued, "So many students have had an impact on my life. I cannot believe how quickly the last 20 years have passed and how rewarding it has been to teach at Penn State Shenango."
In addition to establishing the Complete Penn State Shenango Scholarship, Bertin has been an integral member of the Shenango community thanks to her involvement in the information sciences and technology, business, and project and supply chain management programs; her work with numerous University committees; and serving Mercer and Lawrence counties through volunteerism. Bertin has been with the University since 2001 and is now in the middle of a three-year phased retirement plan.
This gift will advance "A Greater Penn State for 21st Century Excellence," a focused campaign that seeks to elevate Penn State's position as a leading public university in a world defined by rapid change and global connections. With the support of alumni and friends, "A Greater Penn State" seeks to fulfill the three key imperatives of a 21st-century public university: keeping the doors to higher education open to hardworking students regardless of financial well-being; creating transformative experiences that go beyond the classroom; and impacting the world by serving communities and fueling discovery, innovation and entrepreneurship. To learn more about "A Greater Penn State for 21st Century Excellence," visit greaterpennstate.psu.edu.