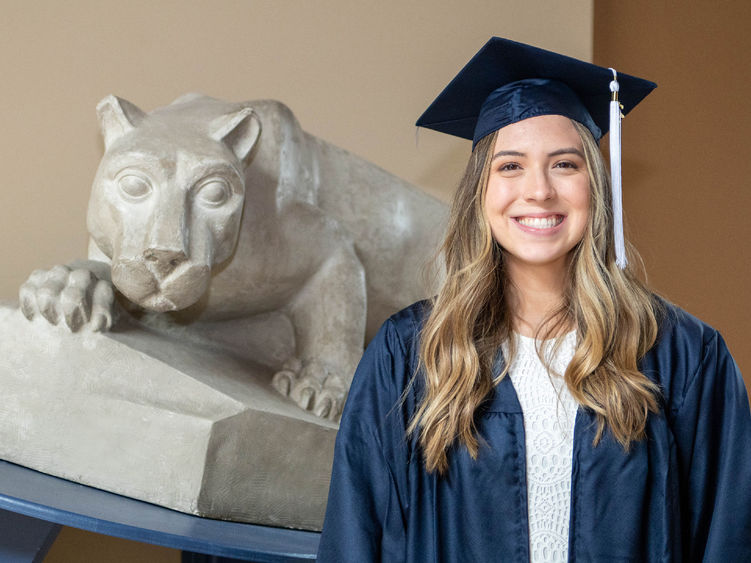 SHARON, Pa. — Penn State Shenango celebrated the class of 2022 at a commencement ceremony on Saturday, May 7. The 44 graduates were honored with addresses by Ty Cole of JCL Energy, graduating student Rachel Maynard, and Penn State Shenango Alumni Society President Darren Steele. Prior to the celebration, a private nursing pinning ceremony was hosted by faculty to welcome graduates to the profession.
Headshots were taken of graduates in April. See the photo gallery on Penn State Shenango's Flickr.
Degrees conferred
Bachelor's degrees
Administration Of Justice and Criminal Justice
DeVonte Carter, Hermitage
Michael P. Jacob, Jackson Center
Brian J. Kope, Sandy Lake
Victoria R. Popovitch, Sharon
Noah Temple, Sandy Lake
Ryan Veinotte, New Castle
Business
Cleary Dunn, Sharon
Elijah Meszaros, Sharon
Devin Mitchell***, Sharpsville
Olivia M. Mitcheltree*, West Middlesex
Gannon M. Murray, Hermitage
Ian G. Titus*, Sharpsville
Corporate Communication
Jacob Rickert****, Greenville
Ryan M. Thiel, Sharon
Health Policy and Administration
Human Development and Family Studies
Jessica N. Carroll, Hermitage
Dariann Erdman, West Middlesex
Alexandra Knight, Sharon
Morgan Saxion, Greenville
Letters, Arts and Sciences
Savannah D. Gill, New Castle
James B. Roe****, Kinsman, Ohio
Nursing, R.N. to B.S.N.
Ivy Blanchard, Jamestown
Jasmine Day**, Sharpsville
Monica Downes, Youngstown, Ohio
Magdalena Hochstetler, Sharon
Dannielle Pugh, Hermitage
Allissa M. Rimer, Greenville
Maggie R. Robertson, Sharpsville
Charles C. Robinson, Linesville
Hope L. Williams, Fredonia
Andrea M. Yesko, Hubbard, Ohio
Kathleen E. Young, New Castle
Nursing Pinning Ceremony
Nursing faculty at Penn State Shenango welcomed the program's newest nursing graduates into the profession during a pinning ceremony that takes place before commencement. These graduating students were presented with the Penn State Ross and Carol Nese College of Nursing's official pin.
Project and Supply Chain Management
Madelyn P. Bacchetti, West Middlesex
Labor and Employee Relations
Taraceita Teets, Hubbard, Ohio
Associate degrees
Human Development and Family Studies
Marsha T. Fields, Farrell
Occupational Therapy Assistant
Nicole Kowalski, Youngstown, Ohio
Physical Therapist Assistant
Kylynn P. Boley, Franklin
Brooke Brown, Niles, Ohio
Randall J. DeVengencie, Warren, Ohio
Ethan C. French, Bessemer
Savannah M. Lach, Campbell, Ohio
Rachel M. Maynard, Youngstown, Ohio
Jeanna M. Morgan, Youngstown, Ohio
Honors distinctions
* Cum Laude
** Magna Cum Laude
*** Summa Cum Laude
**** Military Honors