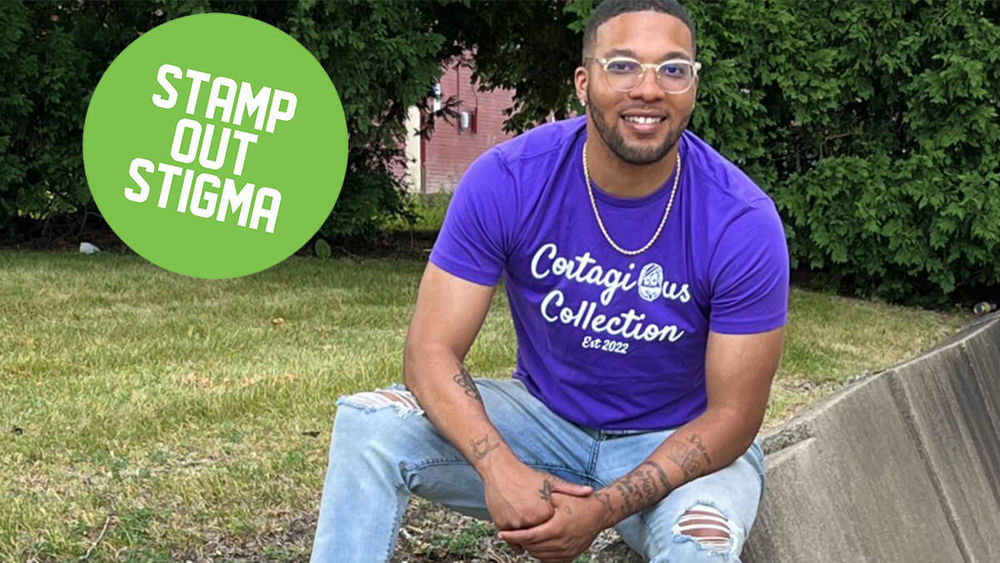 SHARON, Pa. — For its ninth annual Stamp Out Stigma mental health awareness event, Penn State Shenango is focusing on men and mental health during a program to be held in the campus' Great Hall at 12:15 p.m. on Wednesday, Oct. 12. The event includes individuals sharing personal stories to raise awareness about the importance of caring for one's mental health. 
This year's Stamp Out Stigma keynote speaker is Kieran Davis, a local entrepreneur. Davis has begun a clothing line called Contagious Collection, and is working to promote mental health awareness in the Black community through apparel, education, and positive messaging on various social media channels.   
During the program, Davis will share the personal story of his journey, how mental health and stigma has impacted him, and how these experiences have led him to creating the Contagious Collection. "I want to help create a world where self-love is contagious," says Davis. "I want everyone to know that they are loved and valued and help fight the high number of suicide attempts worldwide." 
Rounding out the panel of speakers will be Penn State Shenango's Associate Teaching Professor of Science Kevin McDade, the founder and co-coordinator of Stamp Out Stigma, Jack Luchette, class of 2014, as well as Shenango's campus counselor Tony Paglia. 
"According to the American Foundation for Suicide Prevention, in the United States, men are dying by suicide nearly four times more frequently than women," says Paglia. "And yet, males are nearly 50% less likely to reach out for mental health treatment than females. This is something we want to talk about so that we cannot only save lives but improve lives. Mental health care is just a facet of overall health care, and as these speakers will share, regardless of one's identity, working on one's mental health can lead to positive outcomes." 
The community is invited to attend this free program. Registration is not required.
For more information about this event, please contact Tony Paglia at [email protected] or 724-983-2841. To learn more about Contagious Collection, visit contagiouscollection.com.