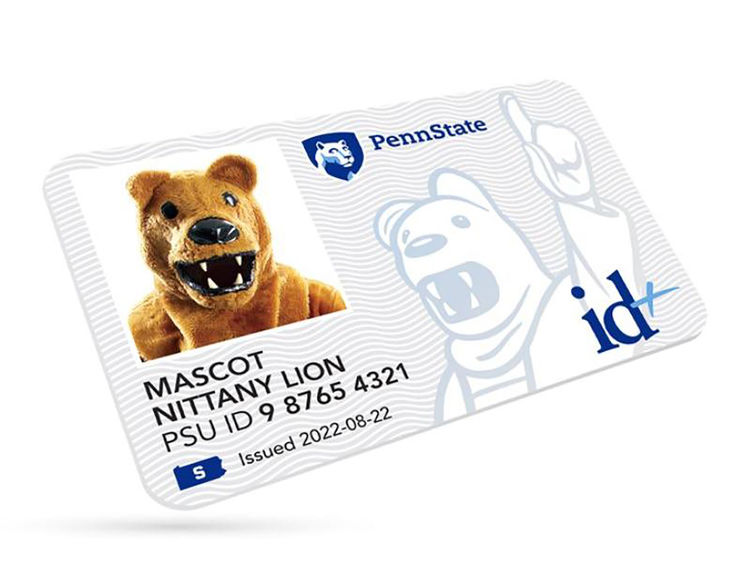 Current Penn State id+ cardholders at Penn State Shenango will receive a new id+ card during a re-carding event on Wednesday, Nov. 9. The event is part of a University-wide process to distribute the updated, mobile-forward campus card. 
From 10 a.m. to 4 p.m. on Nov. 9, students, faculty, staff, and card-holding affiliates can pick up their new id+ card in the Great Hall on campus. A new photo must be submitted by Nov. 4 in order to receive the updated campus card during the event. Details on how to submit a new headshot photo are provided below. 
The event is one of five re-carding efforts taking place at select Penn State campuses this fall. In addition to the Shenango campus, Penn State Dickinson Law and the DuBois, Great Valley and Wilkes-Barre campuses also are scheduled to host re-carding events. 
University Park and other campuses will be re-carded in spring 2023. 
Anyone who received a new id+ card after May 10, 2022, will not need to take part in a re-carding event. 
Photo submission will take place via the Transact eAccount Mobile app. Steps to submit a photo are as follows: 
Download the Transact eAccounts Mobile app from the App Store or Google Play to your phone. 
Search for Penn State and click the SSO (single sign-on) login screen. 
Enter your Penn State user ID (

[email protected]

) to authenticate your device. 
Upload your updated ID photo on the Transact eAccounts Mobile app. Note: The photo must meet the requirements outlined on idcard.psu.edu/photo-submission. 
If there are any problems in uploading your photo, contact

[email protected]

. 
Photo submissions must adhere to the following guidelines: 
Shoulders and head directly facing the camera. 

Eyes open. 

Background is plain and neutral. 

Photo is in color and without filters. 
Hats, sunglasses, hand gestures, and inclusion of other people within the photo are not accepted. The photo should not be cropped. 
Email notification will indicate whether the photo is approved or if another photo should be submitted. 
All photo submissions must be received by Nov. 4 in order to receive a card during the re-carding event on Nov. 9. 
Cardholders who need assistance in submitting a photo should contact the local id+ Office through idcard.psu.edu/contact-us.  
The current version of the id+ card must be presented along with a government-issued ID in order to obtain a new id+ card. 
Cardholders from other campuses will not be able to partake in the re-carding event at Penn State Shenango. Details of subsequent re-carding events will be announced as times and locations are finalized. 
For more information about the new Penn State id+ card and its features, visit idcard.psu.edu.