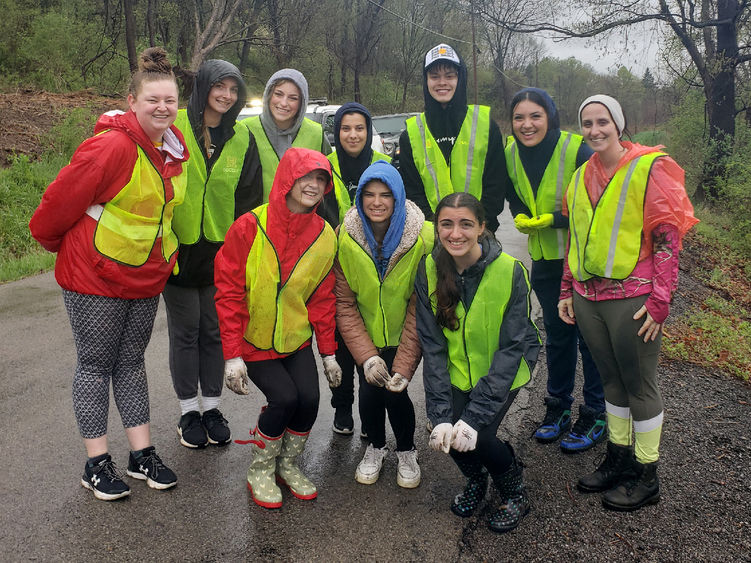 SHARON, Pa. — Service-learning is not often associated with communication courses. However, students in both sections of the Effective Speech class at Shenango use community service and volunteer opportunities to experience hands-on learning that enhances their communication skills. 
"This class utilizes an experiential learning model. This means that the best way for them to learn how to communicate, work in groups, and make a difference is by actually getting out there and doing so," said Assistant Teaching Professor Tiffany Petricini, who oversees both sections of the CAS 100B class. "Each spring semester, the students choose an organization from the Shenango Valley to support. They then come together to meet the needs of that organization." 
This spring, the students selected the Shenango River Watchers and the Keystone Blind Association, respectively. Once the nonprofits were chosen, students from both sections met with representatives from these organizations to learn what their needs would be in the coming months. 
"Brandi Baros, president of River Watchers, joined the class and told us that they needed volunteers more than anything," Petricini said.
On Saturday, April 22, students joined the City of Hermitage and the Shenango River Watchers for the Earth Day Cleanup and Festival at Linden Pointe. The class members gathered other volunteers from among their family and friends, totaling 16 volunteers, which is the equivalent of $1,296 dollars donated, according to the River Watchers. 
The other section of the class is working with the Keystone Blind Association, who hoped to raise awareness and gather donations. The students opted to host a glasses frame drive and basket raffle. Those interested in contributing can donate either $10 or one pair of glasses frames to earn 25 tickets in the basket raffle drawing. The drawing for the raffle prizes will be Friday, April 28, and a representative from the Keystone Blind Association will attend the class to pick up the donated glasses frames. 
"I think it is very hard for our Shenango students to find ways to get involved in our community. Most of them work in addition to going to school, and many of them actually receive community help from many of the organizations we support," said Petricini. "Many of them don't know how they can help when they are so limited on their time and money. This model of learning helps empower them and it gives them an opportunity to contribute to the greater good in a way that supports their learning at the same time."