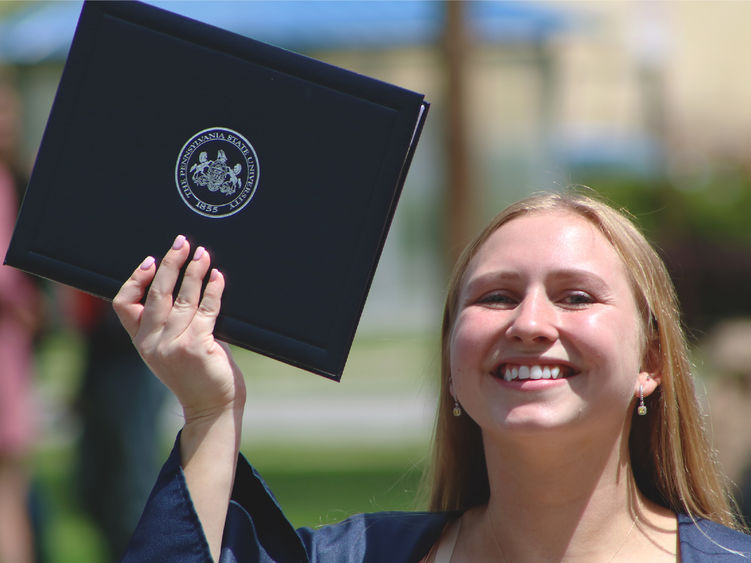 SHARON, Pa. — Penn State Shenango celebrated the class of 2023 at a commencement ceremony on Saturday, May 6, in the Auditorium. The graduates and guests heard from alumna Carolyn Weiss of The Pension Boards, who gave the keynote address, as well as graduating student Selina Beach and Penn State Shenango Alumni Society Vice President Mandy Stingis. Prior to the celebration, a private nursing pinning ceremony was hosted by faculty to welcome graduates to the profession. 
See the photo gallery on Penn State Shenango's Flickr. 
Degrees conferred 
Bachelor's degrees 
Business
Ramell Askerneese, Sharon 
Zarah Hershberger, Greenville 
Sincere Lopez, Raleigh 
David Williams 
Criminal Justice
Logan Hurley, Mercer 
Dien Tran*, Hermitage 
Olivia Vogel, Brookfield, Ohio 
Health Policy and Administration
Alissa Owen, Jamestown 
Kaitlyn (Roseski) Bailey, Mercer 
Human Development and Family Studies
Selina Beach***, West Middlesex 
Jenna Daly, Hermitage 
Virginia Reagle , Greenville   
Multidisciplinary Studies
Georgianna Shepard, West Middlesex 
Jaslyn Williams, Brookfield, Ohio 
Nursing
Dylan Karnes, West Middlesex 
Stacy Vasalani, New Castle 
Nursing Pinning Ceremony
Nursing faculty at Penn State Shenango welcomed the program's newest nursing graduates into the profession during a pinning ceremony prior to commencement. These graduating students were presented with the Penn State Ross and Carol Nese College of Nursing's official pin. 
Associate degrees 
Physical Therapist Assistant
Morghan Burncheck, Carlton 
Bryleigh Gladysz, Greenville 
Kailey Isenberg, Espyville 
Aileen Lewis, Grove City 
Rachel Moroco, Transfer 
Jena Mosca, Hubbard, Ohio 
Leah O'Kresik, Hermitage 
Moriah Rudge, Hermitage 
Adria Stelluto, Austintown, Ohio 
Jamie Thompson, Pulaski 
Honors distinctions
* Cum Laude 
*** Summa Cum Laude