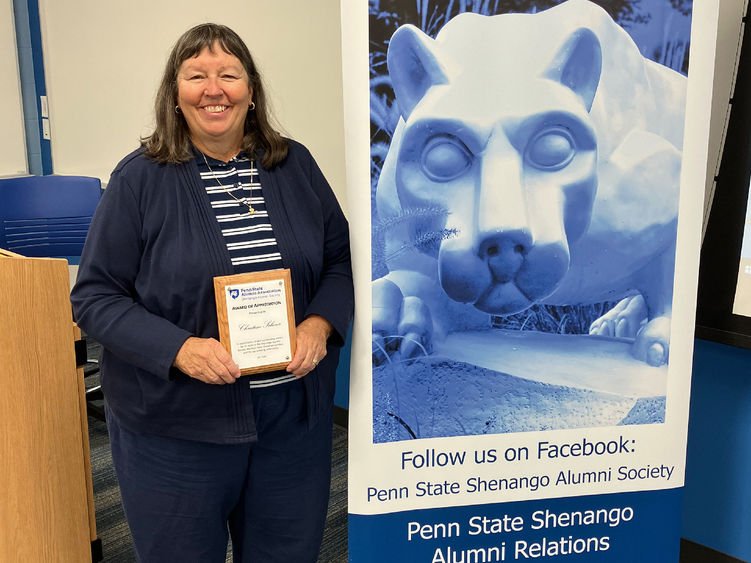 SHARON, Pa. — The Penn State Shenango Alumni Society recognized Christine Scherer for 25 years of dedicated service to Penn State earlier this fall. 
Scherer graduated from Penn State Shenango in 1989 with a degree in nursing and became involved with the Alumni Society shortly thereafter. As an adult learner with a family and a full-time job in addition to her studies, she said it was difficult to make connections among her peers until after graduation. 
"The Alumni Society allowed me to make many long-lasting friendships and memories with others who had the same goal as me: giving back to Penn State," Scherer said. 
During her 25-year tenure with the Shenango Alumni Society, Scherer served as the president, held a seat on the Penn State Alumni Association Alumni Council, and was a member of the Penn State Shenango Advisory Board. 
Scherer credits the local Penn State alumni community, as well as members of the Alumni Society, for being so active and allowing the Shenango campus to thrive over the last 25 years. 
"In my time in the society we helped to raise thousands of dollars for student scholarships, helping to bring about the return of college-level athletics to the Shenango campus, and have worked to support each year's current student body with numerous projects on campus," Scherer said. "The Shenango Alumni Society is one of the biggest fundraisers out of all the alumni societies. This campus, and the University as a whole, return many dollars to the local area and to the state. We are contributing to the revitalization of the Shenango Valley." 
Of her various roles and accomplishments, she is most proud that she was able to serve alongside her daughter, a 2003 graduate of Penn State Shenango, who also was president of the Penn State Shenango Alumni Society.