Cross-college and campus collaboration highlighted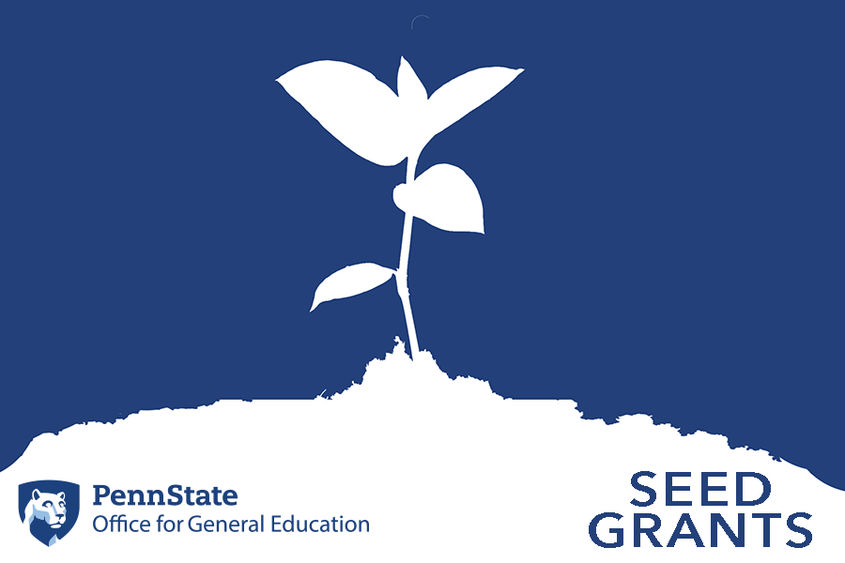 UNIVERSITY PARK, Pa. — The Integrative Studies Seed Grant Program, offered through the Penn State Office for General Education, will support 71 different course development projects this summer. In response to the large volume of highly qualified proposals, the budget was generously increased by more than 50 percent by the Office of the Provost and the Office of Undergraduate Education.
Adding to the financial support, World Campus, the Schreyer Honors College, and the College of the Liberal Arts provided full or joint funding for 11 of the proposals. Thirteen different collaborating University units will provide additional wrap-around expertise and resources to awardees.
In April 2015, the University Faculty Senate approved a new integrative studies requirement within General Education, followed by the approval of implementation details in March 2016. Such courses have never been required or received a recognized designation at Penn State.
The aim of the Seed Grant Program is to incentivize faculty to develop integrative studies courses, through either inter-domain or linked courses. In doing so, the University can build the capacity to offer these courses to students. Details about the changes in the General Education program and requirements can be found at gened.psu.edu.
The awarded proposals include faculty from Penn State campuses across the state. All course ideas embrace the goals of General Education, specifically around the integrative thinking and learning objective and the new integrative studies requirement.
The awardees are (course titles are approximate and may change):
Abington
Ann Schmiedekamp — The Film Media and Extraterrestrial Life: Science Fact or Fiction?
Les Murray; Yvonne Love — Art and The Natural World
Altoona
Karyn McKinney Marvasti, Beth Seymour — Communicating Culture: Representations of Dominant and Marginalized Groups
Behrend
Sarah Whitney — Fashion, Identity, and Gender in America
Heather Lum, Gerald Scott Rispin — Human Factors in Design and Art
Rod Troester — CAS/Communications Summit
Sharon Dale, John Champagne — The Arts of Love
Berks
Jessica Schocker, Justin De Senso — Race in the Humanities and in the Social Sciences
Jayne Park-Martinez — Scientific Controversies and Public Debate
Sandy Feinstein, Brian Shawn Wang — From Beast Books to Dinosaurs Resurrected
Christian Weisser — Issues in Sustainability
Samantha Kavky — Psychology, Madness, and the Visual Arts
Justin De Senso — Politics of Hip Hop
Sandy Feinstein — Medievalism
Samantha Kavky — Witches and Witchcraft, From the Middle Ages to the Present
Azar Eslam-Panah, Heidi Reuter — Flow Visualization
Jennifer Hillman — Psychology in the Cinema and the Arts
Valerie Cholet — International Sport
Fayette
Nathaniel Bohna, Valerie Vanderhoff — Art of Science
Greater Allegheny
MaryEllen Higgins — Social Justice and the Image
MaryEllen Higgins, Veronica Montecinos — Cinema and Globalization
Katherine McLean — Criminal Justice and Public Health
Harrisburg
Azamat Sakiev, Siyu Liu — Comparative Violence: Political and Criminal Perspectives
Jennifer Sliko, John Haddad — Understanding Earth: American Cultural Perspectives linked to Understanding Earth: Scientific Perspectives
Ellen Stockstill — Human Rights and the Novel: Empathy and The Imagination to be linked with PSYCH 221
Hazleton
Karen Stylianides, Amie Yenser, Melissa Ranalli — Biology of Exercise
Lehigh Valley
Elizabeth Flaherty — Intersections of Art and Psychology
Donna Wade — Food Psychology: Why We Eat What We Eat
Doug Hochstetler, Mary Hutchinson — Link CIVCM 211 and PHIL 003
Christopher Landino, Drew Anderson — History & Weather: How Weather Played an Instrumental Role in Great World Events
New Kensington
Donald Bruckner — Philosophy, Psychology, Happiness, and the Good Life
Schuylkill
Stephen Couch — Media Messages
Jeffrey Stone, Michael Gallis, Nicole Andel — The Art and Science of Virtual Worlds
Shenango
Tamrya d'Artenay — Human Society as A Dependent of the Environment
University Park
College of Arts and Architecture
Aaron Knochel, Cristin Millett — Art and Health
Leanna Rosas, Carlos Rosas — Revise Art 201
Sarah Rich — Art and Money
College of the Liberal Arts
Robert Schrauf — Conducting International Comparative Research
Jonathan Marks, Christopher Zorn — Interplay of Ethics, Policy, Law, and Science
Antone Aboud, John Marsh — Work and Literature
Johanna Wagner, Tim Robicheaux — Organized Crime in Film & Society
Mary Miles — The Pursuit of Happiness: Historical Literature and Modern Practice
Eberly College of Science
Benjamin Lear — When Data Meets Design
Brittany Teller — Conservation Decision-Making
College of Health and Human Development
Robert Roeser, Mark Greenberg, Gaby Winqvist — A Life Worth Living: The Theory & Practice of Human Flourishing
Kathryn Hynes, Shannon Corkery — Reading Our Lives: Understanding Diversity in Human Development Through Memoir
College of Engineering
Andrew Lau — Introduction to Sustainability
Alan Wagner — Robots and Their Role in Society
College of Education
Dana Stuchul — Food and Farms
College of Earth and Mineral Sciences
Karl Zimmerer — Society, Environment, and Food
Lorraine Dowler, Chris Fowler, Josh Inwood — Apocalyptic Geographies
Cross-college collaboration
David Hunter, Eberly College of Science; Paula Droege, College of the Liberal Arts; Andrew Read, Eberly College of Science — On Bullshit (Identifying Bias and Falsehoods)
Gary Adler, College of the Liberal Arts; Selena Ortiz, College of Health and Human Development — Healthy People, Healthy Society
John Waters, Eberly College of Science; Joel Waters; College of Health and Human Development; Jason Laine, College of the Liberal Arts — Human Anatomy in the Context of Renaissance-Era Italy
Bradford Bouley, College of the Liberal Arts; Michael Troyan, Eberly College of Science — History of Disease and Epidemiology
Heather McCune Bruhn, College of Arts and Architecture; Maureen Feineman, College of Earth and Mineral Sciences — Rocks, Minerals, and the History of Art
James Endres Howell, Eberly College of Science; Scott Smith, College of the Liberal Arts — Success and Challenges of an Inter-domain Course: Disseminating Science in Literature
Jennifer Savage Williams, College of Health and Human Development; Ted Jaenicke, College of the Agricultural Sciences; A. Catharine Ross, College of Health and Human Development — Linking AG BM 170 to New Food for All: U.S. Nutrition Programs, Food Security, and Economics
Molly Martin, College of the Liberal Arts; Alyssa Gamaldo, College of Health and Human Development; Stephen Matthews, College of the Liberal Arts — 3-Way Course Linkage on Health Inequalities – Social, Geographic, and Ethnicity
Leana Topper, Eberly College of Science; Gus Colangelo, Smeal College of Business; Jennifer Gruber, Harrisburg — Society and Disease Management
Jenny Kenyon, College of Arts and Architecture; Jack Hietpas, Eberly College of Science; Gary Chin, College of Arts and Architecture — Introduction to Forensic Photography linked with Introduction to Forensic Science
David Stensrud, College of Earth and Mineral Sciences; Graeme Sullivan, College of Arts and Architecture — Meteorology and Visual Arts: To Know Is to See
Ryan Russell, College of Arts and Architecture, Gary Chin, College of Arts and Architecture; Henry Pisciotta, Arts and Humanities Library — Information Visualization
Alex Hristov, College of Agricultural Sciences; Ken Davis, College of Earth and Mineral Sciences; Jennifer Baka, College of Earth and Mineral Sciences — Science and Policy of Global Greenhouse Gas Emissions
Worthington Scranton
Kelley Wagers — Communicating Care
Todd Adams, Jennifer Lubinski — Art and Philosophy in Ancient Greece
Michael Evans, Paul Frisch — Historical Perspectives on Health Care Innovations
Patrick Sellers, Margret Hatch — Evolution of Homo Sapiens
York
Joe Downing — Interpersonal Conflict and Negotiation
Cross-campus collaboration
Xenia Hadjioannou, Lehigh Valley; Ellysa Stern Cahoy, Penn State Libraries — Picture Books
Christian Weisser, Berks; Lynette (Kvasny) Yarger, College of Information Sciences and Technology — Digital Cultures
The Office for General Education is part of Penn State Undergraduate Education, the academic administrative unit that provides leadership and coordination for University-wide programs and initiatives in support of undergraduate teaching and learning at Penn State. Learn more about Undergraduate Education at undergrad.psu.edu.