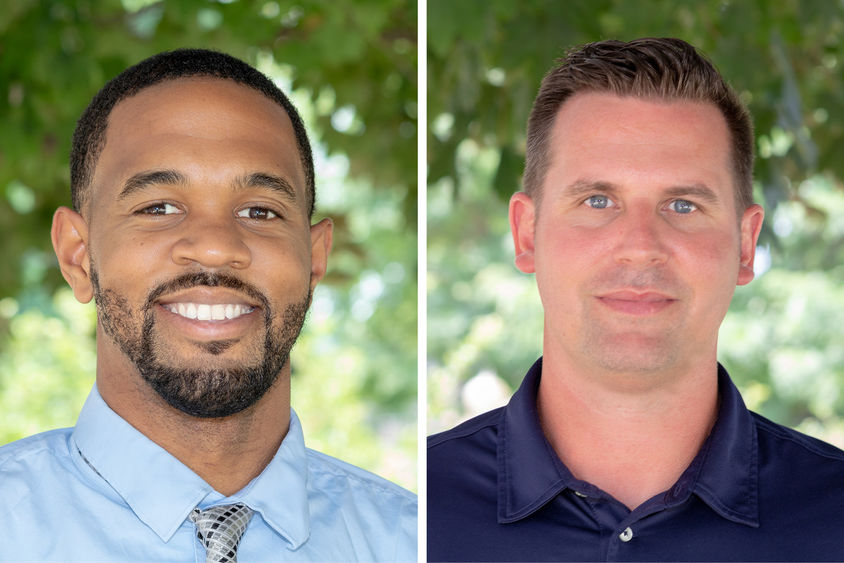 SHARON, Pa. — Two area veteran basketball standouts and well-respected coaches have joined the Penn State Shenango Men's Basketball coaching staff. Geoffrey Evans, former assistant coach for the Hickory Hornets, and David Jackson, former Penn State Nittany Lion basketball player, will unite with Penn State Shenango Head Basketball Coach Andre Smith to share his vision for the campus's reinstated athletic program which begins this fall.
Smith, who was a Youngstown State University basketball standout in his own right, said about the new hires, "When building any athletic program, the foundation is the most important — it holds everything together. Having the opportunity to hire Geoff and David is a game changer. Both men have D1 playing experience and both have played professional basketball, which is outstanding for our program. When you mention either coach's name, what comes first to people's minds are their great characters."
Evans and Jackson will be assisting the veteran head coach with the day-to-day operations of the basketball program, including coaching, mentoring and fundraising. The duo will play key roles in scouting, assisting with practice sessions and teaching skill drills. Providing leadership and helping to support the players with academic and non-academic issues also will be an important responsibility for the new staff.
"This is an exciting time for the campus, and I'm thrilled that we have a lot of good players for our 2018-2019 season," said Smith. "First and foremost, however, I want to make sure that our new recruits get all the support they need to be successful on and off the court. I'm counting on Geoff and David to help me in this effort."
For the past two years, Evans has served as the assistant varsity basketball coach for his alma mater, Hermitage High School, where he was responsible for teaching the fundamentals of the game, creating practice plans and communicating with parents. Scouting, as well as preparing for the overall game-day, was also part of his role. Prior to being hired at Hermitage, Evans was the assistant coach for both Kennedy Catholic High School and Sharon High School between 2009 and 2013.
In the mid-nineties, Evans played on some of Hermitage High School's finest basketball teams to help the Hickory Hornets get to two PIAA Final Four berths. Following high school, he attended Indiana University of Pennsylvania (IUP) on a full athletic scholarship after transferring from Boston University, where he was the only freshmen to start eight games.
Evans is an account manager for Active Foam Products based out of Chicago. When he's not working or coaching high school basketball teams, he enjoys being an independent instruction coach. For the last several years, he has worked with elementary, middle school, high school and collegiate athletics to teach basketball skills; networked with high schools, AAU and collegiate coaches to nurture relationships for student athletes; and directed several basketball camps in Mercer and Lawrence counties.
Evans graduated from IUP with a bachelor's degree in marketing. He completed his master's degree in elementary education from Grand Canyon University. He currently resides in Hermitage with his wife, Mindy, and their three children. He is the son of Rod and Pat Evans of Hermitage.
"Geoff Evans brings experience and knowledge to the staff," said Smith. "As a former coach himself, Geoff understands the time and energy needed to build and sustain success. His networking is second to none. I have known Geoff for a very long time and have a lot of respect for him. He played for me in the professional ranks for The Mahoning Valley Wildcats — a professional team in the International Basketball League where I was the head coach and general manager."
A two-time AP Pennsylvania first team All-State selection (Class A) at Kennedy Catholic High School, Jackson helped lead his high school team, the Golden Eagles, to four District 10 championships, two county championships, two regional championships, and a Western Regional championship and state runner-up finish in 2005.
A top recruit in the west, Jackson received a full scholarship to Penn State where he played for the Nittany Lions Men's Basketball Team from 2006 until 2011. Jackson helped his team win the National Invitational Tournament (NIT) in 2009, and to make an appearance in the NCAA Tournament in 2011. In the 2009-10 season, Jackson was named both "Mr. Defense" and "Most Improved Player" for the Lions.
Following graduation from Penn State, Jackson joined the Professional Basketball League where he played in Portugal, Finland and Iceland, and was named to the Professional All League Selection from 2013 to 2015.
After returning from Europe, in 2013 Jackson accepted the position of assistant boys' basketball coach at Hermitage High School where he was responsible for the player's skill development and implemented game plans and scouting reports. He was also hired in 2013 as an AAU coach for Penn Ohio Athletic Club in Sharon, Pennsylvania.
In 2017, Jackson moved to Tallahassee, Florida, and was employed by Enterprise Rent-A-Car. He moved back to the valley this past spring to accept the assistant coach's position at the Shenango campus.
Jackson graduated from Penn State with a bachelor of science degree in recreational parks and tourism management. He currently resides in Hermitage and is engaged to Shanise Rogers from Milwaukee, Wisconsin. The Farrell native is the son of Andrea Jackson and grandson of Toby and Dorothy Jackson.
"David Jackson's playing experience, energy and leadership will add an enormous amount of depth to our program," said Smith. "His high level of playing experience in the Big Ten at Penn State will increase the learning for the staff and players. David has always been a winner on and off the court. I know he will be able to relate to the players in a positive manner."
The Penn State Shenango Men's Basketball program will return this fall. The team's first home game opener will be played in the newly renovated gymnasium at the Buhl Community Recreation Center in Sharon on Nov. 10. For more information, contact the campus's athletic office at 724-983-2817.